Tristan Thompson Has Reportedly Hired A Legal Team To Fight Cheating Claims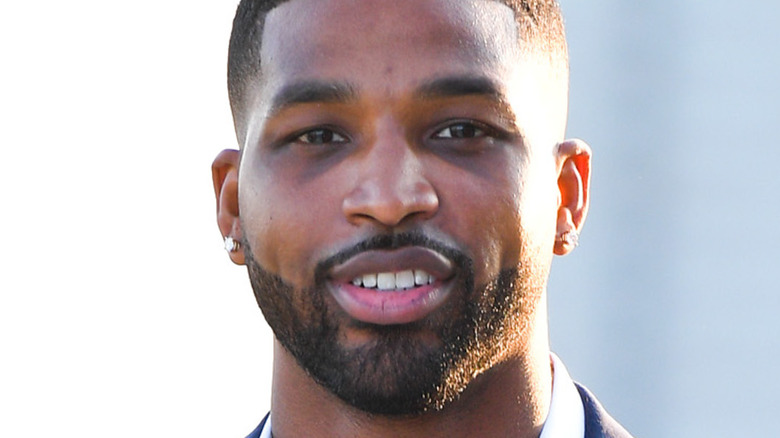 George Pimentel/Getty Images
Khloe Kardashian and NBA star Tristan Thompson were first romantically linked back in 2016 after they were spotted leaving a nightclub in Hollywood together (via Insider). About a year later, Kardashian announced on her Instagram to over one hundred million fans that she was expecting her first child with the Boston Celtic. Unfortunately, news outlets started releasing videos and photos of Thompson allegedly hooking up with other women. He most famously was accused of kissing Kardashian family friend Jordyn Woods in February 2019. This scandal was the final straw for Kardashian and resulted in their split.
However, a source told People in August 2020 that the exes were giving their relationship another shot. The source said, "She loves having him around. He has the best relationship with True and he has been amazing to Khloé too. They are very much together and Khloé is beyond happy." Though the couple appears to be going strong on this season of "KUWTK," Instagram influencer Sydney Chase claimed on the "No Jumper" podcast that she had a sexual relationship with Thompson in January 2021. Chase said, "He told me he was not in a relationship anymore, so I said OK. We talked, we hung out multiple times, we went out together, everything," (via Fox News). 
Tristan Thompson has decided to fight the cheating allegations, however, and is taking legal action (via Just Jared).
Tristan Thompson's attorney called Sydney Chase a liar
TMZ reported that Tristan Thompson's attorney Marty Singer sent a cease and desist letter to Sydney Chase. The publication obtained a copy of the letter and shared that Singer calls the model's allegations, "malicious defamatory fabrications." The letter also states, "Mr. Thompson had no relationship with you whatsoever and he never sent you any such texts." Singer accuses Chase of making up quotes from Tristan and having no proof to back up her allegations. Singer outright says, "it is obvious that you are a liar." To conclude the letter, Thompson's attorney warns Chase that if she doesn't stop "defaming" Thompson in the media, she may find herself in court.
Thompson's attorney also sent a cease and desist letter to the host of the "No Jumper" podcast Adam 22. Though the podcast has already removed the part of Chase's interview where she discusses her alleged relationship with Thompson. While Adam 22 appears more than willing to remove himself from the drama, Chase claimed that she never received a cease and desist letter. She added, "Let this be a lesson to not let anyone no matter the money or fame they have, to shut you down or tarnish your name." Though a source connected to the situation showed TMZ evidence that Tristan's legal team sent an email on May 1st to two of Chase's alleged email accounts.