How Much Is Lil Baby Really Worth?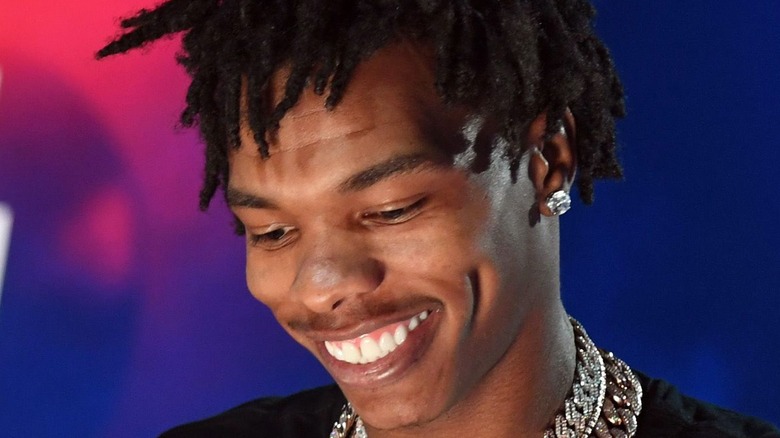 Kevin Winter/Getty Images
"You Kno He Getting Money When He Pop Out With Some Short Shorts," Lil Baby recently posted to The Gram, next to a picture of himself in an all-white getup, short shorts included, of course. He wasn't kidding. You can see what might be one of the rapper's cars in the back of the pictures. Rap Current says that Lil Baby has a Mercedes G Wagon, a Dodge Charger, and Corvette. Not bad, if you like vehicles. If you're more about mooning over accessories like GQ is, well, Lil Baby's got plenty of those, too. "My jewelry that I have on right now might be worth like half a million dollars, easy," he once bragged to the magazine (via Youtube). His collection includes a customized Rolex and a $60,000 AP watch, but don't count on them to tell the time. "I don't do watches, I still come in late," Lil Baby said. That "Lil Baby" chain he's always wearing? In total, it cost him around $40,000. 
We could go on, so we will. On any given day, you might find the 26-year-old (like 16 Bars did) lounging in his $500 Alexander McQueen shoes (they give him a little bit of extra height), his $1,000 everyday Amiri jeans, an $800 Dolce and Gabanna belt, a $400 Givenchy t-shirt, and his $250,000 diamond earrings (via Youtube). Lil baby's got spending money, and he's not afraid to show it. But how much is the rapper worth?
Lil Baby's not doing bad for himself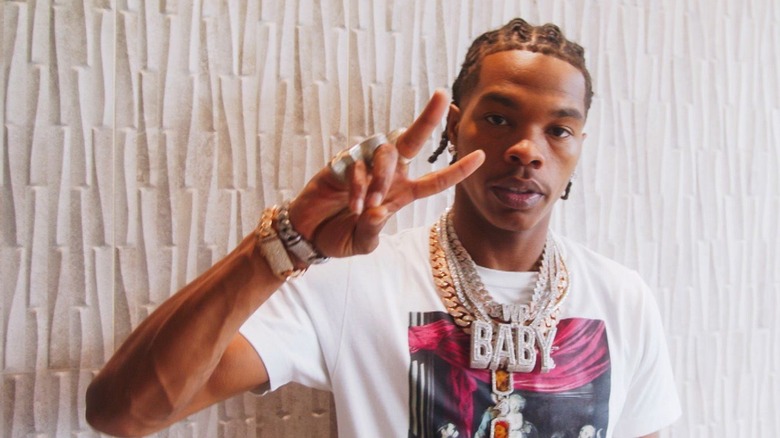 2020hha/Getty Images
A year ago, Lil Baby told The New York Times that he was still getting used to the fact that rapping was his life. "I'm to the point where I can't go nowhere without someone knowing me," he said. "From the bank to church to the doctor, the gas station, anywhere. The weirdest places. Old women, old men. It's serious. And with the amount of money I get, I know it's serious." If you believe Celebrity Net Worth, Little Baby is worth $5 million, at least as of 2020. That was the year that songs on his new album, "My Turn" racked in 3.5 billion on-demand streams (via Variety). On streaming platforms, "My Turn" was the most-listened-to album of the year. And although Swifties might not like to admit it, he even beat Taylor.
No one thinks that Lil Baby's net worth is going anywhere but up. That doesn't mean he wants to keep performing forever. The all-star rapper is already planning his escape route. "I don't care about my own music. I really want to own a label," he told The New York Times. "I'd rather go that way, where I manage a Selena Gomez and get 10 percent off of it ... I can make the same money and I don't have to be catching all these planes." No one's arguing that it's not a solid course of action. We'd love to manage Selena Gomez, too.