The Real Reason Sarah Ferguson Is Praising Meghan Markle Weeks After Supporting Piers Morgan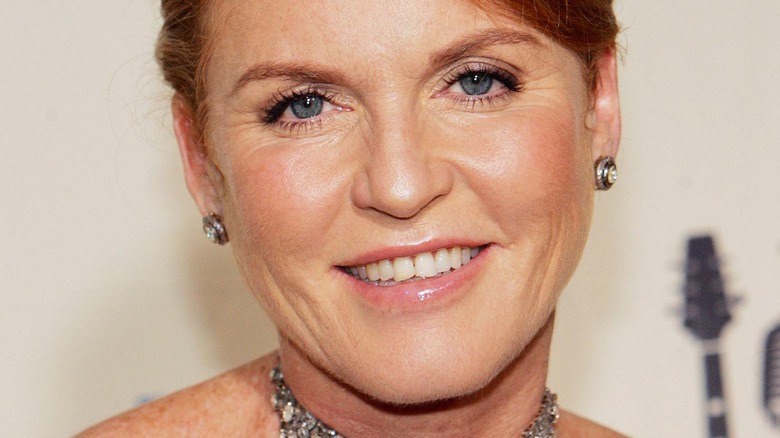 Shutterstock
Sarah Ferguson is clearly no stranger to controversy. With a long history of ruffled feathers, one of her latest public attention-grabs has been in the form of supporting polarizing TV personality Piers Morgan. Morgan's remarks on the Duchess of Sussex after her Oprah Winfrey tell-all created waves across the media and led to Sharon Osborne leaving "The Talk" (via Vulture).
And while Morgan was widely condemned, he also had some supporters. In Morgan's own words, for a column in the Daily Mail, he wrote, "Not all Royal duchesses were as thrilled as Meghan 'Pinocchio' Markle to see me leave GMB." He further added a text from Duchess of York Sarah Ferguson that read, "'People have said how much they miss your morning joy and humour ... get back out there!'" (via Page Six). Ferguson hasn't always been so kind to Morgan. In 2018 when the media personality interviewed her on "Good Morning Britain," she snapped "get a life" when asked about a possible romantic reunion with her ex-husband, Prince Andrew (via Her). In any case, Morgan seemed gleeful to have Ferguson's support during the Markle scandal, even suggesting that the two might form their own morning show together (via The Mirror).
Meanwhile, Meghan Markle famously admitted in her Oprah interview that it was Ferguson who first taught her how to curtsey for the queen (via Hello!). But because Ferguson has generally not been considered part of a united "Team Duchess," many royal watchers were surprised with her recent support for the "American Princess."
Was there bad blood between Sarah Ferguson and Meghan Markle?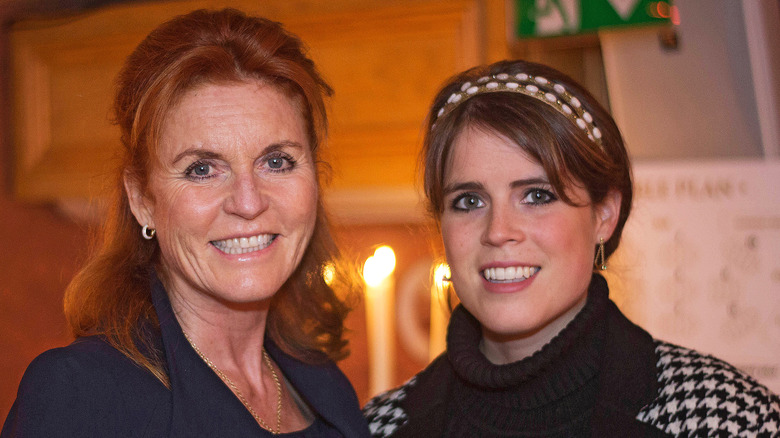 David M. Benett/Getty Images
Is there reason to believe that Fergie might not be in Meghan's wheelhouse? Interesting you should ask. There was that one time when rumors swirled that Meghan and Harry purposefully stole her daughter, Princess Eugenie's, thunder when the couple announced their first pregnancy during Eugenie's wedding (via Cosmopolitan). Ferguson subsequently tweeted out a wedding-related photo of herself at the exact same time that Kensington Palace made the news of Meghan and Harry's pregnancy public. As to whether that's a coincidence  ...  we'll leave that for you to decide. The Daily Mail certainly thinks that the tweet was a subtle, but intentional snub. 
Princess Eugenie, of course, got married in 2018. Between now and then Fergie and Meghan have had plenty of time to straighten things out. In fact, in 2019 Fergie voiced her sympathy for and support of Markle to Vogue Arabia. "It must be hard for Meghan, and I can relate to her," she said of the negative media coverage Meghan faces. "I believe she is modern and fabulous. She was famous before. She is great. Why can't Meghan be great? Why can't she be celebrated?" She elaborated, "I have been in Meghan's shoes, and I still am. There's always a twist of negativity and it just gets so sad and tiring ... I abhor bullying and I feel desperately sorry for the pain they must be going through." 
Perhaps, then, her support for Meghan's literary endeavors isn't surprising after all. Besides, children's literacy is something that Fergie cares deeply about.  
Literacy is a cause that unites many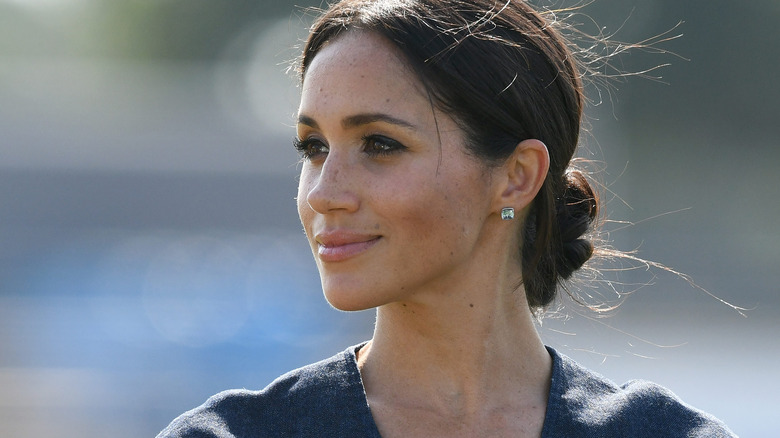 Shutterstock
Sarah Ferguson has always been passionate about literacy, so showing her support of Meghan Markle's new children's book, called "The Bench," is consistent. Says the Duchess of York in the Daily Mail, "To sit down and work hard to write a book, in any genre, should be supported and respected." Ferguson herself is the author of over 70 published works and is known for her children's series "Budgie The Little Helicopter." Her latest children's book, "The Adventures of Charlie, Blue and Larry Lamp," is due out on May 30, 2021. Youth literacy has been a long-time cause for Ferguson, and her passion shows in her words. "To encourage literacy in general not just children's books is a love of mine and to encourage more women to delve into their creative selves and get a book out is very well done," she told the Daily Mail.
Whether we will see more publishing from the Duchess of Sussex remains to be seen. "Meghan loves writing and she's very good at it," an inside source told Vanity Fair. "She wanted to have a go at writing a children's book first and depending on the success of this, there will be more. She is also keen to write books for adults too." The Duchess of York has beaten Meghan to this particular goal. Fergie is expected to release her first foray into adult fiction with a historical romance called "Her Heart for a Compass: A Novel," co-written with Marguerite Kaye, this August.