Donald Trump's Remark About The Kentucky Derby Is Raising Eyebrows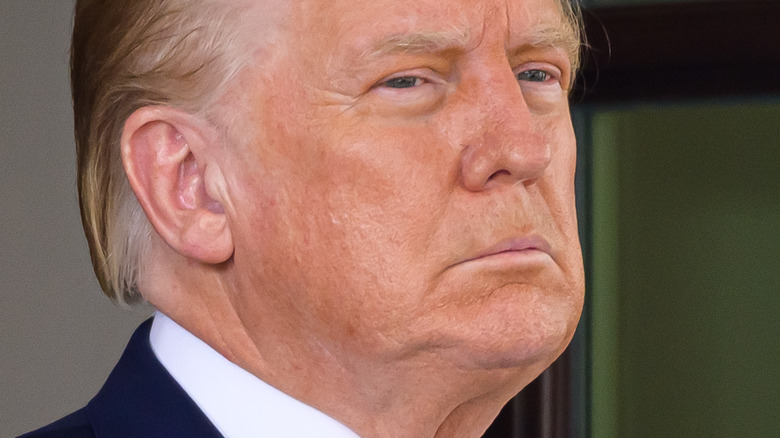 Shutterstock
To no one's surprise, former President Donald Trump is finding ways to get his (many) opinions heard. When he reluctantly left the White House in January 2021, he moved to his Mar-a-Lago resort in Florida and opened his own post-presidential office there. Defying the social media bans put in place after his apparent incitement of the January 6 Capitol insurrection, Trump launched his own website. It has a new logo ("Save America"), a shop selling Trump-themed merch (such as T-shirts, coffee mugs, beer glasses, and flags), and a "news" feed that basically consists of the tweets he would have posted if Twitter would only give him back his platform.
Trump's posts to date have mostly been endorsements of local Republican candidates and repeats of his (unproven) claims of election fraud. But he veered from his usual script on May 9. After wishing his followers a happy Mother's Day — along with an assurance that "It will all come back BIGGER and BETTER and STRONGER than ever before" — he immediately gave his take on an apparent scandal involving America's most famous horse race. He opined in a statement, "So now even our Kentucky Derby winner, Medina Spirit, is a junky [sic]. This is emblematic of what is happening to our Country. The whole world is laughing at us as we go to hell on our Borders, on our fake Presidential Election, and everything else!"
Twitter exploded with laughter and confusion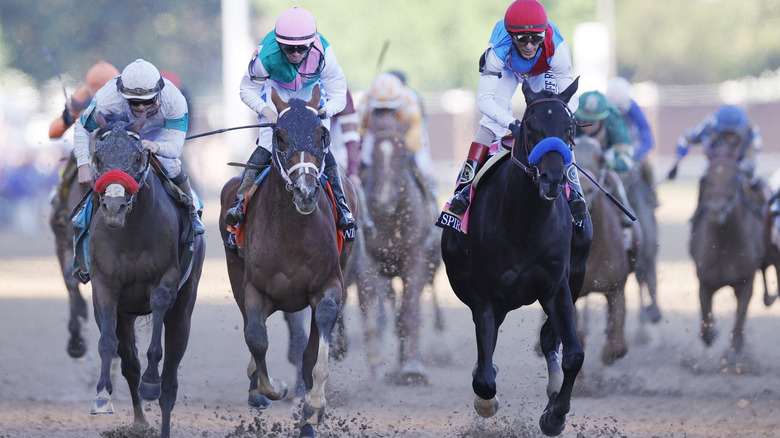 Sarah Stier/Getty Images
Donald Trump was referring to the recent news report that the 2021 Derby winner was found to have illegally high levels of betamethasone, an anti-inflammatory drug, in his blood following the race (via The Hill). The horse's owner has denied doping Medina Spirit, calling the claim a "gut punch" and "an injustice." The horse will undergo one more blood test to determine the truth.
The former president's statement quickly made the rounds and prompted a ton of head-shaking online. They pointed out not only the misspelling of "junkie," but also the implication that the horse was responsible for its own drug use. One writer sighed, in part, "I had to make sure this statement was real because it's too unbelievable to be true." Actor George Takei, long a critic of Trump's, wrote simply: "Laser focused on the real issues, as always."
Twitter users were also baffled (though not surprised) at the way Trump tried to connect the racing scandal to his November election loss. Celeb-watcher Perez Hilton wrote: "Donald Trump spent his Mother's Day complaining about a fake presidential election. Which one? The only one i know is the real one he LOST!"
If Medina Spirit isn't disqualified from the Derby win, he'll go on the Preakness in hopes of getting closer to a prestigious Triple Crown championship. Like the horse, Trump is also expected to enter the next big race in three years. Until then, expect many more "fake election" accusations from the Trump desk.