Inside Olivia Rodrigo's Relationship With Joshua Bassett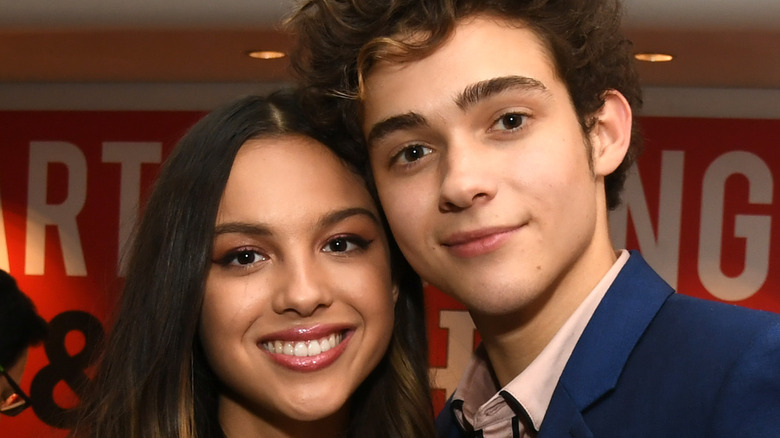 Kevin Winter/Getty Images
Olivia Rodrigo and Joshua Bassett are two of the hottest young stars in Hollywood. The pair shot to fame with the popularity of their Disney+ series, "High School Musical: The Musical: The Series" in 2020, (via Laughing Place). The duo play the characters of Nini and Ricky on the show, a couple who used to be romantically linked but split over the summer before returning to school. In an effort to win Nini back, Ricky decides to join the school musical to be close to her. They end up with the lead roles, and their personal lives begin to get messy.
In real life, the actors also seemed to have messy private lives. Rodrigo and Bassett were romantically linked in 2020, although they've never publicly admitted to a relationship, (via Us Weekly). Fans shipped the couple hard, but speculated about their split when Rodrigo released her ultra-popular debut single "Drivers License." 
The tune is about a girl who is excited to get her driver's license, but also feels sad before her ex-boyfriend isn't there to enjoy it with her. Instead, he's moved on with a "blonde girl" who is "older" (via Billboard) This led fans to believe the song was about Rodrigo and Bassett's breakup, and the "the blonde girl" being "Girl Meets World" star and fellow singer Sabrina Carpenter, who Bassett has been connected to as well. 
Where do Olivia and Joshua stand today?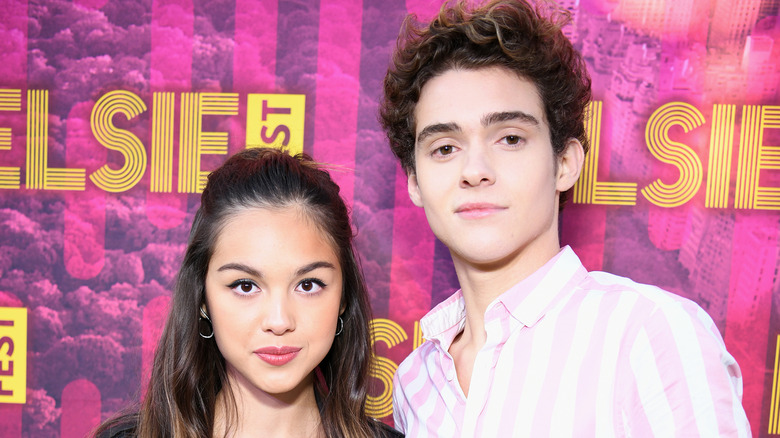 Jenny Anderson/Getty Images
Fans have likely been hearing the song "Drivers License" on the radio and on TikTok for months. The tune also got play in a hilarious "Saturday Night Live" skit earlier this year, (via People). While fans seem to believe they know who the song is about, Olivia Rodrigo is staying mum on the subject. 
"I totally understand people's curiosity with the specifics of who the song's about and what it's about, but to me, that's really the least important part of the song," the actress told Billboard in January, per Elite Daily. "It's resonating with people because of how emotional it is, and I think everything else is not important." Meanwhile, both Joshua Bassett and Sabrina Carpenter have dropped songs with lyrics that appear to reference Rodrigo's smash hit, (via Us Weekly).
Despite the alleged drama, Rodrigo and Bassett returned to work together on Season 2 of "High School Musical: The Musical: The Series." The pair even recorded a duet together for the show. However, Bassett revealed that they recorded their parts separately. Meanwhile, the two appear to be on good terms. In April 2021, Bassett even took to social media to gush over Rodrigo's latest single "Deja Vu," per Seventeen. "SUUUUUUPER late on this but I love this song so much," Bassett wrote. "The world better watch out for the album!!!!!" Fans can see Rodrigo and Bassett together in "HSMTMTS" Season 2, which is now streaming on Disney+.