Everything We Learned From The First Official Friends Reunion Teaser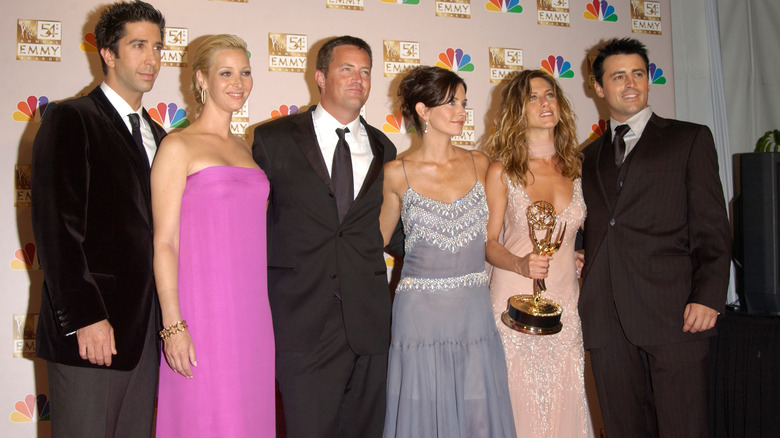 Shutterstock
The "Friends" reunion has had a lot of buildup, as it was originally set to air last year. Of course, then COVID-19 restrictions delayed the filming of the special, which would mark the first time all six of the original cast members reunited on camera since "Friends" ended in 2004 (via IMDb).
In March of this year, David Schwimmer revealed filming for the reunion was about to take place, and also shared there would be a host for the highly-anticipated show. Since then, we also learned the "Friends" reunion would feature guest stars, like Justin Bieber. Then, yesterday we were treated to a list of more stars who will appear during the show, from Lady Gaga to Tom Selleck, and Reese Witherspoon (via The Hollywood Reporter).
And, we also got a sneak peek at the very first teaser for the "Friends" reunion. What did we learn from this short clip? Well, okay, not too much. But still, we know more about the reunion now than we did a few days ago!
Why the Friends reunion teaser leaves us wanting more
In the 40-second teaser for the "Friends" reunion released by HBO Max, we finally see all six of our favorite cast members back together again (via YouTube)! Well, we don't see the faces of Schwimmer, Courteney Cox, Jennifer Aniston, Lisa Kudrow, Matt LeBlanc, and Matthew Perry. But we see the tight-knit cast walking arm in arm from behind.
We also find out the name of the special: "The One Where They Get Back Together." Come on — that made you smile, right? And, the date of the special is finally, finally revealed, with the show streaming beginning May 27, 2021.
But that's it. The teaser definitely leaves us hanging. And wanting more. For now, we can ruminate on exactly how additional guest stars James Corden, and Cindy Crawford, among others, will figure into the plot of the "The One We Cannot Wait to Watch" (via Today).