Inside Dorit Kemsley's Marriage To Paul Kemsley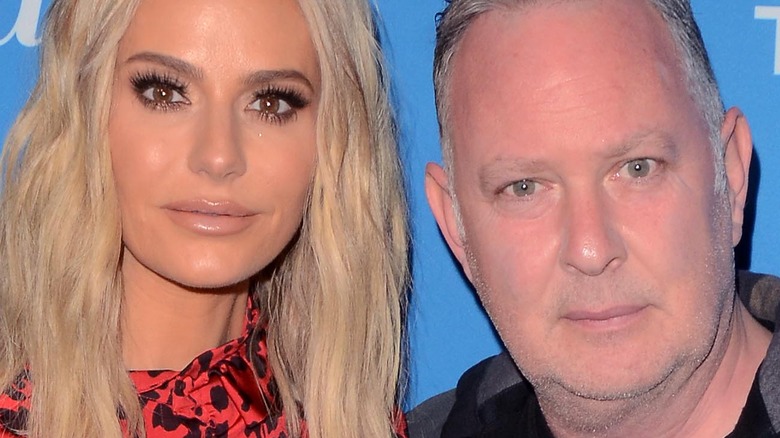 Shutterstock
Dorit Kemsley and hubby Paul "PK" Kemsley form one of the most controversial couples in "Real Housewives" history. He's a British businessman, and she's a fashion designer from Connecticut (via Bravo).They weren't the easiest people to like, or even understand at first, with commentator Brian Moylan memorably dubbing their home Surely Rented Manor (via Vulture) following suggestions the Kemsleys were lying about their personal fortune. To make matters worse, Dorit has picked up a strange affectation that makes her sound like she's speaking with a bad British accent, and according to Rachel Uchitel's recent comments, it likely developed from spending so much time with her husband (via Us Weekly). 
The couple, who joined the cast of "Real Housewives of Beverly Hills" in Season 7, has also endured more than their fair share of legal and financial troubles (via Us Weekly). Through it all, however, they remained totally committed to each other. Even fans who don't quite get what Dorit and PK are all about know their love is pure. 
Dorit and PK had an instant connection
While speaking to Bravo's Daily Dish, Dorit Kemsley revealed that it was a little while before she and now-husband Paul "PK" Kemsley actually went out on a date. "We had a few things in common, so we went out as a group. And in that time it was a very clear — it was a lot of banter between him and I. And it was a very clear chemistry," she recalled. However, as the reality star explained, PK was recently separated and had kids from a previous marriage, while Dorit was busy making waves in New York. Everything changed during their first date. 
The fashion designer reminisced, "He took me to see 'Jersey Boys.' ...It was his favorite show. And I think when he saw that I was just like dancing around and enjoying it so much, I think for him he thought, OK, this is definitely my kind of girl. And for me, I mean he's just the more lovable fool, he cracks me up." The rest is history, with the couple celebrating a decade together in 2020. They tied the knot in 2015, in New York's iconic Rainbow Room, even dancing to a song from "Jersey Boys" as per Wedding Style magazine. The couple shares two children, daughter Phoenix and son Jagger (via Instagram). Dorit is fully convinced she found her "soulmate." As the "RHOBH" star explained, "I knew it, I would say, within a good couple of months."
The Kemsleys are focused on each other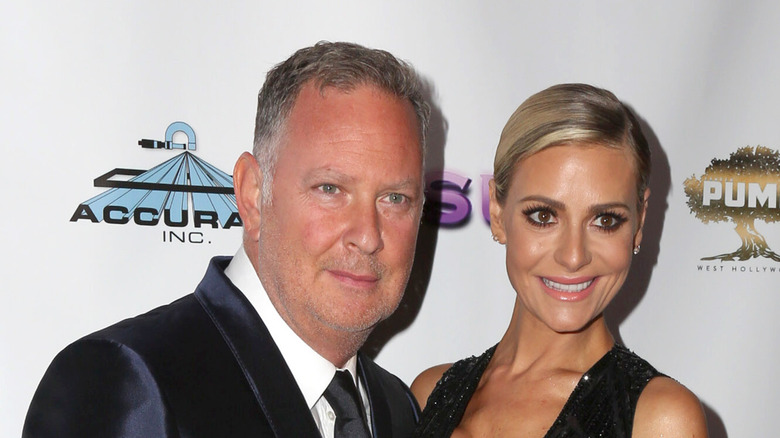 Shutterstock
Staying happy and dedicated to each other for ten years is no small feat but, as Dorit Kemsley told Bravo's Daily Dish, it comes pretty easily to them. "PK and I are so solid. We just are. We don't really let outside influence come into our little tight bond because it's me and him and we are so the yin and yang. We connect," she explained. The fashion designer described herself as "whole" when she's with her hubby, confirming PK feels the same, "nothing that anyone can say can seep in or create waves between him and I." The couple collaborates on work, too, with Dorit sharing, "We spend 24/7 together. And he knows every single thing there is to know and vice versa. Neither one of us makes a big decision without checking or clearing or talking about it with the other one."
PK clearly feels the same, gushing to the Daily Mail, "Dorit is a real powerhouse, she is a force of nature and is hyper focused. She has been great for me because I am more the creative type who throws out ideas and she reins me in. She keeps us on track." The former real estate magnate makes most of his money these days managing legendary singer, and frequent house guest, Boy George. Dorit, meanwhile, is a fashion designer who oversees their management agency, Nixxi Entertainment. Evidently, their work and home lives are perfectly balanced by being integrated.