The Story Behind The New BTS Song Butter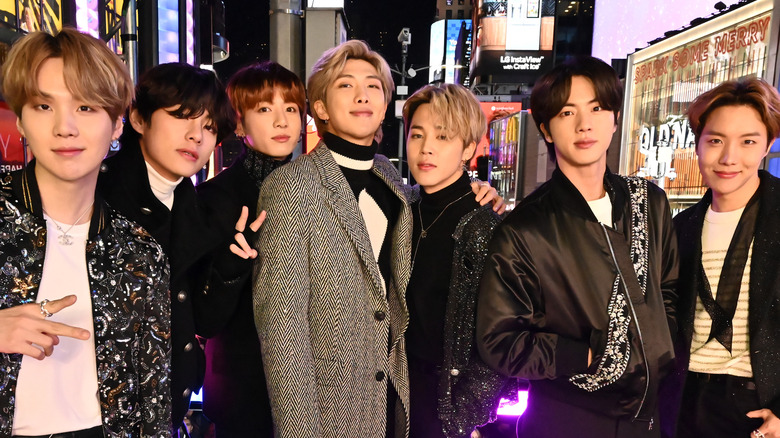 Astrid Stawiarz/Getty Images
BTS is the biggest band in the world right now. The release of a new single from the chart-topping K-poppers isn't just an event, it's a call for fans all over the world to crash the internet, dominate the news cycle and showcase just how important these seven guys from South Korea really are to them. As Chart Data reports, the monochrome, 23-second teaser video for their new song "Butter" racked up 1 million likes on YouTube in just 45 minutes (the last to do so was the band's teaser for "Life Goes On"). It's been almost six months without a new release from the K-pop supergroup, which is an eternity for fans particularly during a global pandemic. 
"Butter" is set to follow in the footsteps of "Life Goes On" and mega-hit "Dynamite," their first English language track and a major crossover hit that made them the first Korean pop group to be nominated for best pop duo/group performance at the Grammy Awards (via USA Today). The septet described their catchy new song in a press release as "a dance pop track brimming with the smooth yet charismatic charm of BTS" (via Billboard). They'll perform it at the upcoming Billboard Music Awards, on May 23. 
Butter is a fun summer song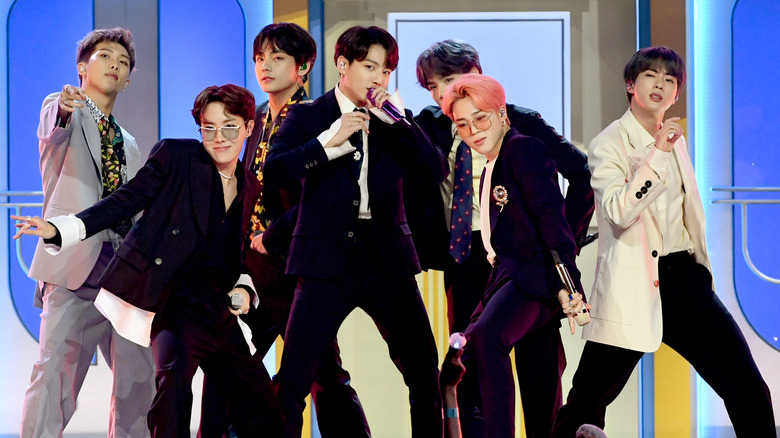 Kevin Winter/Getty Images
Unsurprisingly, considering how well the teaser did, when the full music video for "Butter" dropped it almost immediately shattered YouTube records. As Pop Base noted, it was "the fastest video in Youtube history to surpass 10 million views, doing so in just 13 minutes," and breaking the record previously held by, yes, BTS with "Dynamite." In an interview with Billboard, via Times of India, J-Hope marked their second English-language single as totally different to "Dynamite," however. He explained, "Butter' focuses more on showing each of our charms." 
The video does indeed see all seven members being given their moment to shine. The video begins in black and white before smoothly moving into glorious color as the group sings, dances and raps in various locations including an elevator, a gym and, naturally, on stage in suits, as has become their signature. It's an insanely catchy track. The video also features plenty of butter-based imagery, including a mouth-watering stack of pancakes. Group leader RM enthused of the song, "It's very energetic," to Rolling Stone, adding, "And very summery. It has a very dynamic performance."
It was molded into a BTS track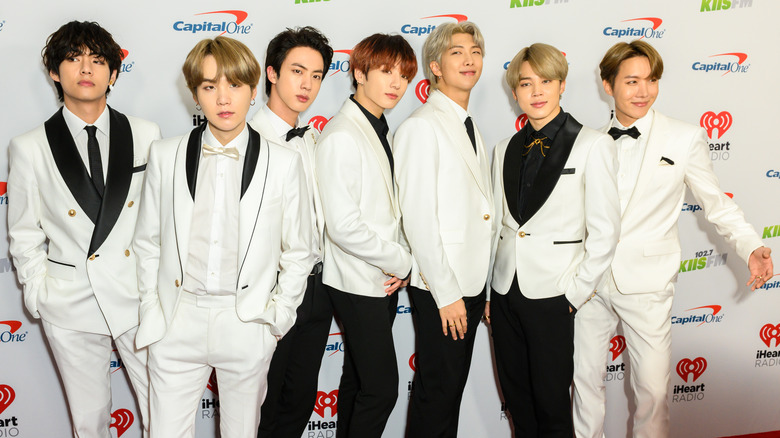 Shutterstock
Jenna Andrews, who worked on "Dynamite," also had a hand in "Butter" according to Variety, alongside RM of course. Likewise Columbia Records chairman Ron Perry, who picked "Dynamite" out for BTS from a demo, worked on it too. RM admitted the guys didn't expect to do another single but considering how long the pandemic is dragging on, they figured another catchy summer song would be ideal. During a global press conference release, Jimin described "Butter" as "a very cute song, a kind of confession. Maybe a little charismatic but also kind. We've tried to imbue all these feelings into the song," (via Twitter). 
RM revealed the song was pretty much done when BTS got involved, but they put their own spin on it, so "Butter" felt more specific to BTS. As RM explained, "About half of the rap sections, I changed/added from what was there before (his parts w/ Hobi and Yoongi)." Suffice to say, "Butter" looks set to melt fans' hearts and put the K-pop supergroup on top of the charts once again.