How To Use Red Color Corrector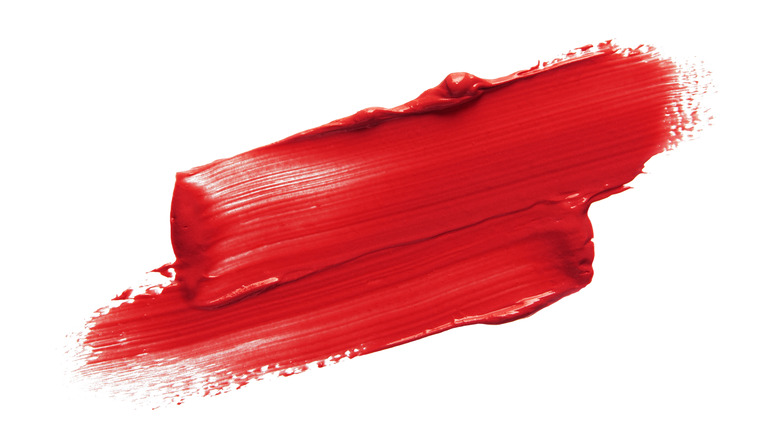 Shutterstock
Color correctors as the problem-solvers of the makeup world, and we're not the only ones who think so. As noted by Glamour, color correctors can work wonders, and it basically all comes down to the color wheel. While color correctors do solve problems, the truth is that color correcting can be confusing. Even if you're a huge makeup buff, the chances are that you might struggle to know which is the right toned concealer to use when it comes to correcting blemishes, dark circles, and beyond. You've heard of green color corrector, orange, and blue, but what do they all accomplish? 
As per Marie Claire, the process of choosing the right color corrector becomes even trickier if you have a darker skin tone — such as olive, almond, or golden-toned skin — as a lot of color correctors aren't designed with darker skin tones in mind. That's where red concealers come in. Believe it or not, swiping concealer that's as red as lipstick over dark circles can help to cancel out undertones that are green and blue hued. While women of color have been using color correctors for centuries, darker-hued colored concealers are fairly new to the beauty industry.
Wondering how to use a red color corrector? It's simpler than you might think!
How to use red color corrector the right way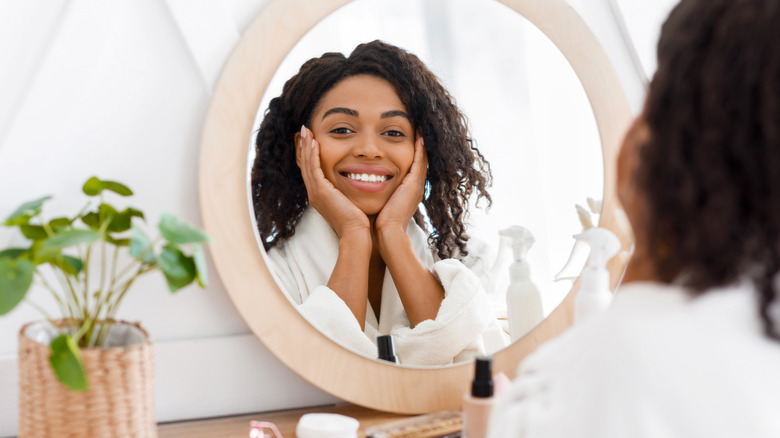 Shutterstock
According to Glamour, a toned down red concealer can be the ideal color for hiding dark spots and blemishes for medium to dark skin tones, and the outlet recommended using a stick concealer to apply. Cosmopolitan reported that Sir John, makeup artist to Beyoncé, shared that to use color corrector effectively, you need to determine a number of things before you start: where you want to correct, what you want to correct, and the right shade to use to cover the issue at hand, as well as picking the right color corrector for your skin tone.
As per Cosmopolitan, before you apply your makeup, take the time to look in the mirror and identify the problem areas, such as areas of redness or dark circles, and work out where you want to correct. Sir John explained that, "Your look can go awry very easily if you don't map out where and what you need to color correct."  As per Elle, it's important to use a heavier amount of color corrector on areas that have more visible blemishes or dark patches.
How to apply your color corrector and makeup correctly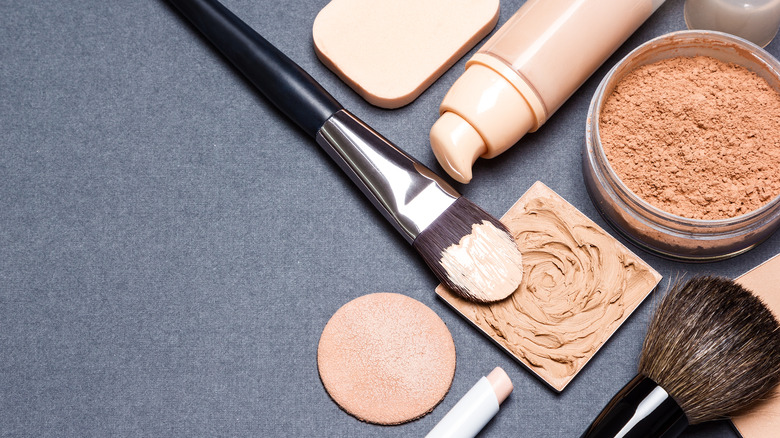 Shutterstock
According to Elle, it's best to apply your color corrector before your foundation, and then blend your corrector in before topping it off with your selection of base products. The entire aim of using color corrector is to allow your foundation to do less work, but for that to work, you need to understand how to apply your corrector the right way. 
Estée Lauder makeup artist Jocelyn Biga explained that, "You can't put on your foundation the way you normally would because then you disturb the correcting underneath." Instead, she suggested that you use a stippling effect and pack your chosen foundation into your skin, rather than spreading it onto your skin. The key is not to disturb the color corrector underneath, otherwise it will blend into your foundation, thus changing the color of it. 
When applying foundation over color corrector, using a stippling brush or a blending sponge are two options to consider using for easier application. Once you know what you're doing, everything should work out flawlessly!