David Schwimmer's Awkward Brad Pitt Mention During The Friends Reunion Is Raising Eyebrows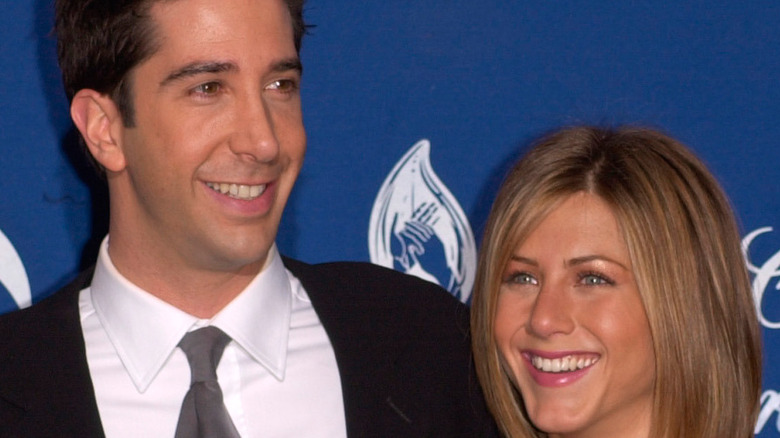 Shutterstock
After months of anticipation, the "Friends" reunion special aired on HBO Max on May 27. For a decade the "Friends" cast brought viewers into their lives and captured their hearts. Watching the actors reconnect, it's hard not to be transported back to the '00s. And the reunion wasn't without its revelations. While remembering guest stars of episodes gone by, one cast member made a risky comment. David Schwimmer's awkward Brad Pitt mention during "Friends: The Reunion" is raising eyebrows. Jennifer Aniston's relationship with the Hollywood A-lister is as famous as Ross and Rachel's.
There was no shortage of famous faces who made an appearance on "Friends" throughout the ten seasons. Julia Roberts, Ben Stiller, Bruce Willis, and Reese Witherspoon all got in on the action. Danny DeVito and Sean Penn also got honorable mentions as the "Friend's" cast looked back at their time on the show.
Speaking about Stiller, Aniston revealed he was "one of our biggest laughs ever. I don't know why it was so funny." Starring on "Friends" launched the careers of the cast, so to get appearances from such big stars wasn't lost on the main five characters.
Schwimmer revealed that when Sean Penn made his guest appearance during a Halloween party he was his biggest acting icon. "I had very little — if any — dialogue with him but here I'm thinking, 'Greatest actor in the world, and I'm a f—king potato," he laughed.
However, it was Schwimmer's comments about Brad Pitt that has caught viewers' attention.
Brad and Jen were romantically involved during his guest appearance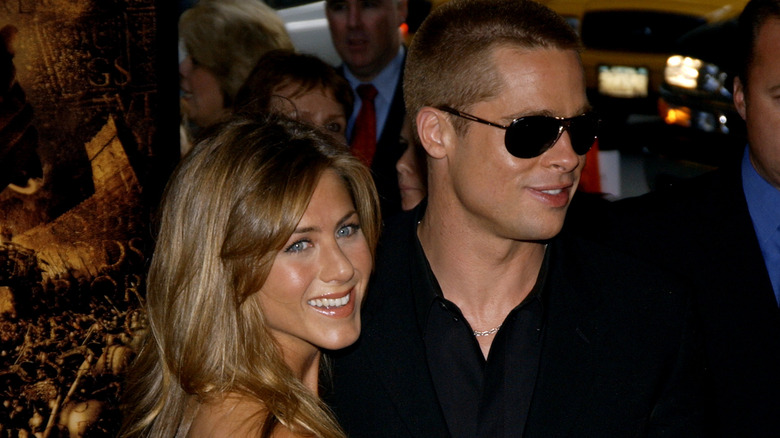 Shutterstock
While the "Friend's" cast was discussing the most notable guest stars, Schwimmer turned to Aniston and said, "Your fella Brad." She nodded and said, "Pitt came, did one." It certainly was an interesting way to phrase Pitt's appearance, and although Aniston took it in stride, fans definitely noticed.
In Season 8, Brad Pitt played Ross' best friend from high school, Will Colbert.I n the episode, which premiered in 2001, it's revealed that Will still holds a massive grudge against Rachel Green. He even created the "I hate Rachel Green" club with Ross. Us Weekly outlined that Pitt's appearance took place during Aniston and Pitt's relationship. So the fact that he plays her nemesis on-screen is even more fun.
Marie Claire revealed that the pair went on their first date in 1998. In 2000 they got married in an elaborate ceremony in Malibu. Speaking about their relationship with W Magazine she said, "He's certainly a big love in my life ... And I know that we have something special, especially in all this chaos. In this nutty, brilliant, wonderful, hard business that we have, it's nice to have somebody who's anchored and knows you, really knows all of you."
However, they split in 2005. In 2011 he released a statement to Reuters and said, "Jen is an incredibly giving, loving and hilarious woman who remains my friend. It is an important relationship I value greatly."