The Relatable Things Kate And William's Kids Do On Their School Breaks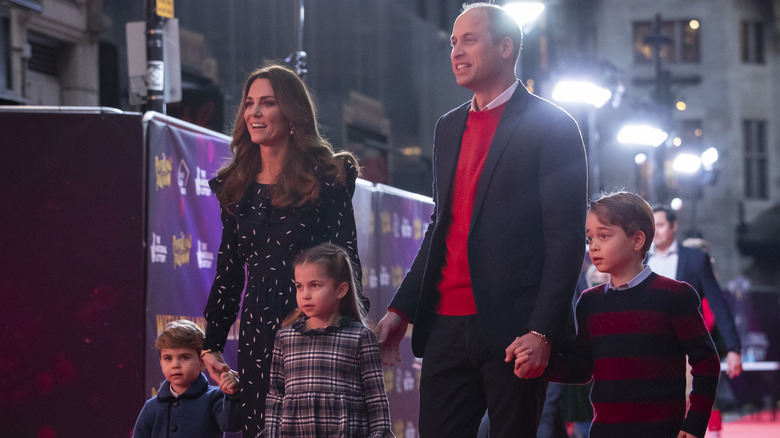 Wpa Pool/Getty Images
Their parents got back from touring Scotland right in time to play with Prince George, Princess Charlotte, and Prince Louis on their week-long half-term break (via People). It's a significant occasion, at that. Specifically, this marks Prince Louis' first school break ever! William and Kate's youngest child started attending Willcocks Nursery School with his older sister Charlotte in April (via BBC). Prince George, for his part, is taking a break from Westacre Montessori, where he began classes in 2016, according to The Guardian.
What kind of mischief will George, Charlotte, and Louis partake in during their mini-vacation? The kids admittedly have some royally out-of-reach hobbies. For example, the three reportedly spent 2020 learning to ride their own ponies, much to Prince William's satisfaction (via Vanity Fair). But George, Charlotte, and Louis also spend their free time doing surprisingly relatable things, according to People: baking, cooking, and playing with markers and paints. On rainy days, you can bet the little royals will be up to their elbows in the crafts box. As for when it's sunny? According to Kate, she's happiest when spending quality time with her kids in nature. 
Kate likes to take her kids outside. Here's why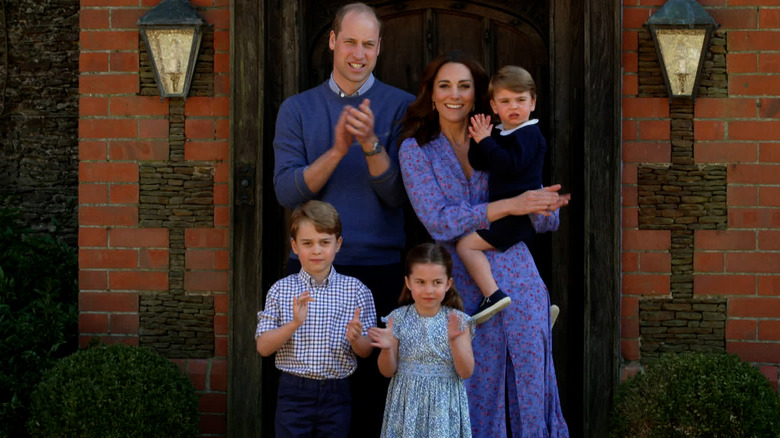 Comic Relief/Getty Images
You're used to seeing George, Charlotte, and Louis impeccably dressed for photoshoots. (Can we stop for a moment to appreciate how adorable Prince Louis looks on Instagram on his balance bike, decked out in a collared shirt and sweater?) But whenever they can on breaks, Kate and William like to take their kids to the country and spend time in the great outdoors. "I think it's so great for physical and mental wellbeing and laying foundations," The Duchess of Cambridge explained on the "Happy Mum, Happy Baby" podcast (via Town & Country). "It's such a great environment to spend time in, building those quality relationships without the distractions of 'I've got to cook' and 'I've got to do this.' And actually, it's so simple." Kate went on to admit that she's happiest when " I'm with my family outside in the countryside and we're all filthy dirty."
The royal family residence at Balmoral in the Scottish Highlands is a favorite country get-away for William and Kate. During a public outing in 2020, Prince William hinted that his kids were already building "their own happy memories" there (via Hello!). No matter whether they head for the highlands (or anywhere else) this week, George, Charlotte, and Louis won't be lonely. People reports that Kate and William take as much time off as possible during school vacations, to ensure maximum bonding time with their little ones.