Here Are Ariana Grande's Beauty Must-Haves
While Ariana Grande's musical career certainly speaks for itself, conversations surrounding her stunning beauty and iconic looks are seemingly never ending. 
The "Thank U, Next" singer has had a massive part in starting a variety of different beauty trends, with her famous high ponytail being the most notable and deemed "an unavoidable part of her image and style," per Vogue. Her fashion and style have changed and evolved over the years, but one thing has always remained the same: her ability to somehow always appear effortlessly cool and chic (or at least finding stylists who have been able to help her consistently achieve this look).
It's nearly impossible to avoid the temptation of replicating Grande's incredible outfits, which is why we're reading all about all her beauty must-haves like our lives depend on it. From her makeup, to her hair and skincare, keep reading to find out which holy grails you've got to include in your routine.
Ariana is huge fan of using coconut oil for almost everything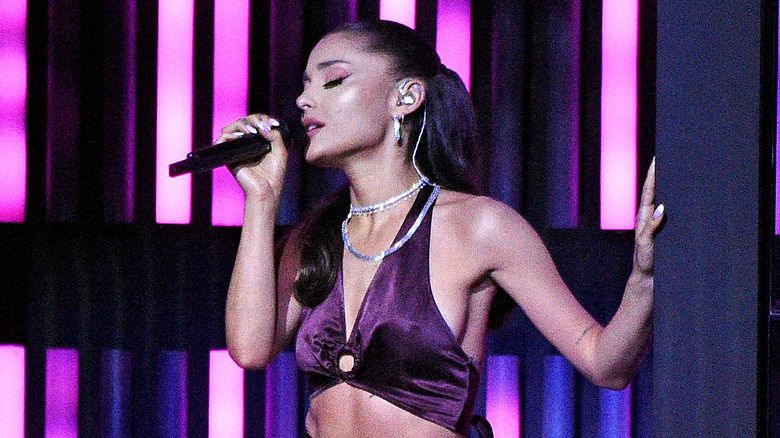 Kevin Mazur/Getty Images
The Boca Raton-born pop sensation told InStyle that she tries her best not to fall asleep in her makeup, but that she fails at it all the time. But fret not – she knows that everyone is guilty of doing it. "I know it's hard because we get tired," Ariana Grande told PopSugar, per Insider, "but scrubbing your face, washing your face — taking a towel in the shower and actually scrubbing your face — and then moisturizing [is so important]."
Grande is an avid user of Lancer skin products, an L.A.-based skincare company that believes the key to beautiful, healthy skin is adopting a rigorous routine. Well it would appear that Grande took note, as she uses Lancer cleaners "every morning and every night," leaving her skin feeling super soft and clean.
Another tip from Grande's routine is something that she loves so much, she calls it "the answer." Per an interview with Byrdie, Grande revealed, "You know what I actually use on my face as well as my body? I feel like people would think it would make you break out, but it doesn't make you break out: coconut oil! Like, cooking oil. I put it everywhere—in my hair, on my body." This is a skincare secret that has been adopted by a variety of beauty obsessed celebs, including Gwyneth Paltrow, Gisele Bündchen, and Shay Mitchell, so we feel pretty confident that it's a good secret to know.
This is how Ariana's makeup artist gets the perfect cat eye every time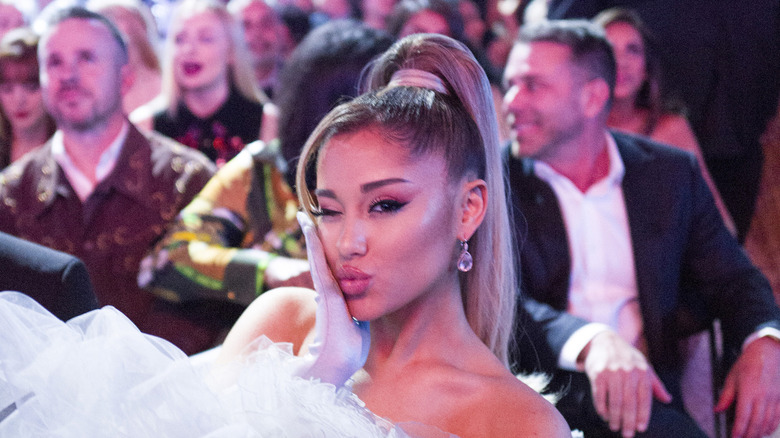 John Shearer/Getty Images
If red lipstick is to Taylor Swift, then cat eye-style eyeliner is Ariana Grande. Indeed, you'd be hard-pressed to find a photo of Grande not rocking this signature, dramatic eye look. But you might be surprised to learn that there is actually some sentimental nostalgia behind Grande's obsession with eyeliner. 
"My mom always does a cat eye, too," she told Byrdie. "A thick black line on top." According to Ash K Holm, a makeup artist that has worked closely with Grande over the years, she's got a makeup look that she wears like it's a uniform. Holm shares that she manages to get the perfect cat eye for Grande every single time. She shared with Refinery29, "Use an angled eyeliner brush to extend the wing, and make sure the wing is angled upward towards the tail end of your eyebrows to lift the eyes up."
As for other signature Grande products, well, it's no secret that she's a huge fan of Fenty Beauty – she literally declares it in her song "Make Up," singing, "Highlight of my life / just like that Fenty Beauty kit." But above all else, she loves her fake lashes. Grande, tells Byrdie, "I feel like I could be completely naked but have lashes, and I'd be fine. Like, I'll forget! Just walk out naked and completely forget."