The Best Dressed Stars At The 2021 CMT Awards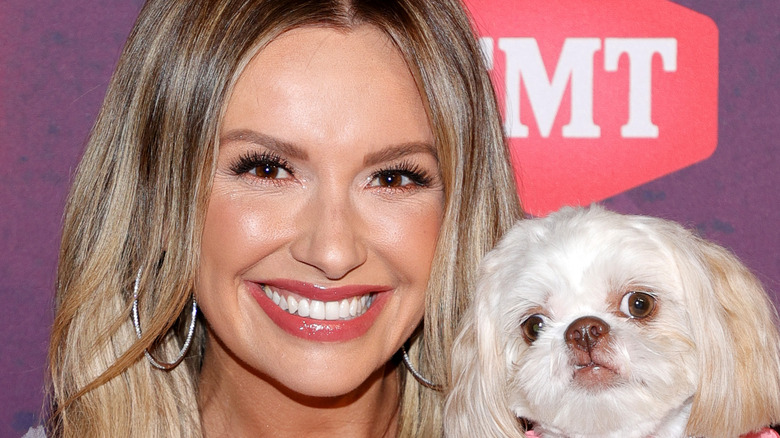 Jason Kempin/Getty Images
With the news that big names Maren Morris and Gabby Barrett would not be appearing at the 2021 CMT Awards, we wondered who would bring it when it came to fashion (via People). Good thing stars from Kelsea Ballerini to Mickey Guyton were on hand to serve up outfits we'll be talking about as long as who won awards on the big night. 
Although the best dressed stars at the CMTs wore completely different looks, from pants to gowns, we couldn't help but notice a big trend: wearing one color from head to toe. Carly Pearce and Lindsay Ell got in on the act, as did Luke Bryan, who donned black pants, a tee shirt, and a matching jacket (via Music Mayhem). 
Of course, not everyone went tone on tone, with a notable exception: Lauren Alaina. Her outfit was perhaps the most buzzworthy of the evening, and will likely divide her fans. Pun intended. Decide for yourself which look was your favorite at the 2021 CMT Awards. 
Kelsea Ballerini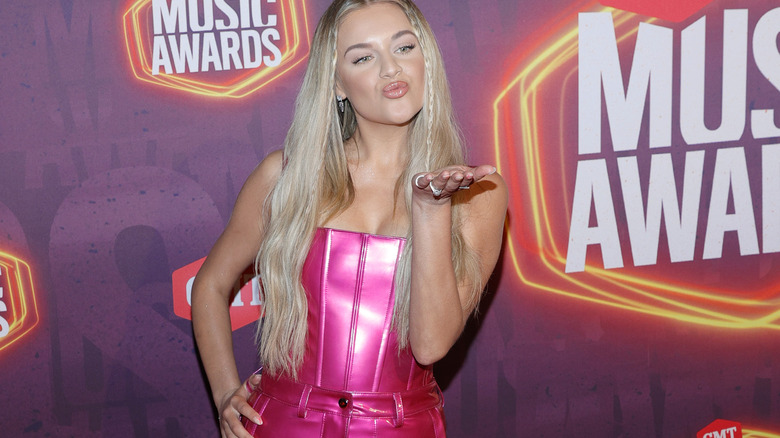 Jason Kempin/Getty Images for CMT
As the cohost of the evening along with Kane Brown, Kelsea Ballerini was a notable entrance on the CMT red carpet, donning a hot pink look that was hard to miss (via People). The country star shared her inspiration for her outfit on her Instagram, writing, "peace, love, & pink pleather" as a caption to a pic of her look-at-me, skintight pants and bustier, which she coupled with matching shoes. Fans were here for it, calling Ballerini "CMT Barbie." 
Meanwhile, ET noted the buzzworthy pieces, which were designed by LaQuan Smith, reminded the star of a famous "Friends" episode, with Ballerini telling the outlet, "It's like '90s and futuristic at the same time, it's a whole thing. I can walk, I just feel like Ross... like getting it on was a whole situation. Every time I walk, I don't know if you can hear this, but I squeak."
Mickey Guyton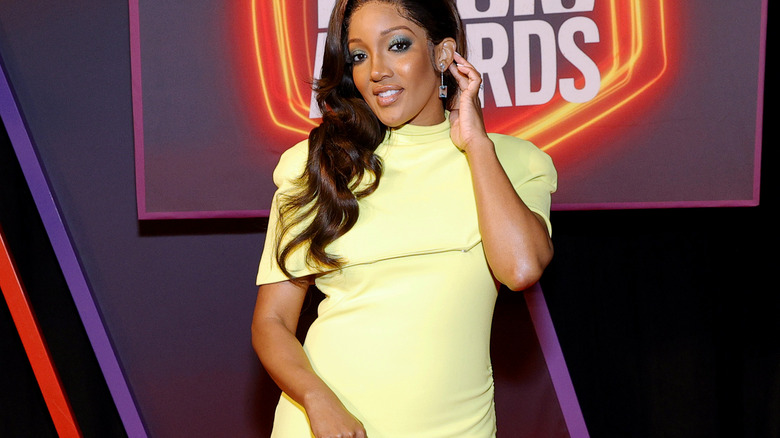 Jason Kempin/Getty Images for CMT
Much like Ballerini, Mickey Guyton chose to stick with one hue from head to toe. Her color of choice? Well, it wasn't hot pink, but it was another eye-catching color, and so not boring. Indeed, Guyton draped herself in bright lime green, with the singer donning a body-hugging gown that featured a slit and asymmetric detailing, and matching heels. The three-times nominated Guyton looked fresh, pretty, and definitely worthy of any CMT Awards best dressed list (via Just Jared).
Lindsay Ell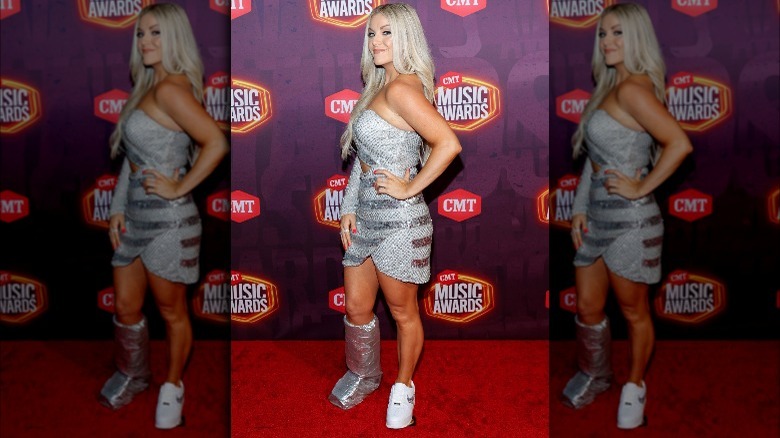 Jason Kempin/Getty Images
Sticking with the one color trend was Lindsay Ell, who chose tinman silver to adorn herself with for the CMT Awards. Impressively, the singer even managed to accessorize her broken foot with a matching boot. How did the star injure herself? "I was chasing after my dog!" she admitted to ET on the red carpet, adding, "I broke it pretty good."
But Ell wasn't willing to miss the awards show, saying, "If we've learned anything from the last year and a half, it's how to take lemons and turn them into lemonade." Thus, the inventive silver footwear, which perfectly complemented her one-sleeve, futuristic mini dress with cutout detailing. Totally lemonade.
Lauren Alaina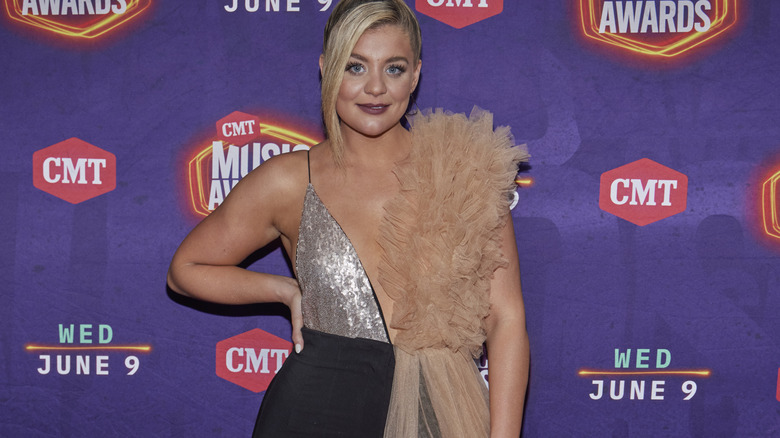 John Shearer/2021 Cmt Awards/Getty Images
People will definitely be talking about Lauren Alaina's head-turning look long after the CMT Awards. The singer chose a different and daring outfit that suggested she couldn't quite make up her mind about what she wanted to wear — a simple pants suit, or an Oscars-worthy gown. One side featured a Bjork-inspired, ruffled top with a flowing skirt, while the other was silver glitter on top and all business on the bottom. Love or hate the interesting outfit mashup, one thing is for sure: No one will forget Alaina's appearance on the red carpet. 
Carly Pearce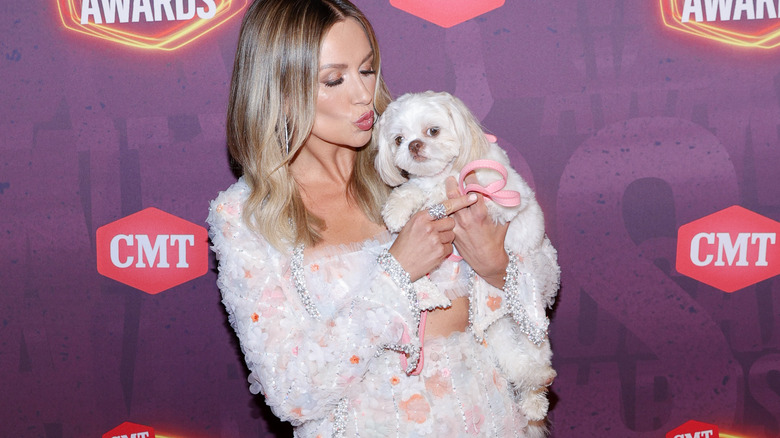 Jason Kempin/Getty Images
Carly Pearce took the matchy-matchy trend on the CMT Awards red carpet to the next level, choosing an embellished floral outfit by Ines Di Santo that included shorts, a bandeau top, and a matching jacket. Heck, even her dog, June Jolene, matched her outfit (via ET Online). Indeed, the star brought the pup as her plus one (she recently split from Michael Ray), and we must say, the pair looked just smashing. 
On Instagram, fans praised Pearce's outfit, calling her "gorgeous," a "queen," and "beautiful." 
Of course, the singer soon donned another number for her opening song with Lady A and Lindsay Ell: a sparkly silver mini-dress (via Sounds Like Nashville). That one was a stunner, too. But um, did June Jolene get a matching second look? Here's hoping!