SATC Fans Can't Stop Talking About Sarah Jessica Parker's Recent Instagram Post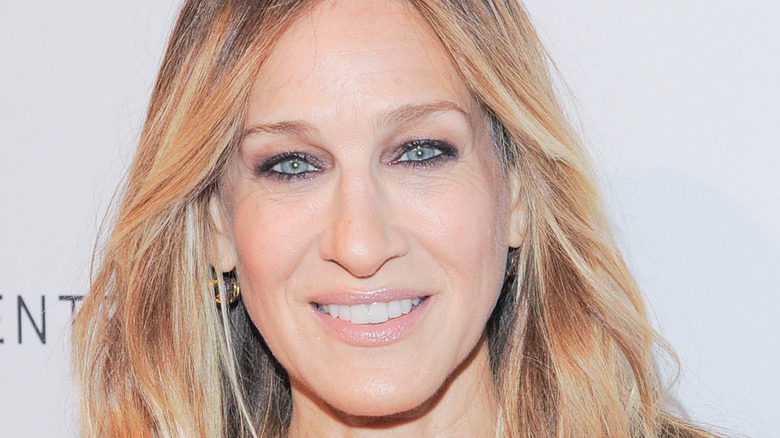 Shutterstock
"And Just Like That" is officially happening. Well, we knew it was happening of course, with Sarah Jessica Parker announcing in January the long-awaited "Sex and the City" revival was in the works (via Us Weekly). But now, the stars of the HBO Max show have officially reunited to start production on "And Just Like That," with Parker taking to her Instagram to share a selfie with Kristin Davis, and Cynthia Nixon.
Of course, the fourth amigo from "Sex and the City," Kim Cattrall, decided not to join the reboot of the iconic New York City-based show. Meanwhile, fans are freaking out about Parker's post, which was captioned, "Together again. Read through our first episodes."
The star also shared a picture of a script in another post that celebrated the cast's first table read. "Got here to work way too early. Nerves all a wonderful jumble," she captioned that image.
In her picture of her BFFs for life, Parker also shared that "all the fellas" and the "newest cast members" were also on hand, and that the experience felt "Like an ice cream sundae."
Celebrity friends and fans alike have major thoughts about Sarah Jessica Parker's post
Stars and fans flocked to Sarah Jessica Parker's Instagram post, which featured the ladies standing in front of the Manhattan skyline, to share their excitement for "And Just Like That" in the comments. Andy Cohen hilariously said, "I just pooped my pants." Davis commented, "Love you forever and ever."
Amy Sedaris, who played a book editor on "Sex and the City," commented, "You gals look fantastic!!" This was a sentiment many fans also shared, but one noticed Davis' visibly altered appearance, noting, "Kristin is so beautiful. She doesn't need all that Botox and filler!" Another fan commented on Nixon's new hair hue, writing, "I like Miranda as a blonde!"
But many of Parker's Instagram followers couldn't help but share comments like, "Without Samantha is not the same." Another said, "Aaawesome! Can't wait – Wish Kim was there too though." "omg but we need the 4 seriously someone call Samantha Jones," another fan lamented, with someone else commenting they wish the cast had been able to figure something out so that Cattrall was there, too.