The Foundation That TikTok Influencers Say Has The Best Coverage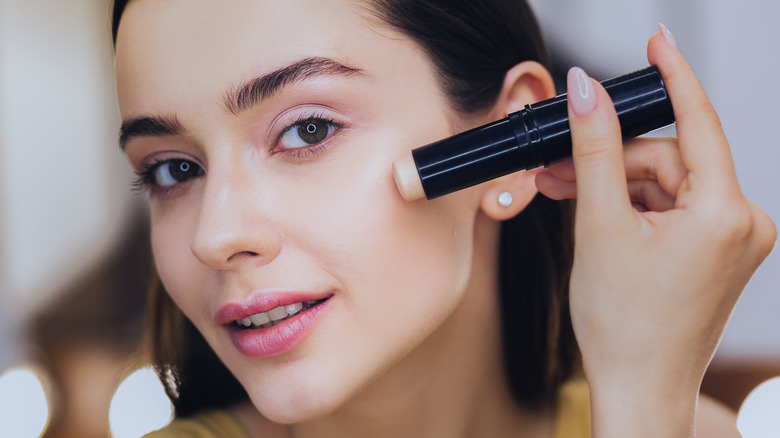 Shutterstock
TikTok has become a treasure trove of beauty content. Whether you're looking for makeup tutorials, time-saving hacks, affordable dupes, or product reviews, you're guaranteed to find it on the app. 
A number of beauty professionals and influencers — as well as newcomers in the space — have turned to TikTok to share their insight, and with the "makeup" hashtag racking up billions of views, it can be easy to stumble into an endless scroll. However, when you come across something good, it's seemingly worth all the time spent you've spent on the app. Today's find: a full-coverage foundation with very impressive results.
Plenty of makeup products claim to be full-coverage, meaning the formula completely conceals uneven tone, blemishes, redness, and other skin conditions for a flawless finish. The only problem? Some products on the market don't deliver on this promise, or they require multiple layers of foundation to do so. For that reason, TikTok makeup influencers were shocked when they discovered a foundation that manages to strike the perfect balance between serious coverage and a smooth, seamless finish. "these are seriously no joke," TikTok influencer Barb Vile (@barbbeautyyy) captioned a post of herself testing out the product. 
So, what's this magical foundation?
The 'fullest coverage foundation on the market'
The foundation that everyone is talking about on TikTok? Dermablend's Flawless Creator Liquid Foundation Drops. According to TikToker Barb Vile, it's the "fullest coverage foundation on the market." In her video, she goes on to explain how it differs from others. "Your typical foundation has a base formula, and pigment is added to it. The pigment is basically what makes it sheer, medium, or full coverage. The more pigment, the more coverage," she notes. "This product is straight pigment." In other words, the colorants that provide coverage aren't diluted by tons of filler or emollient ingredients.
Vile then demonstrates how to apply the foundation drops. Using a makeup sponge to dab the product onto her skin, you can literally see all traces of redness and blemishes disappear as she covers her cheeks, forehead, and chin. She leaves her nose untouched before finishing her face to show the difference. The pigment blends seamlessly into her skin and leaves behind a smooth, satin finish that instantly conceals the appearance of any so-called imperfections. 
And the best part? She didn't have to use a ton of product to achieve this effect. "I used such a thin layer that I feel like I have nothing on my skin," she says. "I feel flawless."
The benefits go beyond coverage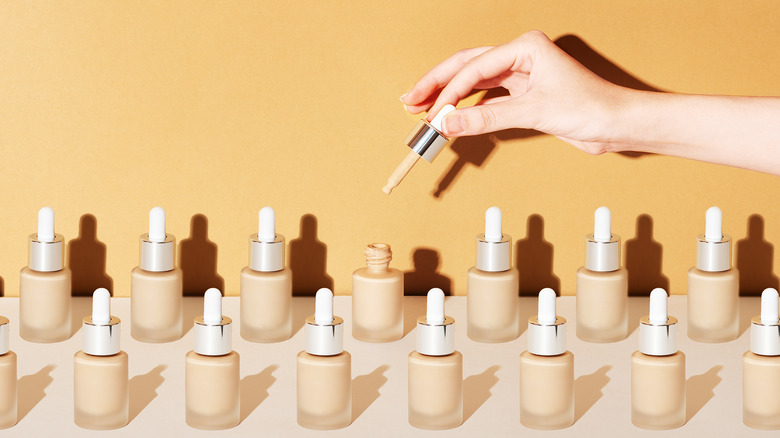 Shutterstock
Of course, Barb Vile isn't the only one praising Dermablend's Liquid Foundation Drops. TikTok user Mikayla Nogueira (@mikaylanogueira) did a follow-up to Vile's post, sharing her own review of the viral foundation. "It's instant coverage, it's insane," she says as she dabs the pigment onto her skin. "I can guarantee you this is the fullest coverage foundation you will ever try ... This can cover anything." Nogueira also points out how lightweight the product is, claiming it doesn't feel like she's wearing any foundation at all. As she describes the finish, it's "like there's nothing on your face."
Dermablend's Flawless Creator Liquid Foundation Drops have rave reviews across the internet. It seems the cult-favorite, full-coverage foundation is unlike anything on the market. Formulated to work for all skin types and available in about 20 shades, the highly-pigmented drops allow you to build to your desired finish based on what your skin needs at that moment without it looking cakey or clumpy. That's part of what makes this foundation so unique — it's customizable and can be used in various ways. As Vile explains, you can apply the drops alone, with your favorite foundation to boost its coverage, or mixed in with a moisturizer to create more of a BB cream-like texture.
And the bonus? No matter how you choose to use these foundation drops, the formula offers all-day coverage that's wonderfully comfortable, so you don't have to worry about midday touch-ups or makeup meltdowns. Once again, TikTok with a beauty win.