Summer 2021 Makeup Trends You Don't Want To Miss Out On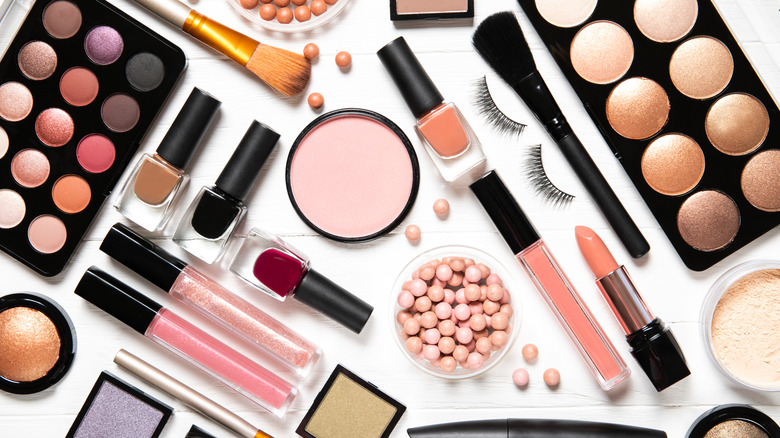 Shutterstock
Now that we've spent the majority of the COVID-19 pandemic hunkered down in our homes, many of us are just itching to get out and be social again. And with a renewed sense of energy comes wearing our best outfits and putting on that full face of makeup that we've been dreaming of. But if you're looking to get ahead of the curve and try to jump on the latest makeup trends before everyone else does, experts are predicting that summer 2021 trends might be more difficult to predict than previous seasonal trends. "It's kind of hard to say with makeup trends — they're so unpredictable," says Jackie Aina, a Nigerian-American beauty content creator, activist, and social media influencer. "I think we could go either way. People could be so comfortable and used to where we are now and keep moving forward in the 'less is more' lane. Or, there could be a resurgence in doing full heavy glam," she explained, per Harper's Bazaar.
Whether you're looking for a full face look, or more of a "no-makeup-makeup" look, here are some of the predicted trends for the upcoming summer.
Bright, vibrant colors for summer on the eyes and lips
Warmer weather inspires positivity and bright colors. That's why beauty experts predict that one of the hottest looks of the summer will involve layering multi colored eyeshadows. According to Cosmopolitan, the best way to pull off this gorgeous, sunset inspired theme is by pairing it with a "neutral-colored primer," as it should prevent any "fading or smearing" from happening.
Another predicted trend for the summer involves a makeup product that many of us opted to totally omit throughout the pandemic: lipstick. It felt totally useless to wear our favorite lipsticks because they'd end up just being hidden by our masks. But now that vaccinations are happening left and right, it's just about time to replace that mask with your favorite lip product. According to InStyle, the lipstick look we can expect to see a lot of this summer is something called "satin lips." The look is a unique hybrid between glossy and matte, which InStyle believes is one of the most practical lipstick trends for the summer as it is "less likely to melt and smear," from either the hot weather, your mask, or both. But if you're not interested in this more subtle lip look, Cosmopolitan predicts that the red/orange lip color will be everywhere this summer, call it something of a crimson shade.
That 'I woke up like this' makeup look
Living in a hot climate and can't be bothered to cake on the products? Don't worry — you're not alone. Not only is this "less is more" makeup look super practical for the summer, but it'll be one of the chicest, as well. According to celebrity makeup artist Erin Ayanian Monroe, per Byrdie, there are a few keys to absolutely nailing this "no-makeup-makeup" look. First of all, nix the heavy foundations and replace them with a good quality CC cream or tinted moisturizer, paired with some strategically placed concealer. Monroe also recommends replacing all of your powder products with cream ones, as cream products tend to sit much more naturally on the skin. Finally, Monroe believes that one of the unskippable steps to this look is a highlighter. "A dab of pearly highlighting cream on top of your cheekbones is gorgeous," she explains, adding that it brightens up the complexion in a beautiful and natural way to give you that "my skin but better" look.
Cosmopolitan echoes this sentiment, believing that the "no-makeup-makeup" look will be everywhere this summer. It'll leave you looking fresh-faced, youthful, and effortless, consisting mostly of "clean and dewy skin, lightly flushed cheeks, neutral-colored lips, brushed up brows, [and] fluttery lashes," to make you look like you just woke up like this.