The Truth About Taylor Swift And Cara Delevingne's Friendship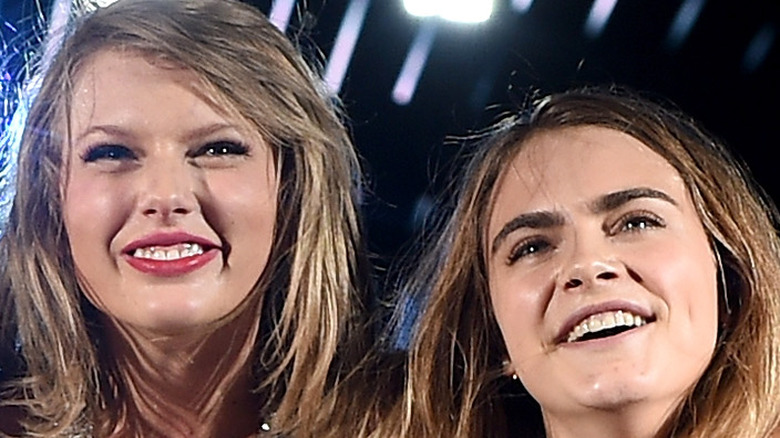 Dimitrios Kambouris/lp5/Getty Images
With the success of Taylor Swift's first re-recorded album — "Fearless (Taylor's Version)" — her fans are anxiously awaiting her next release. After dropping an out-of-the-blue "Just a Summer Thing" merch collection, some Swifties are convinced that "1989 (Taylor's Version)" is on its way (via Billboard). Swift has yet to confirm or deny whether or not a re-recored version of "1989" is on the way, but what is clear is that Swift's fans are always on the lookout for Easter eggs. 
There's no denying that Taylor Swift loves a good Easter egg. She's been putting out little hints and clues here and there for years. Swift even told Entertainment Weekly back in 2019 that she loves to "communicate via Easter eggs," according to PopSugar. She's definitely gotten better at the cryptic messages over the years, and it's allowed Swift's personal life to remain relatively private as well. The singer doesn't often post on social media either — unless it's to leave a mysterious Easter egg, like her "not a lot going on at the moment" post, which she posted right before dropping "folklore" (via Billboard). 
Cara Delevingne still has Taylor Swift's back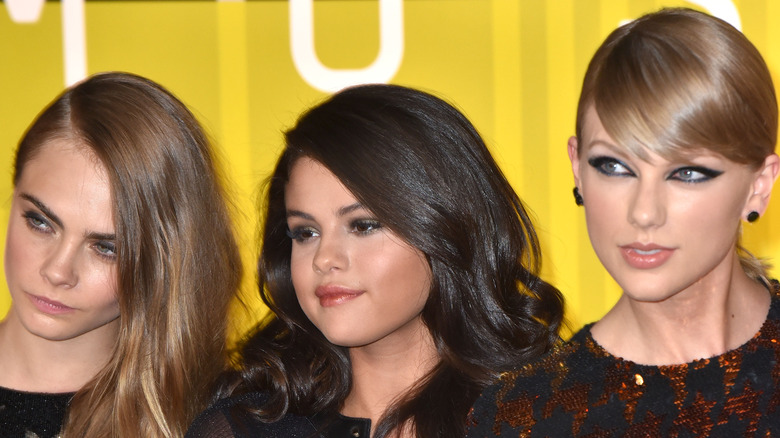 C Flanigan/Getty Images
Because Taylor Swift doesn't often discuss her personal life, some fans wonder if she's still friends with the members of her infamous squad. If you remember, back when "1989" was first released, Taylor had a large group of friends who were aptly named "Taylor Swift's squad." The crew consisted of models, singers, and actors like Selena Gomez and Karlie Kloss (via Insider). While Swift's friendship with Gomez is as strong as ever, her relationship with Kloss seems to be over. According to Insider, one of the reasons the two aren't friends anymore is the former model was spotted on vacation with Scooter Braun in the middle of his feud with Swift. 
Braun is one of the reasons Swift decided to re-record her albums, after he purchased her masters in 2019. After Swift called out Braun for "bullying" her, Justin Bieber came to his defense, claiming that Swift was getting her fans to "hate on Scooter" (via Teen Vogue). 
From there, one of Swift's old squad members, Cara Delevingne, stepped in saying, "I wish you spent less time sticking up for men and more time trying to understand women and respecting their valid reactions." 
The model and actress proved she's still a loyal friend, and even said she couldn't "wait to hear" the re-recorded albums (via Showbiz Cheatsheet. It seems Delevingne has even mended things with Bieber, after they both appeared on the "Friends" reunion (via The Daily Mail).