The Truth About Kate Winslet And Leonardo DiCaprio's Relationship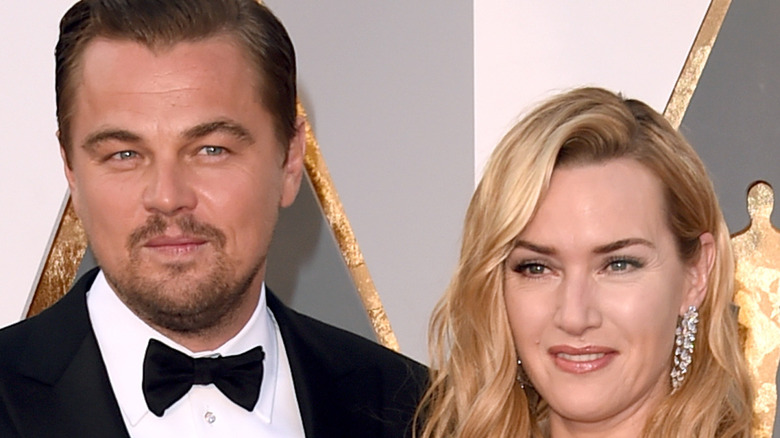 Jason Merritt/term/Getty Images
After they starred in "Titanic" together in 1997, Kate Winslet and Leonardo DiCaprio were catapulted to A-list Hollywood fame and have remained firm friends ever since. Hello magazine revealed that over the last two decades the pair have become an iconic couple but not in a romantic sense. 
DiCaprio told Oprah Winfrey in 2009, "In a lot of ways, Kate and I have really grown up in this industry together; we've been a support mechanism for each other for such a long period of time. We've been there for each other and helped guide each other." So, here's the truth about Kate Winslet and Leonardo DiCaprio's relationship: they've never quite shrugged off the romance rumors.
In 1997, when DiCaprio was promoting the cult classic movie, he told Entertainment Tonight, "She's such a terrific person in general that our chemistry naturally happened on screen. We just like each other as people. As far as doing a love scene, though, we laughed about it a lot."
Elle explains that as both of their careers skyrocketed, they've stood close by each other's sides. On the red carpet at the 2005 SAG awards, he said, "She's the same person she's always been. She's a fantastic human being." Winslet returned the heartwarming compliment and said, "I just feel so proud that you've turned into this really special person. I love you, sweetheart."
Leonardo and Kate have achieved amazing things together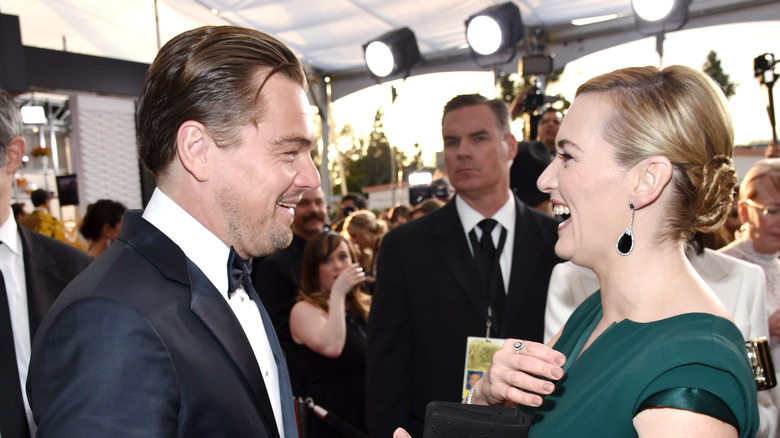 John Shearer/Getty Images
It would seem that after you've starred in a blockbuster like "Titanic" it bonds you for life as Elle explains the duo have been each other's biggest champion along the way. In 2013, Kate Winslet is quoted as saying, "Leo has mastered this more than anyone I know. It's not that he's sort of brazen like, 'I don't give a f**k and I'm going to be rebellious and behave badly.' It's not that. It's genuinely not caring what people think because he will not allow other people's judgments to have any kind of impact on his life and who he is. and I have really admired that so much in him."
The Brightside explains that when Winslet married Ned Rocknroll in 2012, DiCaprio walked her down the aisle. 
Hello writes that the "Inception" star also provided massive support when Winslet's mum died of ovarian cancer. Reportedly, the pair did something amazing in her memory – they auctioned off a dinner with "Jack and Rose" and raised $1.35 million. The besties then put the money towards another woman's cancer struggle, and she went on to survive.
In 2016, when DiCaprio finally won an Oscar for his performance in "The Revenant," Winslet was one of the first to congratulate him. She told Vanity Fair that she couldn't boycott the ceremony as "I feel very strongly that it may possibly be Leo's year. He is my closest friend in the world and I just couldn't imagine not being there to support him."
Have Kate and Leonardo ever dated?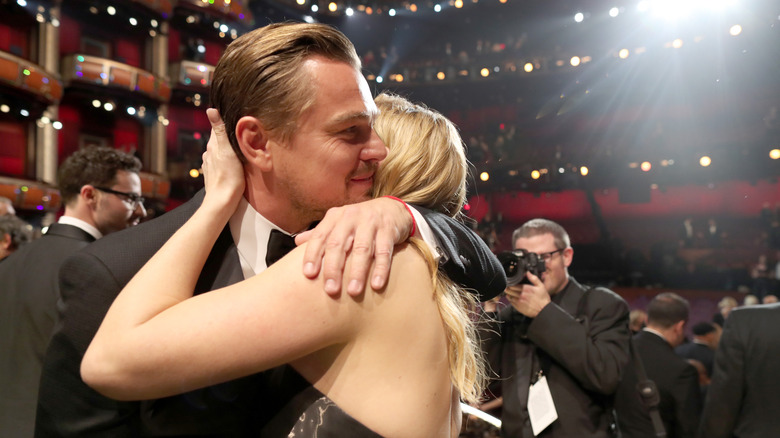 Christopher Polk/Getty Images
Fans of "Titanic" will know that the chemistry between Leonardo DiCaprio and Kate Winslet is off the charts. It transfers to their real-life friendship too. Buzzfeed compiled a list of every time they appeared on the red carpet together looking ridiculously cute and honestly, there are too many occasions to pick from. It's hardly surprising that fans have speculated whether DiCaprio and Winslet have ever been more than friends.
Winslet told Marie Claire that the pair have only ever been friends. "It's so disappointing for people to hear that because, in the soap opera of the Kate and Leo story, we fell in love at first sight and had a million snogs, but we never did," she told the publication.
They played a couple again in "Revolutionary Road". Speaking about the part, People said that DiCaprio said, "We were actively looking for something to do together. It felt really natural. She's my homie."
It's so clear that there's love between the pair but Winslet told Rolling Stone that after everything they'd been through a romantic relationship would feel "incestuous." In fact, she attributes their long-lasting friendship to keeping things friendly, as she told Marie Claire, "I think the reason that friendship works is because there was never any romantic thing."