Jennifer Aniston Shares Surprising New Insight Into Her Relationship With Matthew Perry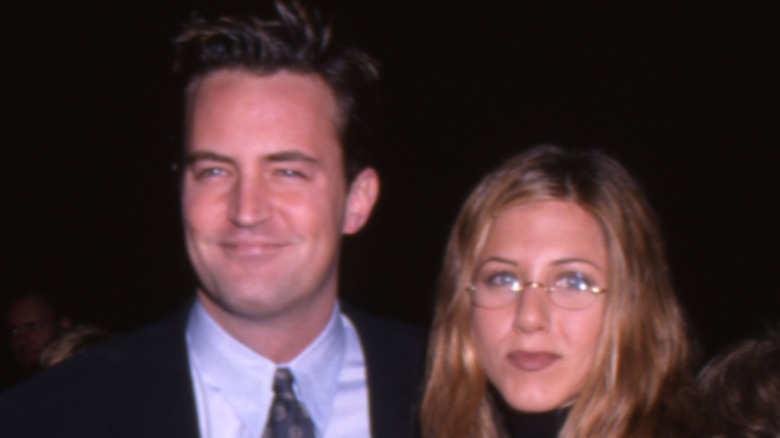 Michael Ochs Archives/Getty Images
It's no secret that the cast of "Friends" are in real life, well, friends. The show has really never gone out of style, but as of late has only skyrocketed in popularity due to the "Friends" reunion, called "The One Where They Get Back Together," which began streaming on HBO Max in May 2021. While the reunion doesn't involve any scripted episodes of canonical story, it does still give fans a taste of what they fell in love with the most throughout the series' life: the cast. According to Harper's Bazaar, the reunion consists of "testing their trivia knowledge of the show, revisiting key sets, re-reading their lines," and more. It's given the fans a chance to learn more about their favorite people, as well as the cast to learn more about their fellow members. 
On a recent episode of the "Today" show, Jennifer Aniston opened up about some of the new information that she is still managing to learn about her "Friends" co-stars. And in fact, she shared some information that she learned about Matthew Perry — who plays Chandler Bing on the show — that was totally new to her and her fellow cast members.
Jennifer Aniston had no idea that Matthew Perry got upset if he didn't receive laughs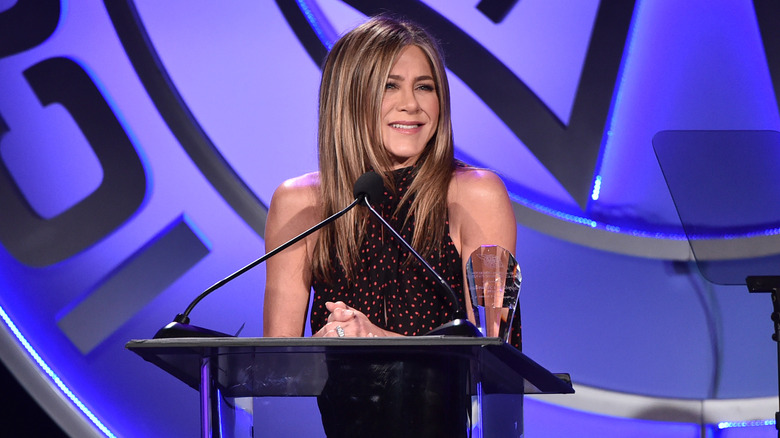 Alberto E. Rodriguez/Getty Images
On "Friends," Chandler Bing is the sarcastic, awkward, and totally hilarious friend that you could always count on to spout out some sort of cheeky one-liner. As it turns out, Matthew Perry played Chandler perfectly, because Perry is pretty much exactly like his character in real life. But according to Jennifer Aniston, being the funny one wasn't always easy on Perry. "I didn't understand the level of anxiety and self-torture [that] was put on Matthew Perry, if he didn't get that laugh, and the devastation that he felt," she said during the Thursday, June 24, 2021 episode of the "Today" show. "[But it] makes a lot of sense." 
During a scene of the "Friends" reunion, Perry confessed, "I would sometimes say a line and they wouldn't laugh, and I would sweat and just, like, go into convulsions. If I didn't get the laugh I was supposed to get, I would freak out ... To me, I felt like I was going to die if they didn't laugh," he shared. "And it's not healthy, for sure," per Buzzfeed. But it wasn't just Aniston who didn't know about this — it was the other cast mates, too. "You didn't tell us that then," Lisa Kudrow, who played Phoebe Buffay, said to Perry.
Matthew Perry struggled with addiction while starring in Friends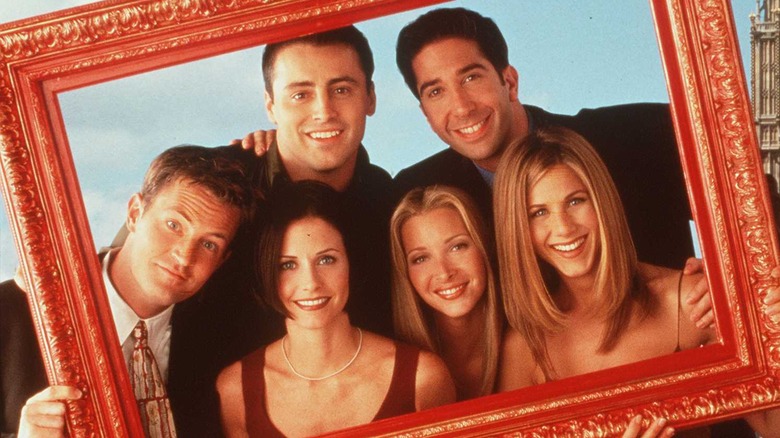 Getty Images/Getty Images
It's possible that some of Matthew Perry's anxieties were also tied to his addiction. Indeed, Perry reportedly became addicted to Vicodin just three years into filming "Friends" as a result of a serious jet skiing accident he got into in 1997. "It wasn't my intention to have a problem with it," he told People in 2002. "But from the start I liked how it made me feel, and I wanted to get more." 
Throughout the coming years, Perry would proceed to get sober many different times, even putting himself in rehab on several occasions. Furthermore, in 2018, Perry underwent gastrointestinal surgery to repair a gastrointestinal perforation. While it was never officially confirmed, many speculate that the need for surgery was related to an alcohol addiction (via Prevention).
While the subsequent struggles that Perry had with addiction lingered for 20 years of his life, it was a point that was briefly discussed during the reunion show. Variety writer Caroline Framke critiqued that the reunion didn't quite do enough to address this serious issue, and attempted to veil it, along with other series issues, in humor. "Perry has mentioned in the past about how his addiction struggles impacted his time on the show to the point that he had to enter rehab," Framke wrote. "The special ultimately declines to discuss any of his troubled experiences explicitly, but it nonetheless lingers around the margins with palpable unease."