The Surprising Place Dolly Parton Finds Inspiration
Valerie Macon/Getty Images
Dolly Parton is a living legend, an icon, a star unlike any other and the kind of performer who only pops up once in a generation, if even that. From getting up while the rest of us are still snoozing, to writing so many songs you've likely lost track of which are actually hers, and even helping to develop a COVID-19 vaccine, there's only one Parton. The country music superstar is so ubiquitous even people who don't typically listen to that style of music are completely enamored with her. 
Clearly, Parton is a huge inspiration. Not only did she fight against intense industry sexism to make her mark, but the beloved singer-songwriter has always refused to be or look anything but herself. There's no compromise when it comes to Parton, and she's happy to share exactly how she got to be the person she is. That includes opening up about her songwriting process. Considering Parton has so many brilliant tracks in her repertoire, learning where she gets inspiration is fascinating.
The country star requires ultimate peace and quiet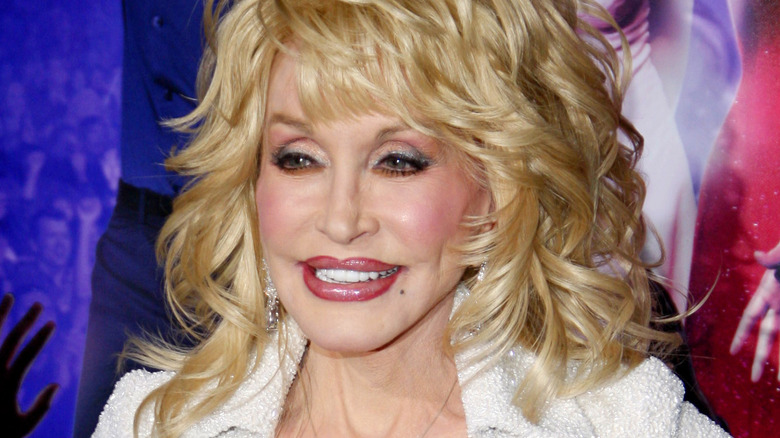 Shutterstock
Although she's the furthest thing from a gothic, ghoulish performer, Dolly Parton shared with Taste of Country that she frequently finds song inspiration in a very unlikely spot: cemeteries. "I just love walking through them and looking at [the headstones]. I just love to imagine what people's lives were like. They're so well kept, and they're peaceful," the country icon explained, quipping, "It's not the dead I'm afraid of — it's the living!"
In fact, in 2020's "Songteller: My Life in Lyrics," Parton revealed she was inspired to write "Jeannie's Afraid of the Dark" after spotting a child's grave with a special eternal flame on it. Likewise, "Out of the Silence (Came a Song)," was dreamed up during a stint at Graveyard Hill, which is located near the country legend's Tennessee abode. Parton sat there quietly inventing life stories for the people buried around her, and through that process the song was born. 
Even without the characters, Parton finds graveyards incredibly peaceful places to sit and just think. In a 1977 interview with Rolling Stone, the "Jolene" hit-maker gushed, "I love cemeteries, they're so quiet," primarily because she can write there without being bothered (not by the living, anyway). Parton clarified during a "Good Morning America" interview it's "not a morbid thing." She explained cemeteries are simply ideal spots to sit, think, and create. And really, who are we to argue with the inimitable Dolly Parton?