The Eyeliner Trend You Need To Try This Summer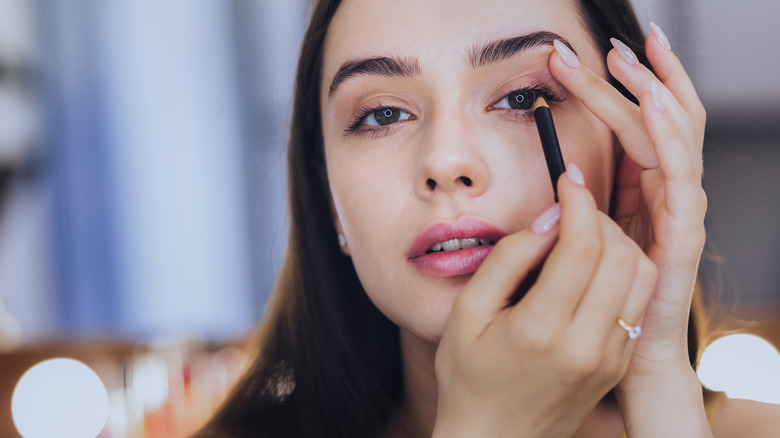 Shutterstock
We may receive a commission on purchases made from links.
Many people have their typical routines when it comes to beauty and makeup. Sometimes, we use the same products for so long that they become staples in our lives. From bronzers to eyeliners to mascaras, when we find something we love, we oftentimes stick with it for the long haul. But, if there was ever a time to go a bit wild and crazy, it's the summertime.
Something about the warm weather and the glowing sun makes us want to spice things up and go a bit crazy — to level up (via Cosmopolitan). Let's face it, we always feel better when the weather is nice. Everyone wants to ditch their Netflix plans on the couch and get out there with friends to rooftop bars and outdoor parties. And, what better way to make a bold statement than switching up your beauty routine just in time for the sunshine? 
If you're looking to try something new this summer, changing up your regular black eyeliner is definitely the place to start.
How to incorporate colorful eyeliner into your look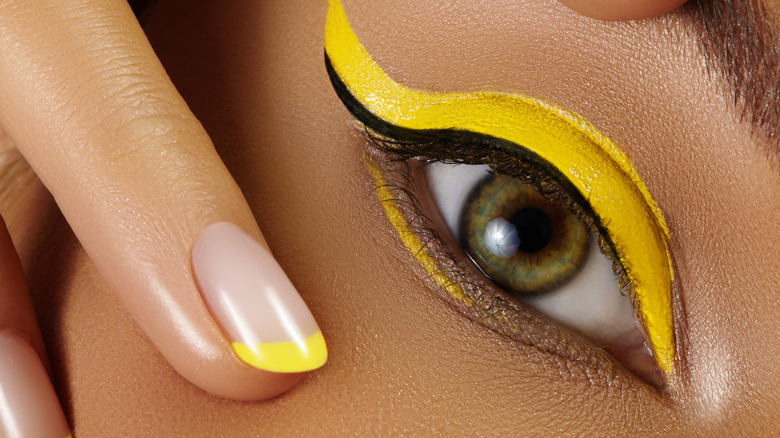 Shutterstock
So often, when it comes to eyeliner, we default to basic colors like black and brown. Whether it's for work, date night, or even a night out with friends, we're pretty quick to go back to our regularly scheduled makeup looks rather than switching it up and going big and bold. This summer, when everything is heating up and getting crazy, it's the perfect time to add that spice and pop to your face. 
Trying some bright colors in your eyeliner palette can make any outfit scream "summertime ready." Colors like yellow, pink, blue, and even purple have been trending online with famous celebrities like Doja Cat and Addison Rae (via InStyle). Not to mention, wearing bright color eyeliners can spice up a plain outfit like a little black dress or a casual white summer skirt. 
If you're looking to experiment with this beauty trend, finding the right eyeliner is ideal. For starters, Eyeseek has a 12 pencil set pack of bold colors available on Amazon for only $9.99 (via Amazon). Not only are the colors to die for, but the liners are also waterproof, perfect for summer!