Inside Rachel Weisz's Relationship With Daniel Craig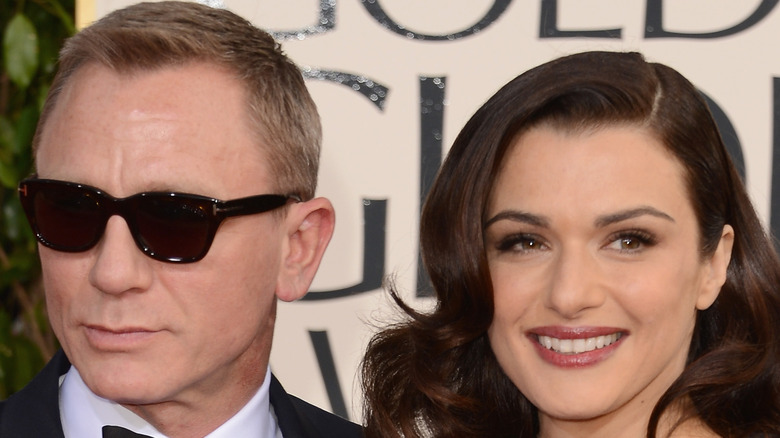 Jason Merritt/Getty Images
They're two of the biggest stars in the world but you'd be forgiven for not realizing Daniel Craig and Rachel Weisz are also a long-time couple. Although they frequently attend red carpet events together, the James Bond star and indie darling keep their relationship under wraps and firmly out of the tabloids. The couple is unfailingly supportive of each other's careers to the extent that, as Weisz told Jimmy Kimmel during an appearance on his chat show, competing releases don't effect them. 
Due to the COVID-19 pandemic, "Black Widow" and latest 007 outing "No Time to Die" were slated to come out at the same time, leading Marvel head honcho Kevin Feige to fret about the competition from Bond. Weisz admitted, "I was thinking, 'Maybe [Feige] doesn't actually know I'm married to Daniel.' And at that moment, Daniel was walking down the stairs into the kitchen. And I really wanted to turn the screen around and go, 'Well, he's right here. You can ask him'" (via YouTube). 
Suffice to say, if even Feige didn't necessarily know they were together, these two clearly aren't flaunting their love to all and sundry. 
They've been together for quite a while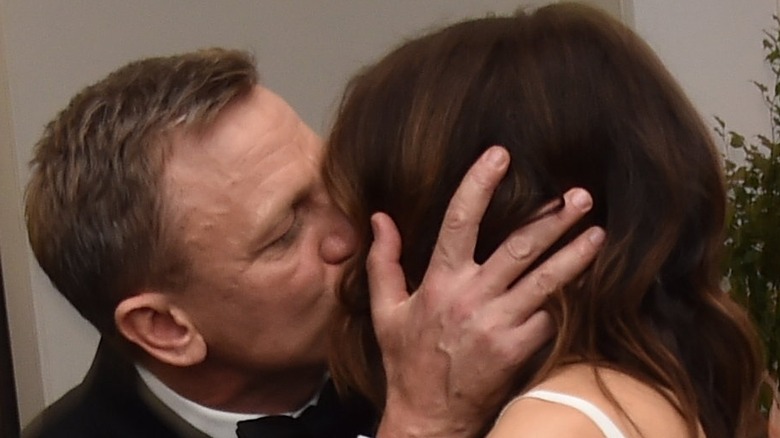 Wpa Pool/Getty Images
Plenty of Hollywood couples exist under the radar, but Rachel Weisz and Daniel Craig take it to a whole other level. They were friends first, as the actress told Marie Claire in 2012 — Metro reports they actually met in college — and were previously both involved in long-term relationships elsewhere, Craig with actress Fiona Loudon, whom he divorced in 1994, and Weisz with filmmaker Darren Aronofsky. Both have children from these relationships too, as per Harpers Bazaar. They fell in love on the 2010 set of thriller "Dream House," in which Weisz and Craig coincidentally played a married couple. 
The actors reportedly shared off-the-charts chemistry according to the tabloids. Although they denied anything was going on, just a year later, in June 2011, the couple married in New York. Just four guests attended, including their children. "We did it privately and we've got a lot of people to thank for that," Craig told GQ in 2015. "But that was the point; we did it for private reasons. The whole point is that it was a secret."
Rachel Weisz and Daniel Craig are focused on each other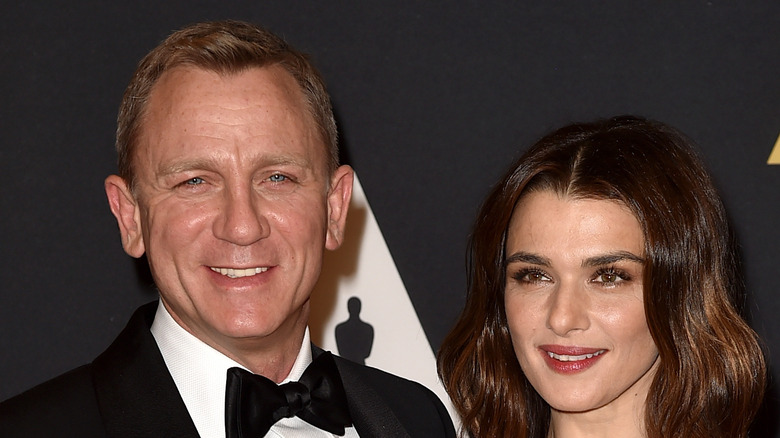 Kevin Winter/Getty Images
They refuse to divulge the secrets of their marriage, but Rachel Weisz recently told Evening Standard, "I wear my ring with pride" even though the "Black Widow" star never actually planned to get married, describing herself as the furthest thing from a mushy person. The couple supports each other completely but they don't discuss work, with Weisz telling The Sun, "There is nothing worse than two actors getting together and talking about acting." They still live in New York and, although the couple is often papped out and about, they don't court attention. 
Their home life is relatively low key, with Weisz confirming they enjoy cooking together in 2015 interview with The Mirror. On why they've chosen to share so little with the public, Weisz noted simply to E! News, "It would be a betrayal. You have to protect your marriage." THR confirmed they'd welcomed a daughter in 2018, which infamously led professional agitator Piers Morgan to publicly shame Daniel Craig for wearing a baby Bjorn (via Twitter). Naturally, the James Bond star remained nonplussed.