The Best Sunglasses For You If You Have An Oval Face Shape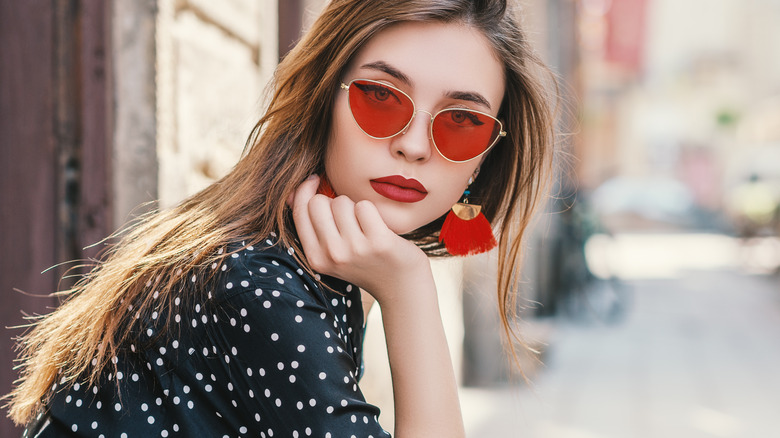 Shutterstock
Ring the alarms: sunglasses season is upon us, and our shopping carts are chock-full of summer's hottest styles. While we can't get enough of cat-eyes, hippie circle glasses, and chunky rectangles, your shades should flatter your face shape above all else. So where to start? Figuring out your shape is easy: simply use our guide for help. If you have an oval face, defined by being long and thin "with a chin slightly narrower than your forehead" (via Allure), then you're in luck. A face shape shared by glamazons like Liv Tyler, Tyra Banks, and Jessica Alba, you can wear almost any pair of sunglasses you choose as you have "the most universal face shape" (via Coastal). However there are a few styles in particular that will further balance out your features, define cheekbones, and add some width. 
As queen-of-beauty and glasses expert Bobbi Brown tells Allure, "most styles work well" on oval faces, so "mix it up." As the shape with the most options, you'll be able to wear almost any trend under the sun — from geometric styles to uber-classic wayfarers. Salt Optics designer David Rose echoes this, telling The Oprah Magazine that "any shape works" on oval faces. But not too fast: the best sunglasses for ovals enhance the cheekbones and "slim down" the jawline (via Kraywoods), while also adding "angles to its soft curves" (via Coastal). While most styles will suit you fine, following a few rules will take your shades game even further — beware, people will notice!
Flattering styles for oval faces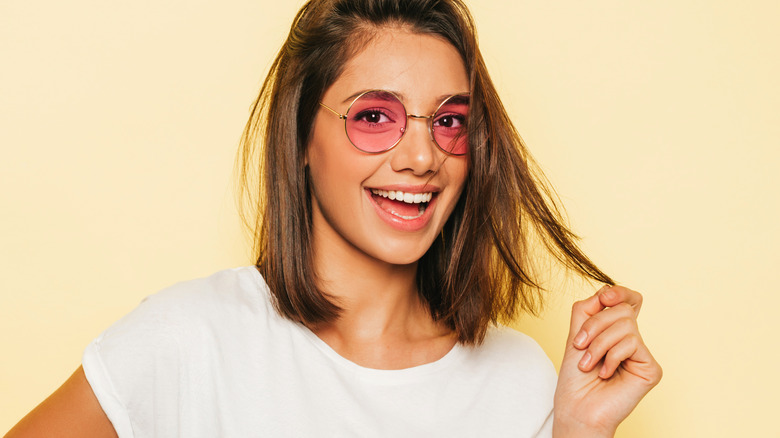 Shutterstock
As per Allure, there are a few guidelines to remember when buying sunglasses for an oval face. First one? It's all about size. As Bobbi Brown told the outlet, "if you have smaller features, avoid thick, large frames, as they'll overwhelm your face." Since oval face shapes are known for their delicate silhouette and their "gentle narrowing at the forehead and jaw," anything too big will drown out your gorgeous shape. Since "your main concern should be the size and the proportion to your features," most sunglasses will work, just make sure to avoid frames that are wider than your face.
To really play up your balanced face shape while adding some edge, try soft angular frames (via Oprah.com). Le Specs Air Heart Sunglasses have a rounded-yet-geometric edge in a large cat-eye shape that will look amazing on you. As per Eye Buy Direct, rectangular frames are "perfect for oval faces," enhancing your natural symmetry while adding some angles and definition to your soft silhouette. Try Ray Ban's Original Wayfarer Classic in tortoiseshell for a flattering, vintage touch. Traditional aviators also look great, particularly ones that hit right at the edge of your face and play with geometrics like glitzy Illesteva's Patmos Sunglasses.
Other hits for oval faces? Square shapes will create the illusion of sharper cheekbones, while bright colors will add even more interest to your look. Try Ray Ban's Square 1971 Mirror Evolve in sunset pink, which should fit into any fun summer plan.