Here's How Much It Really Costs To Be Joe Biden's Neighbor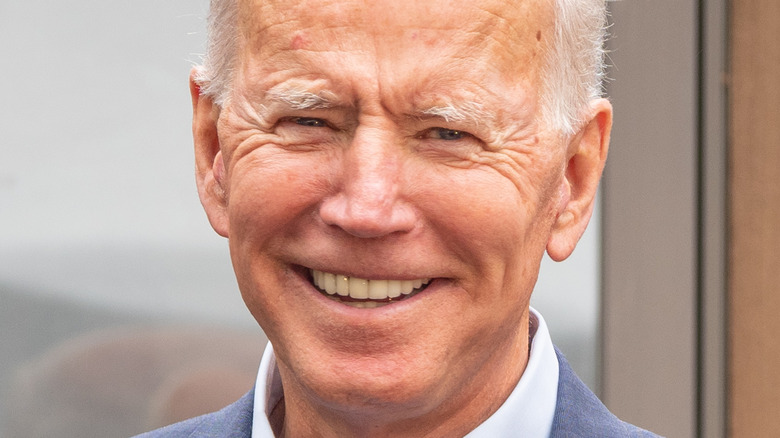 Shutterstock
Don't shoot the messenger. You wanted to know. The New York Post was sniffing around, and a home near Joe Biden's house in Wilmington, Delaware is officially on the market. Biden's lakefront house in Wilmington was worth $350,000 when he bought it, but according to Town & Country, it'd bring in between $1 and $2 million today. You'd need more of that to snatch up the 5-bedroom home just minutes away from downtown Wilmington (population 71,100, as per Los Angeles Times), although Realtor.com promises that Brazilian cherry hardwoods and sweeping staircases are included. Plus, you'd be just a five-minute drive from St. Joseph on the Brandywine Roman Catholic Church, where Fox News reports that Joe Biden and his fam attend service. 
Buy the property and The Bidens aren't the only famous people you might bump into on a picturesque New England sidewalk. Wilmington can't boast the star power of, say, Montecito, but actress Aubrey Plaza grew up in the town. Then again, Plaza once told Stephen Colbert that "really, [the city's] more like a tiny little 'dink,'" (via Delaware Today). 
"Dink" or not, Wilmington, Delaware was where Biden grew up, running around in forests with his sister, experiencing the wonders of air conditioning for the first time in a local supermarket, and hand-painting his high school's wrought iron fences (via GQ). Now, if you've got the cash, you can experience the magic of Wilmington, Delaware, too. 
It costs a small fortune to be Joe Biden's neighbor
Shutterstock
Interested in becoming Joe and Jill Biden's next neighbor?  Realtor.com's listing details an 8,700 square foot property complete with a movie room, gym area, and four-car garage. Chandeliers hang from the ceilings and the kitchen boasts glistening, marble-topped counters. All you'll need to scoop it away from the New Yorkers New Jerseyans who are already taking tours of the property (according to realtor Michael Kelczewski, who spoke to The New York Post) is the modicum sum of $2.39 million. Yes, you'll need more than pennies to be Joe Biden's neighbor. For perspective, however, you'd need nearly double ($3.9 million) to live in Montecito, California (via Zillow), where maybe you'd run into former British royals, or celebs like Oprah, or anybody else that only needs one name to get by in life. 
Yes, but are there any cons to moving in next to President Joe Biden? "I've spoken to neighbors, and the only issue with that is there are occasionally unannounced transits where they shut down everything and you can't leave the property, so I can see that being somewhat of an encumbrance," Kelczewski told The New York Post. "But I think [the proximity to President Biden] is a selling point."