Katie Couric Reveals The Unique Feature On Her Mother Of The Bride Dress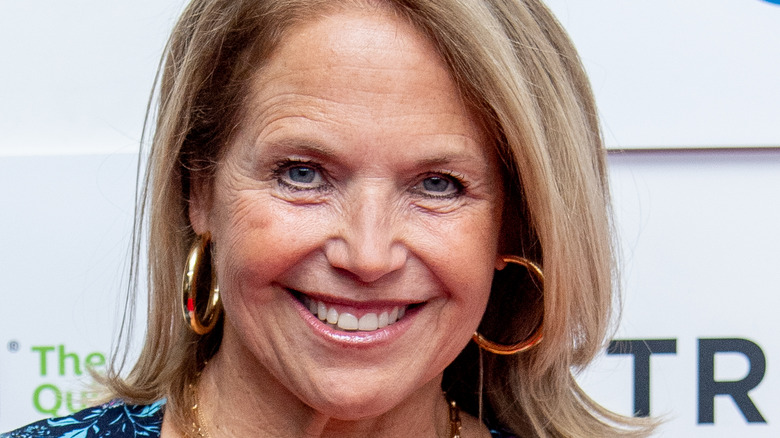 Roy Rochlin/Getty Images
Ellie Monahan, Katie Couric's daughter, has tied the knot! The new bride was married in Port Jervis, New York to Mark Dobrosky, to whom she was engaged for two years (via People). 
At the wedding, Monahan paid tribute to her late father, who died from colon cancer in 1998. Monahan honored her father in a few ways, most notably through the diamond ring that her late father gave to her mother, per the Daily Mail, as well another way that Couric shared on social media. 
"Ellie walked down the aisle to Ashokan Farewell played by the composer, Jay Unger and his family band," Couric wrote on Instagram. "Jay Monahan loved that song, which was used in Ken Burn's series on the Civil War, so it was a way to honor him" (via Parade).
Of the overwhelming emotions that were felt at Monahan's wedding included Couric's sheer joy for one specific element, which she couldn't help but bring attention to via a post on Instagram.
Katie gushes over this small feature in her wedding outfit
Katie Couric was a glowing mother-of-the-bride at her daughter's wedding, sporting a baby pink, princess-style strapless Marchesa dress with beautiful embroidered greenery details flowing down the skirt. But Couric's favorite element of the dress? The pockets, of course! 
On her Instagram Story, Couric took a snapchat of her wearing the dress smiling ear to ear with the caption, "And it has pockets!!!!!" which she paired with a smiley face emoji (via the Daily Mail). Twitter users absolutely gushed over the dress, as well, with one user tweeting, "I loved your pink dress with the pockets. It was lovely." Another fan wrote, "She's gorgeous and your dress with pockets was fabulous!!!"
There's something about pockets in a dress that just makes it better. According to Marian Keys per the Irish Times, "Pockets give me confidence and swagger. Instead of sliding meekly into a room of strangers, my knuckles white around a clutch bag, I can stick both my hands into my dress pockets, arms akimbo, thus taking up more space in the world."
Couric couldn't help but gush over her daughter too, of course, calling her "absolutely radiant," as a bride, per People.