Chelsea Handler Reveals She No Longer Has A Crush On This Politician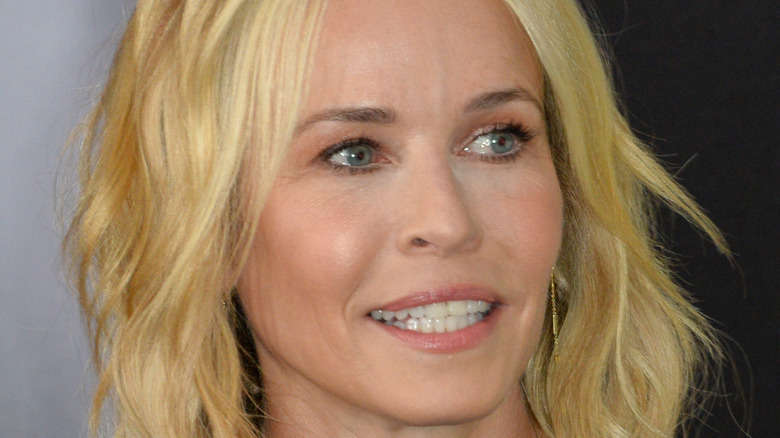 Shutterstock
There's no shame in admitting that none of us were really at our best during the COVID-19 pandemic and the subsequent lockdowns. From making too many batches of banana bread to eating more takeout than we probably should have, and maybe even texting that ex that means no good. But presumably those things were done in the privacy of our homes – unless you're Chelsea Handler, whose awkward admission was one that she happily announced to the world.
Handler revealed that she had a big crush on New York Governor Andrew Cuomo per her HBO Max special "Evolution" in October 2020, per Page Six. Then, on an episode of "The View" of the same month, the panelists couldn't help but prod her about the crush, which Handler happily obliged. "First of all, he's like a big giant. He came in like The Incredible Hulk," she gushed. "We needed somebody to come on the scene, we were so dehydrated for real leadership that when he came on the scene looking like this big Italian hunk, he was like 'Wear a mask.'" 
And in classic Handler fashion, per Fox News, she made us all laugh with an impressive pick-up line she used on Cuomo: "I wanna flatten your curve and you can flatten my curve and then we can both apex together." So does the comedienne still feel this way towards the governor?
Here's why Chelsea isn't into Andrew anymore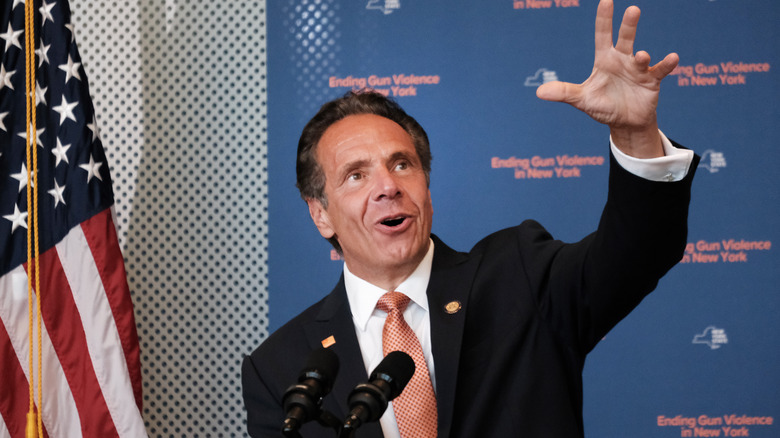 Spencer Platt/Getty Images
Well, it would appear that Chelsea Handler's crush is O-V-E-R. Is this because Andrew Cuomo allegedly ghosted the New Jersey comedienne? Well, according to Insider, Cuomo probably won't be pursing anything with her. 
"I'm a big fan of Chelsea's, and she is great, and we have fun," her shared. "But on my dating life, I am only dating, at this point, in-state residents." While this is understandable, there's an even more serious reason for the missed connection. According to The New York Times, over a half a dozen different women, including staffers, have accused the governor of sexual harassment.
The allegations span from uncomfortable encounters all the way to inappropriate touching and physical groping. Cuomo rejects the allegations, though not exactly denying any of it, but asserting that making someone uncomfortable shouldn't be considered harassment. The governor stated, per NBC News, "Harassment is not making someone feel uncomfortable — that is not harassment. If I just made you feel uncomfortable, that is not harassment. That's you feeling uncomfortable."
Chelsea and Andrew had a few back and forth phone conversations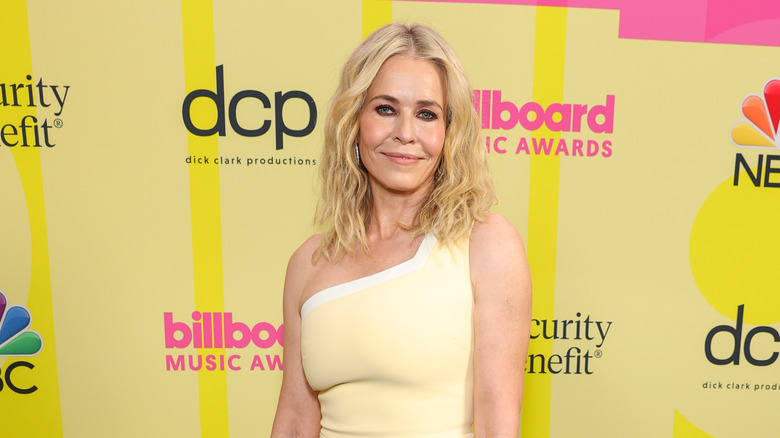 Rich Fury/Getty Images
On the July 8 episode of the New York Times' "Sway" podcast, via Page Six, Chelsea Handler made sure to explain that her crush on the governor is no more. "I found out all the stuff we found out about him ... and I thought, "Well, I guess, this is a guy that doesn't like it offered up.' So my crush with him is, yes, O-V-E-R," explained Handler.
The former late night host recalled that she "offered" herself up to Andrew Cuomo at the height of the pandemic because his leadership style during his morning news conferences turned her on. Handler revealed that the two even had a few phone conversations, adding that he appeared to be "really feeling himself," metaphorically (via The Daily Mail). She joked that she couldn't tell if maybe he was "pulling a Jeffrey Toobin" by literally "feeling himself," referring to the CNN chief legal analyst who was suspended for exposing himself and masturbating during a Zoom call with colleagues, per CNN.
However, she quipped, "I doubt it, though."