How To Keep Your Colored Hair From Fading In The Summer Sun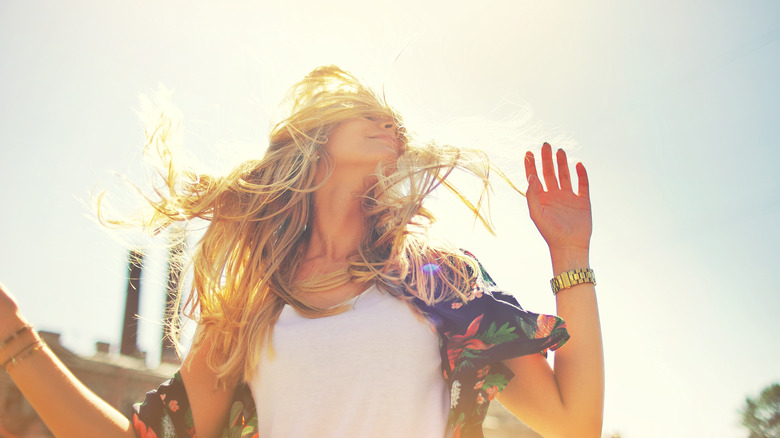 Shutterstock
Anyone with colored hair knows just how damaging the summer months can be. Between the chlorine from the pool or the salt from the ocean and the sun's rays, your mane can quickly fade in its hue. Taking steps to mitigate this damage will help keep your color — and your wallet — intact.
Vogue notes that having healthy hair is step one for maintaining your perfect saturation level and recommends purchasing bonding products to help fortify your strands against damage from the sun or various chemicals. Healthy hair holds color better and for longer periods of time, so stick with your soothing routine and apply a mask every few weeks to defend against damage.
Furthermore, avoiding opening the cuticle can be the difference between vibrant color and dye that falls flat. Common activities often open the cuticle of your hair include washing with warm water and roughly towel drying your mane. The outlet suggests using a cleansing cream rather than shampoo to retain the vibrancy of your color. "A cleansing cream won't open your cuticle as much, and it doesn't have any harsh laurel sulfates that can make the color come out," colorist, Aura Friedman, explained. "It's gentler on the hair and more moisturizing — the key in the summer is to keep your hair moisturized."
Rinsing with cold water will also help keep the cuticle sealed and your color sealed in with it.
Purchase color-saving products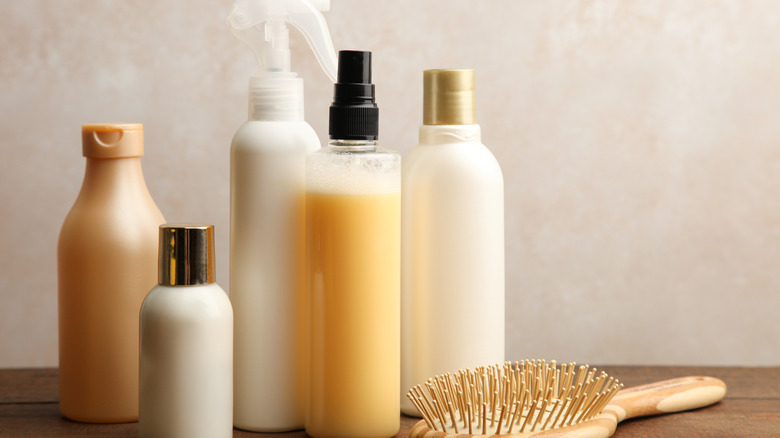 Shutterstock
Of course, you can find more than enough help from hair-protecting products. For instance, Self suggests purchasing a shower filter to remove damaging particles from your water supply that can leave your color falling flat no matter what season you're in. "The minerals in water can actually change your hair color — it's either going to be too green or too orange, and filters help," says celebrity colorist Rita Hazan.
From here, an SPF product may be your new best friend. When you go outside or jump in a pool, spray an SPF protectant on your strands to keep your color looking fresh. Vogue explains that you can also use coconut oil as sunscreen for your tresses since it has a tiny amount of natural sun protectant (around six SPF). "It'll help prevent fading and keep the moisture in your hair," offers Friedman. "You can do a conditioning treatment just sitting at the pool — killing two birds with one stone!"
Swim caps for the pool and visors for the beach will protect against common summertime stressors as well. But, you should still shower off after you get your hair wet to fully rinse out the chemicals or sea salt before it impacts your hair dye, Self notes. From here, deep condition on a weekly basis to support your strands and keep them healthy.
With these tricks up your sleeve, your hair color should stay put all summer long.