Nail Hacks To Keep Your Polish From Chipping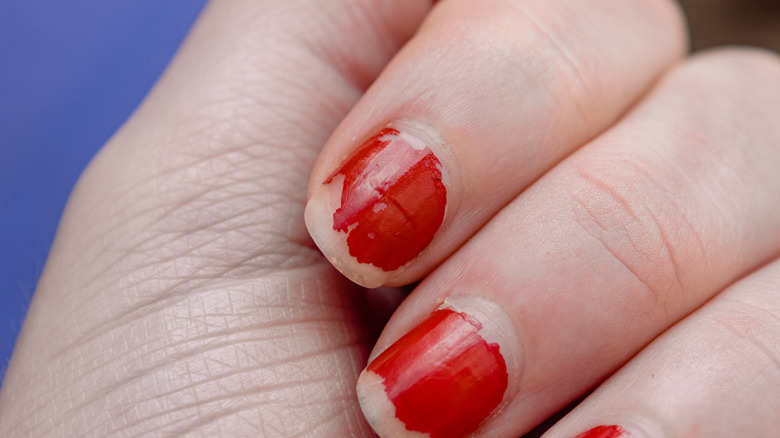 Shutterstock
For some of us, nothing makes you feel more put together and beautiful than getting a fresh manicure. Whether you go to the salon to get your nails done or you're a pro and do it at home, having a fresh color on your nails can make you feel brand new. However, the one thing we absolutely hate is seeing that fresh manicure chip within hours of getting them done. Walking around with chipped nails is like walking around with a giant stain on your shirt. 
Many people assume that keeping your nails from chipping has everything to do with top coats and drying (via Byrdie). But, as it turns out, there are a few other things that come into play when you are trying to keep your nails from chipping away. Luckily, there are a few different things you can do when painting your nails to ensure your polish lasts way longer than just a day or two.
How to keep your nails from chipping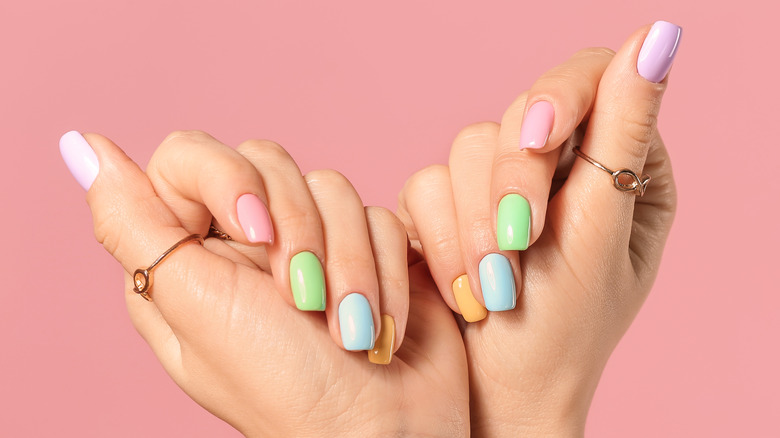 Shutterstock
Many people think that before applying nail polish, shaking the bottle will make sure to get the color evenly distributed in the bottle. However, instead of shaking it, you should actually roll it in your hands. Shaking the bottle causes bubbles within the polish which can cause spots and bubbles on your nail (via Good Housekeeping).
Another tip is to make sure you apply polish to the entire nail, including the edges of your nails. Many people apply polish to the top, but don't seal the edges. Instead, run the brush over the edge of your nail (after you give yourself a manicure) to put the polish over the entire nail; it can help prevent chipping (via Glamour).
It's also important that when you get your nails done, or do them yourself, you don't shower right after. Hot water tends to expand your nail beds and the polish moves right along with it. No one wants to spend $8 on a mani for it to only seem "old" because they showered right after (via Good Housekeeping).
If you're doing your nails at home, make sure you apply thin, even layers, and no more than three (via Allure). Applying thicker coats of polish makes it harder to dry and also leaves your nails open to smudge marks and even smooshing from doing anything with your hands — definitely not what we want!