Why Protesters Were Arrested Outside Of Ted Cruz's Texas Home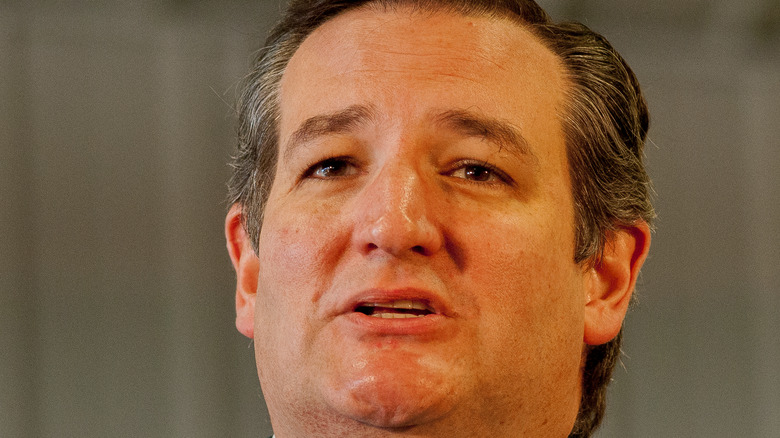 Shutterstock
Ted Cruz just can't stay out of the news lately, can he? The Republican senator and Donald Trump loyalist, who's made headlines for a handful of reasons this year, is still under fire for abandoning his state after a freak deep freeze ravaged Texas in February, killing hundreds of people and leaving millions without power, water, or heat for days (via Buzzfeed News). In the midst of Texans across the state literally dying and struggling to survive, Cruz hopped on a plane to Cancun, Mexico with his family and friends, infamously blaming his 10 and 12-year-old daughters for the last minute trip. The Cruz family also left their dog, who is ironically named Snowflake, behind at home in the freezing cold temperatures (via NYMag).
In June, state regulators had asked Texans to conserve energy amid a ruthless heat wave hitting the state, or risk another power crisis like the one in February (via New York Times). And on the same day the energy conservation orders were issued, Cruz posted a video of himself reciting the Pledge of Allegiance instead of addressing the ongoing electrical crisis in Texas, prompting outrage from social media users across the country.
Eight protestors were arrested after showing up to Ted Cruz's Texas home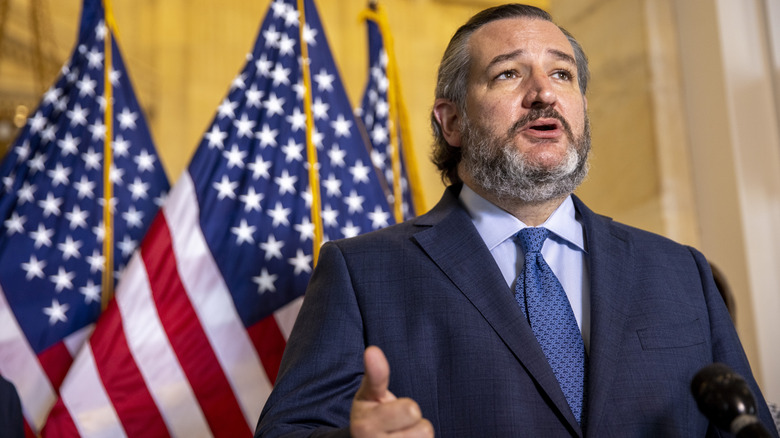 Tasos Katopodis/Getty Images
On Monday, June 21, a group of about 60-70 people marched up to Ted Cruz's Texas home to protest climate change amid Texas' power crisis. The demonstration was led by a group who is part of the Sunrise Movement, a youth organization that focuses on ending climate change. The group marched nearly 400 miles from New Orleans to Houston, where they stood outside Cruz's home and peacefully protested climate change, also calling on President Joe Biden to stop negotiating with "climate deniers" like Cruz and other outspoken Republicans who outwardly deny climate change (via Buzzfeed News).
While the Houston Police Department said that the protesters were exercising their First Amendment rights and were extremely peaceful, a handful ended up trespassing on Cruz's property, which resulted in eight of them being arrested. "Unfortunately, there was a small group who [was] actually committing trespassing into private property in front of the senator's residence," Assistant Police Chief Ban Tien said in a video (via National Review). "Roughly eight individuals still refused to leave and we finally gave one final warning. We explained to them the fact that they were violating a trespassing law. They acknowledged they understood and they chose to be arrested."
Cruz has yet to comment on the ordeal.