How To Replicate Simone Biles' Olympic Gold Eye Makeup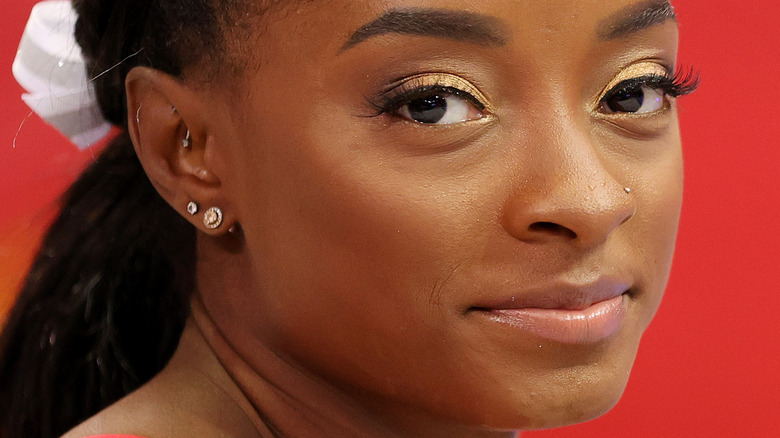 Carmen Mandato/Getty Images
After steadily building a name for herself in the world of gymnastics, Simone Biles has become renowned for her athletic prowess, incredible skill set, and unyielding determination. Her ability to dazzle both judges and fans alike extends even further than the gymnastics mat with beautiful, bold makeup looks that garner almost as much attention as her moves. 
In a July 2020 video for Vogue, Biles broke down one of her most iconic looks: her Olympic gold eye makeup. The simple steps are seemingly much easier to replicate than her Yurchenko double pike vault. Although she's regarded for her competitive spirit, Biles candidly admitted to Vogue that "beauty is no competition." 
In the video, she revealed that she typically only wears makeup for events during the gymnastics season, opting to go fresh-faced in her daily life. This inspires her to take risks with her makeup, like her iconic gold eyeshadow look, that will make you feel like an Olympic athlete even if you aren't one.
Going for the gold requires the right foundation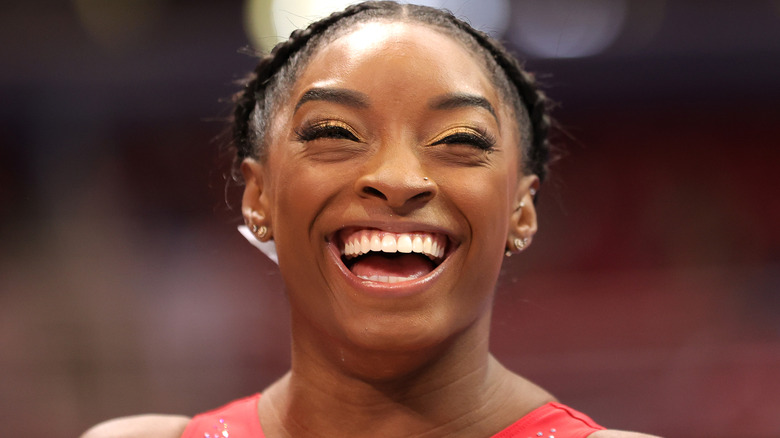 Carmen Mandato/Getty Images
Starting a gold eye makeup look with foundation might seem like an odd step, but it's one that Simone Biles swears by. She starts by applying a small amount of Fenty foundation to the back of her hand, which she then spreads smoothly across her entire face with a beauty blender. Once the foundation is applied evenly, Biles uses her beauty blender to dab the remaining makeup lightly across her eyelids. This provides a base for the eyeshadow to sit on top of and helps the pigmented color stay in place longer.
Perhaps one of the most refreshing aspects of Biles' makeup routine is how few steps she uses. Biles taught herself how to do makeup and still creates her eye-catching looks all on her own — even before Olympic events. Regardless of which foundation you use, you can easily master this technique at home.
Gold eyeshadow takes center stage in this look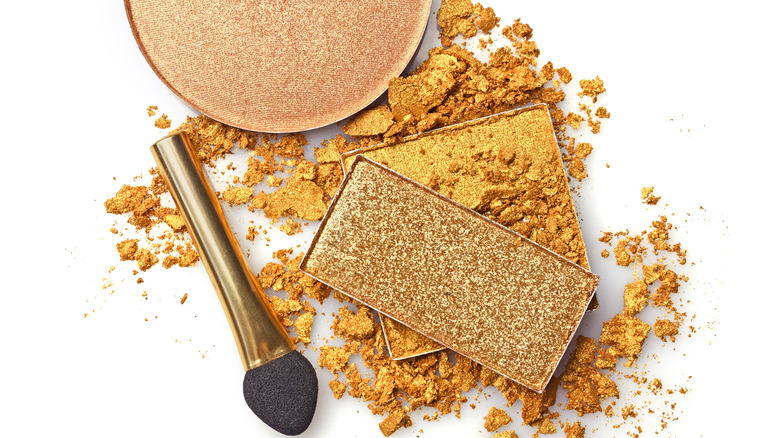 Shutterstock
After the foundation has been applied, Simone Biles reaches for a Fenty eyeshadow palette featuring her signature gold hue. Using a soft eyeshadow brush, she starts by applying a quick dusting of gold across her upper eyelids. The trick to getting this eye makeup right is to ensure that the upper eyelid is completely covered in gold eyeshadow. Biles runs her brush through the eyeshadow again and applies another coat of color across her eyelids to really show off this gorgeous tone. Once the gold is vibrant — and neatly staying in place thanks to the foundation — she moves on to the finishing touches.
Opting for a Fenty black liquid eyeliner, Biles quickly draws a gorgeous winged eyeliner across both eyelids. To get the perfect wing, Biles follows the lower lid upward when drawing out her lines. In the Vogue video, she mentions wanting to look for other winged eyeliner hacks to help get a smooth line every time, since we all know it can quickly go awry. After the eyeliner sets, Simone curls her eyelashes once with a simple eyelash curler before applying a layer of Marc Jacobs mascara to her top and bottom lashes.
If you follow Biles' steps for this look, you should be golden — literally!