How To Wear Jelly Shoes, The Latest Trend To Come Back From Y2K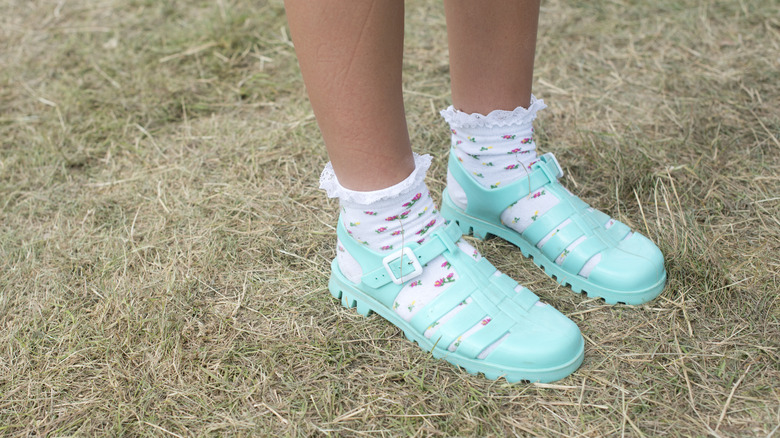 Kirstin Sinclair/Getty Images
Y2K fashion trends are going through a major revival. Per The Guardian, early 2000s fashion is making the rounds on TikTok, where mood rings and smiley face memorabilia are taking their place as the current accessories du jour. It's not just accessories — the quirky shoe trends that took over our entire closets and are so distinctly late '90s and early 2000s are also back. In April 2019, Steve Madden revived its iconic black platform sandals (via Today) and pulled further on the heartstrings of nostalgia fans by launching them in different styles and colors. Kitten heels are also becoming a popular footwear choice again (via Who What Wear).
But the biggest Y2K shoe trend to make a comeback is something we did not see coming: jelly shoes (via The Guardian). In the early aughts, everyone owned a pair of these glittery vintage shoes — often paired with printed, wide-leg pants. Even fashion icon Blake Lively got in on the recently revived jelly shoes trend, as InStyle reported that she paired hers with a floral dress and tousled ponytail while out with husband Ryan Reynolds. But now that jellies are back, here's how you can make the look more adult-friendly.
Alexa Chung brought Y2K's jelly shoes back to life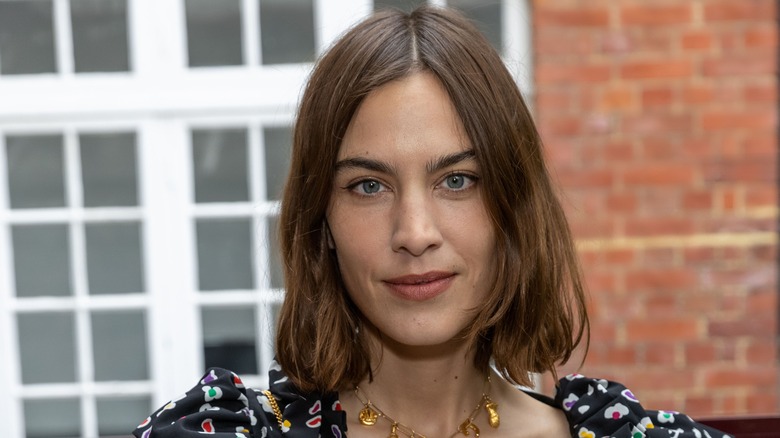 David M. Benett/Getty Images
Model and fashion designer Alexa Chung resuscitated the jelly shoes trend after collaborating with British shoe brand JuJu (the original creators) on her modern take of the classic shoe (via Evening Standard). Chung's jellies are a bit more glam than the original ones, and she replaced the traditional glitter design and rainbow color scheme with darker hues and fun embellishments. 
In an interview with Vogue UK, Chung explained what makes jelly shoes so attractive now. "I think the practical service jellies provide is what draws me to them," the fashion designer explained. "[They're] splash-proof footwear that is more appealing than a scuba sock. They're surprisingly adaptable and sort of go with everything." In the winter, Chung styles hers with comfortable knit socks and jeans, and dresses it up with oversized men's shirts or dresses when it's warmer (via Vogue UK).
For the office, wear jelly shoes in neutral tones like black or tan and style them with a white blouse and cropped ponte pants (via 90s Fashion World). A white dress will also make them pop (via Marie Claire). If your go-to jellies are the clear ones, give them an edgier look by rocking a leather jacket (via LookBook) and dark jeans.
Don't let your nostalgia cloud your memory of how uncomfortable and sweaty these shoes can get after wearing them for too long, reminds Bustle. Break them in first, or pair with socks like a true fashion expert.