The Surprising Reason Paulina Porizkova Was Kicked Off This Dating App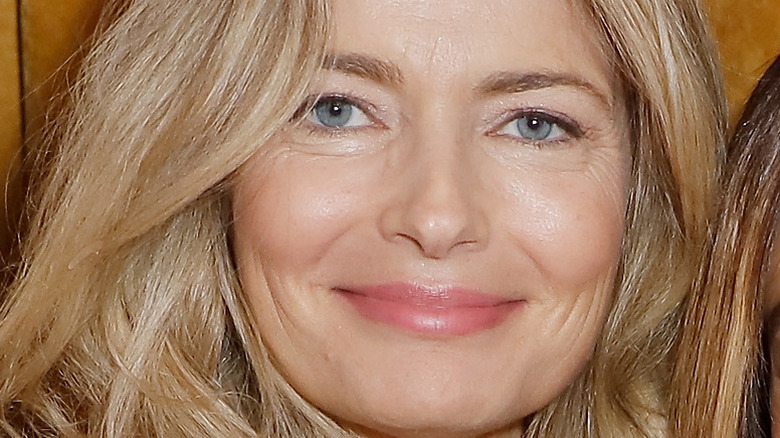 John Parra/Getty Images
Paulina Porizkova is single and ready to mingle. After separating from her longtime husband Cars frontman Ric Ocasek in 2017, the supermodel debuted her first public relationship this past April (Page Six). 
In an unexpected turn of events, Porizkova attended the 2021 Academy Awards with screenwriter Aaron Sorkin. At the end of the night, the 56-year-old gushed about her date on Instagram and cemented their status as an item. However, in a recent Instagram post, the Sports Illustrated Swimsuit star shared that the lovebirds had split.
Eager to re-enter the dating scene, Porizkova downloaded the popular app Hinge in search of a new connection, only to discover she was banned from the service (via People). Porizkova directly addressed the company in an Instagram post writing, "OK. What's up , @hinge ? I signed up a while back and was booted off instantly because I had violated guidelines. I didn't even get to post my photo. My name, it seems, is against guidelines? I called, I emailed. No one bothered to reply." She added that when she signed up with a different phone number and nickname she made a few matches before getting booted off the app for a second time.
Hinge couldn't believe Paulina was on their server
Following her split from Aaron Sorkin, Paulina Porizkova attempted to use Hinge for a third time without much success.
The Czech model explained in her Instagram post, "And boom, now when I need it- I discover @hinge has booted me off again! What's a lady to do?" Following this public call-out, a representative for Hinge told Page Six that they kicked Porizkova off their server because they didn't believe it was really her. The rep said, "People thought having her on Hinge was too good to be true and immediately reported her profile for being fake."
They also noted that Porizkova's Hinge account has been reinstated and publicly apologized to her. Hinge commented on her Instagram photo, "We are so sorry for the heartache we've caused you! We want everyone to have a positive Hinge experience that ultimately leads to finding love." 
The dating app added that Porizkova's account is fully reinstated and joked, "Your account is back on the runway with a few Roses on us." It's unclear if the supermodel will give the app another chance but if she does Hinge will be lucky to have her.