The Lip Balm Rosie Huntington-Whiteley Swears By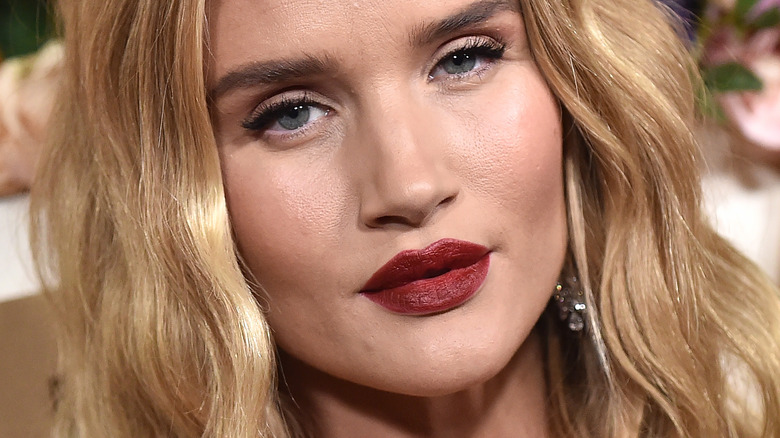 Shutterstock
We may receive a commission on purchases made from links.
Model, actor, and all-round beauty enthusiast Rosie Huntington-Whiteley has been impressively open over the years about everything she's learned from sitting and getting her makeup professionally done by the best in the business. The Victoria's Secret Angel is genetically blessed, but Huntington-Whiteley often discusses her issues with acne, while, as Insider notes, her dedicated website Rose Inc., launched in 2018, alongside Quibi interview series "About Face," prove she's actively learning all the time. 
The "Transformers" star's initial interest in beauty came from watching her mother get ready, with Huntingon-Whiteley noting, "I was just fascinated watching her transform, and watching how it shifted her confidence." She also described the application process as "true art," a feeling that's obviously carried into her career, where the British star is privileged to work alongside "all of these incredible creators and artists" (per Insider). Huntington-Whiteley has a few notable picks herself, too, including this lovely lip-balm.
This Aussie favorite has a key hydrating ingredient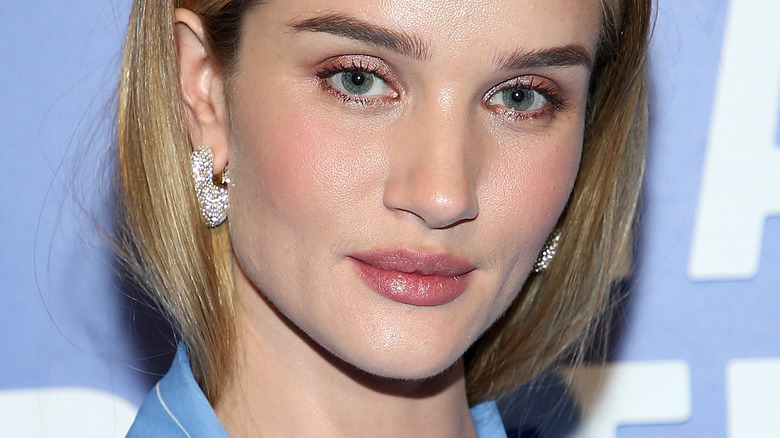 Phillip Faraone/Getty Images
In a video on her dedicated YouTube channel, model Rosie Huntington-Whiteley shared her extensive skin care routine, revealing the products she uses on her own face in the process. Among the must-haves was a very special lip balm; Lanolips Banana Balm Lip Sheen 3-in-1, which you can pick up for $15.95 online. As the Victoria's Secret Angel explained, Lanolips is a cult favorite Australian brand, and the name comes from Lanolin, "an ingredient that is found in sheep's wool." Acknowledging that it might sound a bit strange for a lip-balm ingredient, Huntington-Whiteley advised lanolin is actually "one of the most hydrating, natural nutrients that there is." The balm can be used on dry lips, skin, cuticles, and even nasal passages if you fly often, like the jet-setting supermodel. It also has a little gloss, to make your lips pop a bit more. 
Aussie site Beauty Crew heralded Huntington-Whiteley's lip-balm pick, noting it's an absolute must-have in any makeup bag. Writing on Rose Inc. in 2018 (via the Daily Mail), Huntington-Whiteley noted, "It's okay to follow the herd ... if the herd has good skin. Lanolin is back in a big way, and with good reason. This ultra-pure formula isn't smothering or heavy, as some balms tend to be." She pointed to the incredibly hydrating nature of the key ingredient, which forms a barrier between your lips and the outside world, trapping moisture without making them feel greasy or weighed down. Looking at her lips, it's clear Huntington-Whiteley knows her stuff.