Here's Why Everyone's Talking About Taco Bell's New Anime Commercial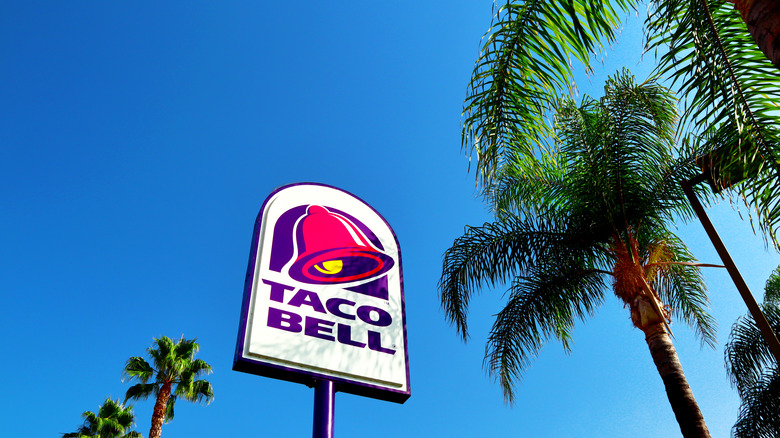 Shutterstock
It's 2021, and these days, advertisements look different to how they ever have before. Some companies rely on "word of mouth" advertising, some use social media influencers to show up their products, and others rely more on psychology to truly get into the minds of the consumers. Using a variety of these different tactics, some companies — more than others — have managed to collect impressive success. But there's one company in particular that consistently kills when it comes to their mode of advertising: Taco Bell.
Taco Bell reinvented themselves the day they decided to take a totally different path when it came to marketing. For example, it's no secret that their food isn't healthy. But rather than attempting to hide from it, they have leaned into it. Taco Bell proudly asserts themselves as your favorite fast-food option for when you've had too much to drink, you're down on money, have gotten into a break-up, or simply want something quick, delicious, and slathered in cheese to get you by (via Quality Logo Products). Indeed, the company has quite the sense of humor in their marking that has worked wonders for them. But they're also not afraid to try totally new things when it comes to advertising their products — which is exactly what they've done with their new ad that people are buzzing over.
Taco Bell is entering the world of anime
Taco Bell has decided to step into a genre of marketing that's totally new to them. While they're no stranger to this faux-trailer style of marketing, having been making them since 2018 (via Taco Bell) their newest addition has given the fast-food company quite a different look. In a new commercial, Taco Bell has chosen to advertise their delicious Nacho Fries through the form of a fake anime movie. The anime streaming platform, CrunchyRoll, tweeted on July 23 all about Taco Bell's new ad, calling it "a new anime adventure from @TacoBell."
The commercial in question features an incredibly dramatic, impressively created narrative that honestly looks identical to some of the anime we've seen. According to a press release by Taco Bell, the story goes like this: "The latest story follows a young woman named Rei who is the leader of Fry Force, an elite group that has kept Mexican-spice-loving monsters at bay so the world can enjoy Nacho Fries. She's driven by the disappearance of her brother and vows to protect the world and what it holds dear: Nacho Fries." And indeed, what's even cooler about this particular ad is that it includes a digital comic tie-in, designed in the style of Japanese manga (via Marketing Dive).
We're pretty invested in the dramatic story at this point and are hoping someone will turn it into a feature length film.
Taco Bell has made cinematic advertisements a nearly regular occurrence
These "cinematic visual experiences," as Taco Bell calls them, are not new to the company. Back in 2020, they released another mock-trailer for the Nacho Fries called "The Craving," but this time, the genre was horror. It starred Joe Keery of "Stranger Things" and Sarah Hyland of "Modern Family," and it was a huge success. Each of these cinematic ads have the specific goal of advertising their menu favorite, the Nacho Fries.
Fans of Taco Bell — and specifically, fans of anime — are absolutely loving the ad. One Twitter user made a pretty great point with the tweet, "Taco Bell heavily markets themselves to that 14-40 demographic you'd broadly call 'the youth' so an anime themed ad makes sense." Furthermore, it would appear that the creative minds behind this ad did their research. Fans are absolutely buzzing over a brief cameo of a famous Hololive Vtuber (virtual YouTuber) called "Gawr Gura," who, as of this publication, has 3.14 million subscribers on YouTube. One user on Twitter wrote, "im (sic) bewildered at not only the fact that taco bell did an anime commercial but also gura made a cameo."
Keep it up, Taco Bell! And in the meantime, we'll be snacking on some Nacho Fries.