The Truth About Simone Biles And Naomi Osaka's Relationship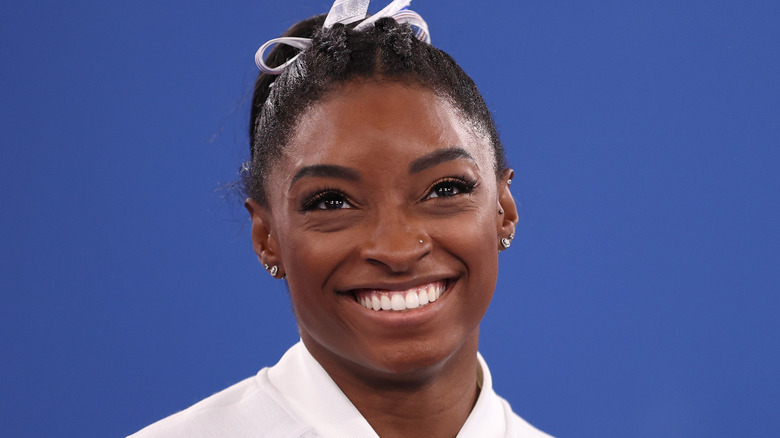 Laurence Griffiths/Getty Images
As two professional athletes who have taken center stage in their sports over the last few years, Simone Biles and Naomi Osaka have a lot in common these days. After news of Biles' announcement to drop out of the team competition at the 2020 Olympics due to mental health reasons, the gymnast shared her thoughts on Osaka's transparency about her own struggles.
According to People, reporters asked Biles to comment on Osaka's similar experiences. "I say put mental health first because if you don't, then you're not going to enjoy your score and you're not gonna succeed as much as you want to," she noted. The 23-year-old tennis star recently fell out of Olympic competition after dropping a third-round match. Biles applauded her choice, saying, "So, it's okay sometimes to even sit out the big competitions to focus on yourself because it shows how strong of a competitor or a person that you really are."
Earlier this year, Osaka stepped out of the spotlight and withdrew from Wimbledon and the French Open to focus on her mental health. At the time, she cited the intense press scrutiny as the reason behind her decision to step away from both tournaments. In an interview with Time magazine, she explained, "I love the press; I do not love all press conferences. However, in my opinion (and I want to say that this is just my opinion and not that of every tennis player on tour), the press-conference format itself is ... in great need of a refresh."
Osaka and Biles both dealt with high amounts of pressure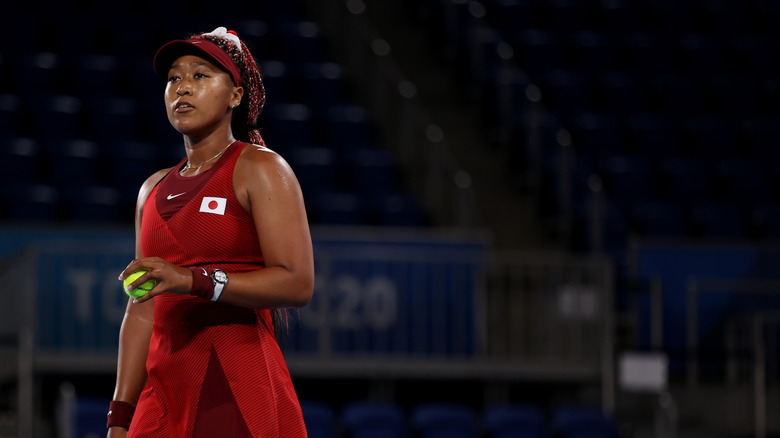 David Ramos/Getty Images
Simone Biles won the title of "Greatest Female Gymnast of All Time" after the Rio 2016 summer games. In a similar vein, Osaka found herself as the face of the Tokyo Olympics, lighting the torch during the opening ceremonies. The four-time grand slam winner competes for Japan and has been one of their star athletes. People reports that she talked about the pressure she found herself under during the games following her loss.
"I definitely feel like there was a lot of pressure for this," the first-time Olympian said. "I think it's maybe because I haven't played in the Olympics before and for the first year [it] was a bit much. I think I'm glad with how I played, with taking that break that I had."
"I feel like my attitude wasn't that great because I don't really know how to cope with that pressure so that's the best that I could have done in this situation," Osaka continued. "I'm disappointed in every loss, but I feel like this one sucks more than the others."
Now that Biles has experienced a similar situation, she has nothing but respect for the tennis star only one year younger than she. "You usually don't hear me say things like that because I'll usually persevere and push through things, but not to cost the team a medal," she told reporters after dropping out.
As the spotlight continues to shine brightly on young athletes, many of them are discussing important issues such as mental health.