The Exact Beauty Products Lucy Hale Wore As Aria On Pretty Little Liars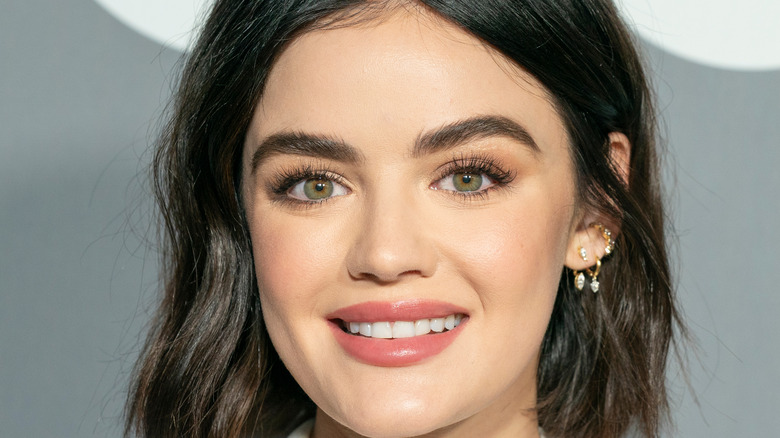 Shutterstock
We may receive a commission on purchases made from links.
Celebrity makeup artists love teasing the products they use to turn everyone's favorite actors into everyone's favorite television and film characters. We've seen this happen with the products used on Lili Reinhart for "Riverdale," for example, and Sarah Jessica Parker's beauty products from "Sex and the City" have even been revealed.
This trend has continued with Freeform's "Pretty Little Liars," with both Shay Mitchell's and Ashley Benson's beauty products that transformed them into Emily Fields and Hanna Marin, respectively, being revealed. Now, we've got the scoop on yet another liar: Lucy Hale, who portrayed Aria Montgomery on all seven seasons of teen drama.
Aria is "artistic and cool" according to Screen Rant, and this personality is reflected in her makeup. Like the other characters, this cool girl changed over the series' run, especially because the show covered so much time, but her base makeup products remained the same, as they captured her essence as a person and a character. But just which products created this famous liar?
These products create the 'rocker' look Aria is known for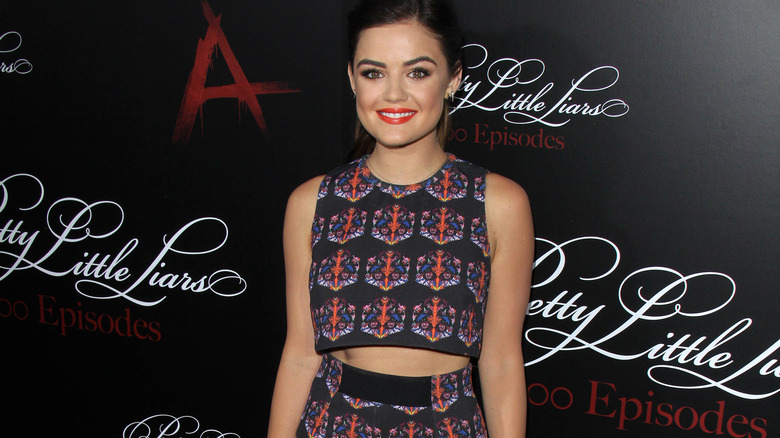 Shutterstock
Fans the world over can thank "Pretty Little Liars" makeup artist Cindy Miguens for the following information, as she spilled the products she used on all four main characters in an interview with Teen Vogue. Miguens dubbed Lucy Hale's Aria Montgomery an "artsy, vintage rocker" and explained that there are four main beauty products that make Aria, well, Aria.
To start, Miguens used mark. by Avon black eyeliner to smudge into Hale's outer corners after using it on her waterline. After this, she employed Cargo's Natural Eyeshadow Palette to accentuate the natural, artsy personality that Aria embodied. She also used green eyeshadow to accent Hale's green eyes, per Stylecaster. She then used a peachy blush, usually from Jouer, to warm Hale's cheeks and face before moving on to the lips, where Miguens used Jouer's Essential Lip Enhancer Shine Balm in the shade Amaryllis.
With these four products, the unique character of Aria Montgomery came to life, ready to solve the mystery of just who exactly A is, and now you, too, can embark on your own hunt for A with these products!