The Exact Beauty Products Shay Mitchell Wore As Emily On Pretty Little Liars
If you spent every week from 2010 to 2017 eagerly waiting for the next episode of "Pretty Little Liars," then chances are you remember spending hours before every school dance or formal event trying to perfect the iconic smokey eyes and blown out curls of the four main characters. Don't be embarrassed — we were right there with you! In a show full of murder, intrigue, and steamy romance, the makeup had to be just as dramatic. 
Emily Fields, portrayed on screen by the glamorous Shay Mitchell, was no exception to this rule. Her beautiful, beachy waves and shimmering, bronzed makeup had every "PLL" fan running to Sephora for the brightest highlight they could find. While we might be a little late to help you get ready for that school dance, we can give you a head start on finally stealing Emily's look with these products worn by Mitchell on the hit show.
It's all about the golden goddess look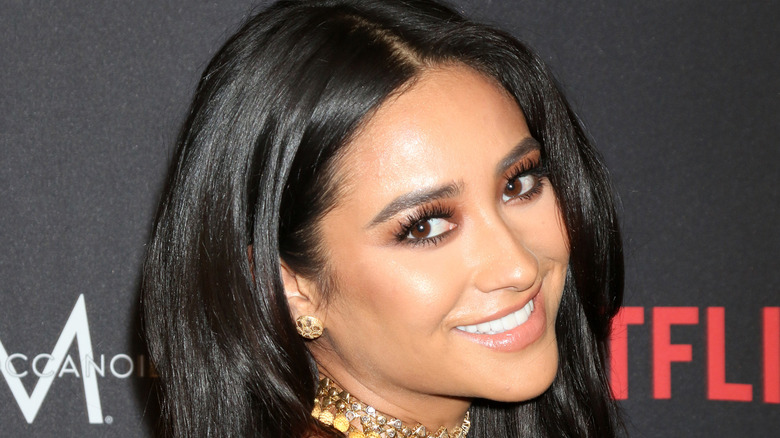 Shutterstock
In a 2016 interview with Teen Vogue, Cindy Miguens, who served as the makeup department head on "Pretty Little Liars," told the outlet, "Shay Mitchell's signature look on Pretty Little Liars is a bronze contoured and highlighted goddess." 
To achieve this effect, Miguens used Stila's "In the Light" palette for Emily's shimmery eyes, per Teen Vogue. While this palette has been discontinued, the shades are easily duped in both high-end palettes and affordable drugstore eyeshadows. Tru swapping out Stila's "Kitten" for Maybelline's 24 Hour Color Tattoo in the shade "Barely Branded." For a pop of color, Miguens used Benefit Cosmetics' "Coralista" blush and Tarte Cosmetics' "Acerola Rush" lip gloss. While both of these products have also been discontinued, dupes — such as Glossier's "Cloud Paint" in the shade "Beam" and Tarte Cosmetics' "Marajuca Juicy Lip" lip gloss collection — are everywhere! 
The last step in the iconic Emily Fields look is lots and lots of lashes. "Two things that Shay loves is to be contoured and have lots of lashes," Meguins told Teen Vogue. Meguins swears by the simple yet elegant CoverGirl LashBlast Mascara.
Proper skincare is what makes for really great makeup looks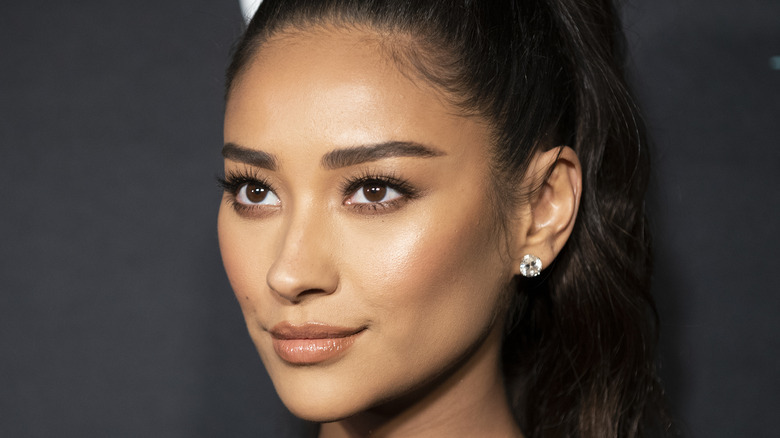 Matthew Eisman/Getty Images
Shay Mitchell seemingly understands the importance of a healthy skincare routine in creating makeup looks that pop. In a 2019 interview with Allure, she explained, "Skin care is my number one thing. To have good makeup, you need to have a good canvas to start with." Among other things, she emphasized the importance of using sunscreen daily, even if you're not planning on being out in the sun. In the same interview, Mitchell called the use of under eye cream "crucial", saying, "there's nothing worse than having dryness underneath your eyes." 
"Pretty Little Liars" makeup department head Cindy Meguins praised Mitchell's skincare routine while on "Pretty Little Liars" in an interview with Teen Vogue, saying that proper hydration, clean and healthy eating, regular visits to the dermatologist, and facials were all a part of her at-home skincare routine. 
It sounds like the real secret to emulating Emily Fields' look is to step up your skincare game!