Easy Ways To Style Your Coffee Table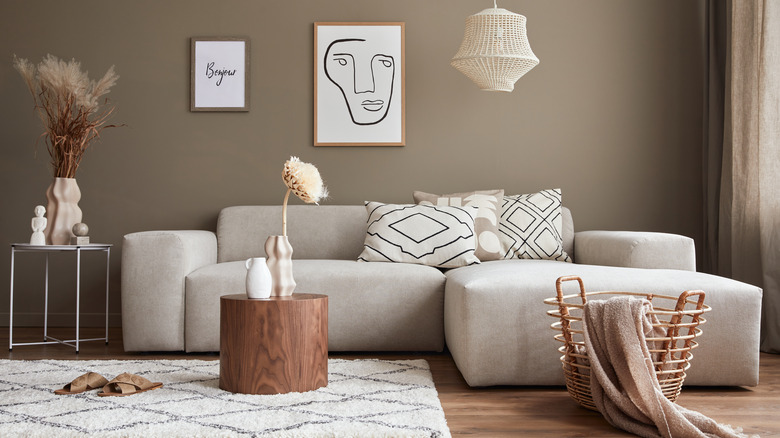 Shutterstock
Your coffee table is the centerpiece of your living room. It's where you put your feet up, gather with your friends, drink your morning cup of tea and relax. When it's decorated in a way you love, it makes those moments even more special and meaningful. Don't underestimate the power of a great table runner!
Even though it's a small space, placing decor on your coffee table can seem daunting between matching it with the rest of your space, spacing items out appropriately and more. My Domaine recommends starting with a plant to liven things up but still maintain a tranquil vibe. Think of plants with larger surface areas, with long leaves and branches that "anchor" the top of your table. The outlet notes that cherry blossoms and eucalyptus leaves make for great plant-based decorations.
From here, think of decorating your coffee table with various layers. Make a smooth but interesting look with varying heights from books, candles and other personal items. My Domaine explains that these items can help avoid the eye from falling flat on the surface of the table. Between the vases, pots and heirloom objects, you should be able to create a cohesive but varying space that makes you feel cozy and chic.
Use a tray to keep it organized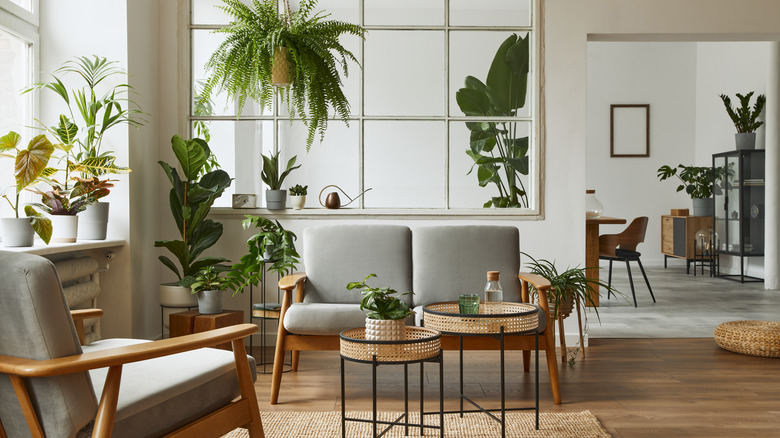 Shutterstock
Trendy and functional, trays make for perfect coffee table additions when you're looking to liven things up. The Spruce recommends picking one up that matches the decor in the rest of your space. Plus, you can find one that fits your style with either a minimalist display with a neutral acrylic or something more textured such as braided twine or rattan. Either way, these can make choosing items easier and more streamlined when it comes to design.
Depending on the type of table you have, your decor should adjust to flow in the best way possible. For instance, My Domaine recommends, separate a square or rectangular coffee table into four quadrants. From here, choose four items or types of items to group into each section such as books, a plant, magazines and a decorative object. Circular tables look best with triangular-shaped arrangements, according to the outlet, and it's best to avoid too many sharp corners with your decor. Stick with mostly hexagons, ovals and circles for this type of table.
For two-tiered surfaces, the lower level can be a much more simple design, The Spruce notes. These can be more difficult to design, especially since it's a lot of space to cover. But, focus on mimicking but not fully replicating the vibe on the top level of the table to make sure things flow without repetition. For now, stock up on decorative boxes, trinkets and other items that you love to keep things looking similar and curated with care.
Even as the seasons change, keep these tips in mind as you revamp the centerpiece of the living room. With these as guiding principles, any way you arrange your decor will look chic!