Abner And Amanda Ramirez's Life-Changing Interaction With Chip Gaines - Exclusive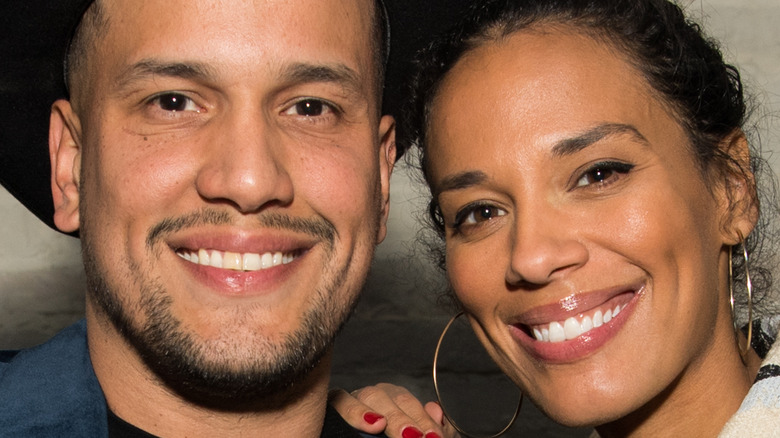 Emma Mcintyre/Getty Images
It's safe to say that just about everyone knows who Chip and Joanna Gaines are. The powerhouse couple made it big due to their HGTV hit show, "Fixer Upper," but their skills have extended far past the screen. When they decided to leave HGTV at what seemed like the height of their success, a lot of fans were confused — but people like Abner Ramirez and Amanda Sudano were clued into a reality that fans didn't yet have access to. 
Abner and Amanda perform as the musical duo Johnnyswim, and they provided Chip and Jo with the famous song "Home" that accompanied the "Fixer Upper" opening credits for so many seasons. But the duo are far more accomplished than just the one song, and they now have two shows on the Magnolia Network that document their lives as traveling musicians, a married couple, and parents. When The List got to sit down with Abner and Amanda for an exclusive interview, we were anxious to know what their early days were like and the life-changing moment that led to the place they are now.
The professional rejections they've faced have been just as important as their successes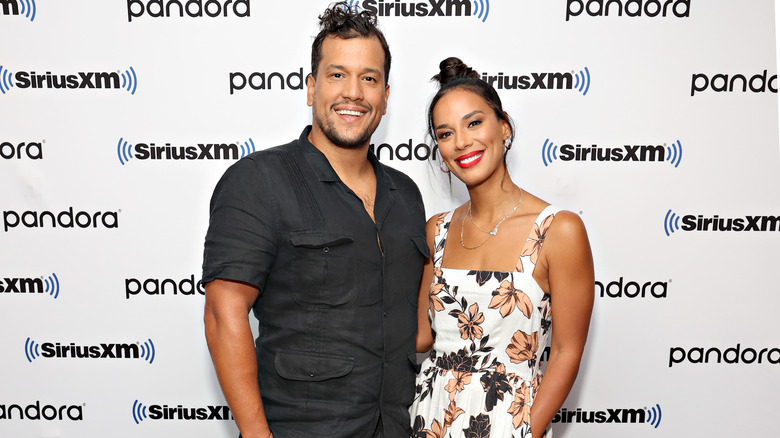 Cindy Ord/Getty Images
When discussing career setbacks and their eventual path to the Magnolia Network, Abner and Amanda were incredibly honest about the rejection they've experienced along the way. 
"Amanda and I often say that the noes in life are more important than the yeses," Abner said. "We're so grateful for all the noes, all the record labels that said no to us, because now, we are our own masters and we are our own record label. We get to control our path and our career and all that stuff. So the noes in our music career have been absolutely vital." He went on to say that "God ordained this timing" — their interwoven path with Chip and Joanna Gaines — making every no they've ever gotten worth it. 
"The people saying, 'No, I don't want to work with you. No, you're not good enough. No, that song's not good enough. No, that whatever' have been the greatest catapult for us into actual success," Abner explained. "We've gotten no from every network you can get no from, and then this, then all of a sudden, these superstars are giving us an at-bat, which is really the most you can hope for in any career, right?" He's 100% right. Chip and Jo's network has given way to some amazing creators — like Clint Harp, Taylor Calmus, Erin and Chris Benzakein — and of course, Abner and Amanda, exposing fans of the "Fixer Upper" universe to a whole team of doers.
This conversation with Chip Gaines set Abner and Amanda on a new trajectory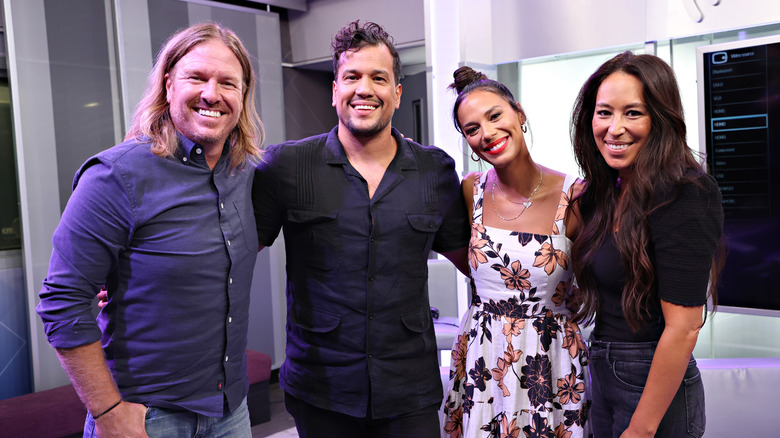 Cindy Ord/Getty Images
When it came to the life-changing conversation that put Abner and Amanda on the Magnolia Network, the pair knew exactly who they were and what they wanted to offer. "When Chip was like, 'Oh, we've got this offer to do a network and you guys are my first call,' it was kind of an aha moment," Amanda said. "It was more than just like, 'Oh, we want to be on TV someday.' It was kind of like, 'Man, I feel like there's something that we have that we need to help show. We want to encourage people to follow their dreams.'" 
And the duo have done just that. After that call with Chip, the couple's two Magnolia Network shows – "Home on the Road" and "The Johnnyswim Show" — became a reality. Amid the whirlwind of the new shows and the ever-changing status of their careers, Abner and Amanda remain humbled at the opportunity to even expose their lives and experiences with the world. Crediting Chip and Joanna Gaines for giving them "an at-bat" and "placing us in this amazing network," Abner said that the shows really are life changing. "I'm so grateful. When I think about the question, '[Did I ever think] that it would be this way?' No, I never considered it would be with Chip and Jo in this kind of fascinating and fantastic way," Abner said. "But I'm so grateful."
Magnolia Network's slate of original programming launched July 15 on discovery+ and inside the Magnolia app.