Inside Dr. Dre's Daughter LaTanya Young's Heartbreaking Life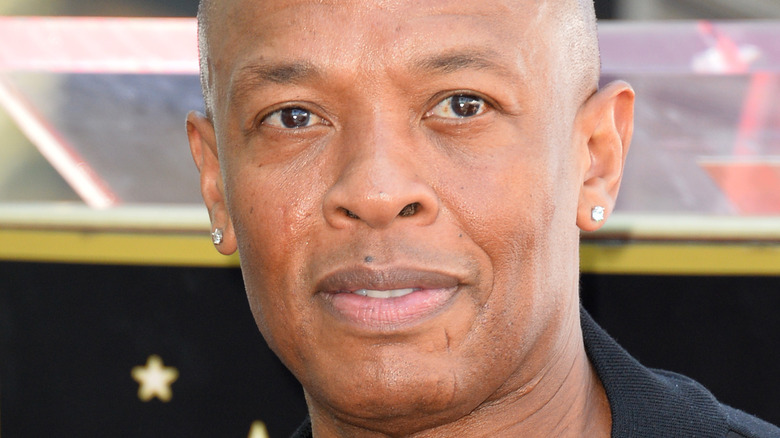 Shutterstock
Dr. Dre's family has been through a lot in recent years, and matters aren't looking up. Even before the last few years, things have been hard. 
Dr. Dre's son died in 2008, and prior to that, the music pioneer lost two of his brothers, Jerome and Tyree. Dr. Dre himself even continues to struggle with health issues, including being hospitalized for a brain aneurysm earlier this year. At the same time, Dr. Dre's wife, Nicole Young, is divorcing the multi-millionaire after 24 years of marriage. And it seems like life has been difficult for Dre's eldest daughter as well.
Dr. Dre, whose real name is Andre Young, hasn't seen his eldest daughter, LaTanya Young, in 18 years, according to The Daily Mail, and the latter continues to struggle with financial stability despite her father's insurmountable net worth ($820 million in case you were wondering). 
Young is the daughter of Dr. Dre and Lisa Johnson, who split when Young was just five years old. Now, Young herself is a single mother of four who just wants some stability — and feels her father owes it to her. The musician, who is also known for his headphone brand Beats has so much money that he pays Nicole Young $300,000 per month in spousal support but won't talk to or help his daughter. Now, she's speaking out.
This is the situation LaTanya is struggling to get out of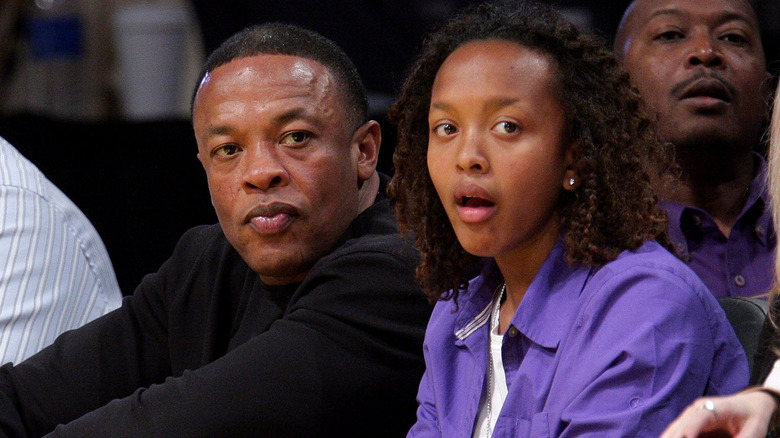 Noel Vasquez/Getty Images
LaTanya Young, a single mother of four, works for food delivery services, such as Uber Eats and DoorDash, per PageSix, but it's not enough. The Daily Mail reported that Young is currently living in her car, with her father not helping her in any capacity. "My kids are staying with friends — they are not living in the car, it's just me," Young told The Daily Mail. She also explained her job situation. "I'm taking odd jobs just to make it now — I got paid $15 an hour as an assembler at the warehouse. I'm trying to keep my head above water. I've been in debt for a while," Young explained.
Young's relationship with her father is so strained that she can only talk to him through members of his team, according to PageSix. "His lawyer has said that my dad doesn't want to help me because I've spoken about him in the press," Young explained, saying that her father helped her in the past but that it ended abruptly in January 2020. "I'm just trying to communicate with him and see if he wants to talk to his grandkids," she continued.
Latanya believes her mother deserves some of Dr. Dre's fortune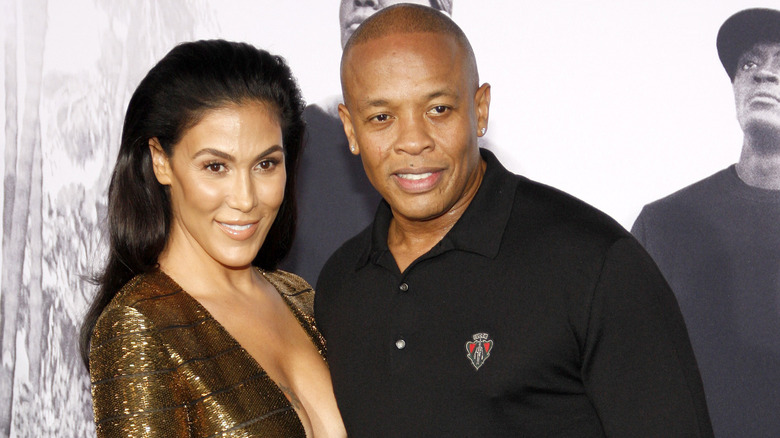 Shutterstock
As if LaTanya Young's situation isn't bad enough, LaTanya is worried about her rental car, which she uses for her food delivery jobs, because she can't keep up with its payments. "It's an SUV that costs $2,300 for three weeks and I only paid for one week. Sooner or later they are going to take the car," she explained (via PageSix).
In the end, she's also mad about Nicole Young's monthly $300,000 she receives from Dr. Dre. "It's embarrassing because people are looking at me wondering: Why?" she continued. "What Nicole has got is what my mom should have got." LaTanya mother, Lisa Johnson, is said to have dropped out of high school upon getting pregnant with Young — and after starting to date Dr. Dre at 14 years old (via HITC). 
"He was a real proud father at the time," Johnson has said of Dr. Dre. According to Johnson, everything was downhill with Dr. Dre after they split. "He didn't do any child support, and he did not stop contacting me," she explained, which comes after she supposedly filed to get a domestic violence restraining order against the music mogul.
The two haven't been in contact, but more importantly now, Young is struggling with financial hardship that she can't get out of alone.