The Truth About Taylor Swift And Ruby Rose's Friendship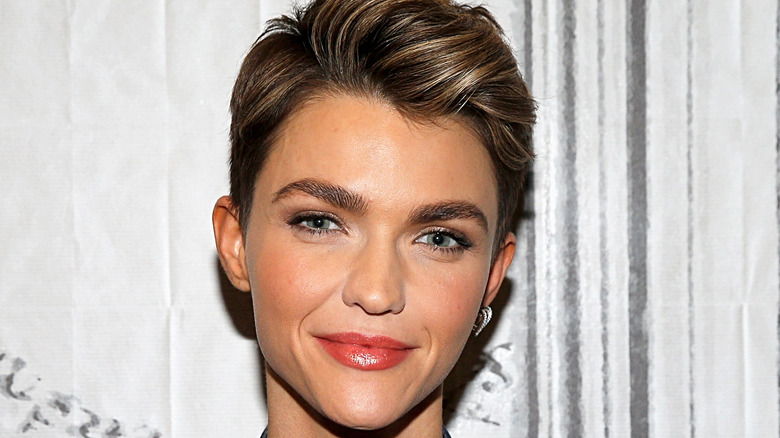 Dominik Bindl/Getty Images
Remember the days of wishing you could be a part of Taylor Swift's iconic friendship squad? We do, too. Despite the 31-year-old pop star's assertion that making friends growing up was a challenge and that she was even regularly bullied as a child, she has more than made up for it as an adult (via People). From the likes of Gigi Hadid, Selena Gomez, Karlie Kloss, Cara Delevingne, and several other super-famous BFFS, it's clear that Swift hasn't been short on friends.
But there's one member of her massive celebrity squad that you might have totally forgotten about — or maybe didn't even know was part of it in the first place: the effortlessly cool baddie Ruby Rose, who has been quietly behind the scenes of Swift's friendship group for many years now. Keep reading to learn about how Taylor Swift and Ruby Rose became the best of friends.
Reports speculate Ruby Rose and Taylor Swift became friends around 2015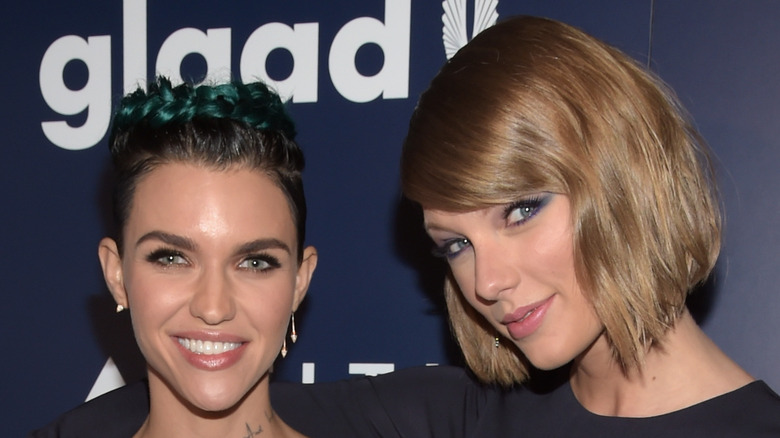 Jason Kempin/Getty Images
Ruby Rose was making a big name for herself in Australia as a model, actress, and DJ before she started getting scouted for American gigs. Then, as the years progressed, she started to become more and more prevalent in American media, through the likes of the "Fast and the Furious" films, the wildly popular "Orange Is the New Black" series, and "John Wick: Chapter 2," in which she stars alongside Keanu Reeves (IMDb).
It's unclear exactly when Rose and Taylor Swift met, but reports of the two hanging out began around 2015, sometime after Swift's "Bad Blood" music video debut. Rose even made an appearance during Swift's 1989 Tour in New Orleans, which Swift commemorated with an Instagram photo of the two hanging out, including Charli XCX, Camila Cabello, and Swift's cat (via Insider). 
In return, Rose posted a photo to Instagram of herself and Swift with a caption that congratulated Swift on her achievements and musical prowess. "What an incredible journey you are on. I am blessed to have you in my life ... you continue to light up the people around you and shine brighter than 60,000 people in New Orleans with glow sticks," the actress wrote, per Instagram.
Taylor Swift honored Ruby Rose with a special award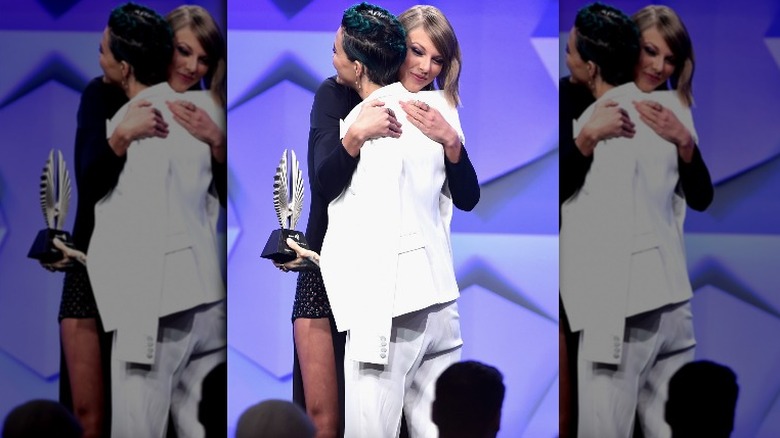 Alberto E. Rodriguez/Getty Images
In an interview with Refinery29 in 2016, Ruby Rose opened up about her friendship with Taylor Swift. "I talk to her about everything and everyone," Rose confessed. But, as for the notion of being part of a squad? Rose certainly has some thoughts about that. "I do think it's funny, the whole 'squad' thing. I don't think Taylor ever called it that," she told the outlet. "I think the media ran with it because it sounds cool."
In the same year, their relationship grew even closer when Swift surprised Rose at the 2016 GLAAD Media Awards, where she presented her with the Stephen F. Kolzak Award. It's given to an openly LGBTQI+ professional who has "made a significant difference in promoting LGBTQ acceptance. The award is named after a legendary casting director, who devoted his life to raising awareness in the entertainment industry about the discrimination faced by LGBTQ people as well as people living with HIV," per GLAAD. Previous winners of the award include Laverne Cox, Jim Parsons, Wanda Sykes, and Sir Ian McKellen.
"Tonight I'm here to honor someone who through her words and through her actions, proves that she is a force of nature," Swift said as she presented the award to Rose (via Billboard). "She tells the world that no one can judge us and no one can stop us. She is a woman of many talents. She is my friend."
So, are the two still friends? While there haven't been any public hangouts shared on social media, the two have reciprocated well wishes over the years as well as written heartfelt birthday posts to each other (via Insider).