Here's How Much Chrissy Teigen's Net Worth Really Is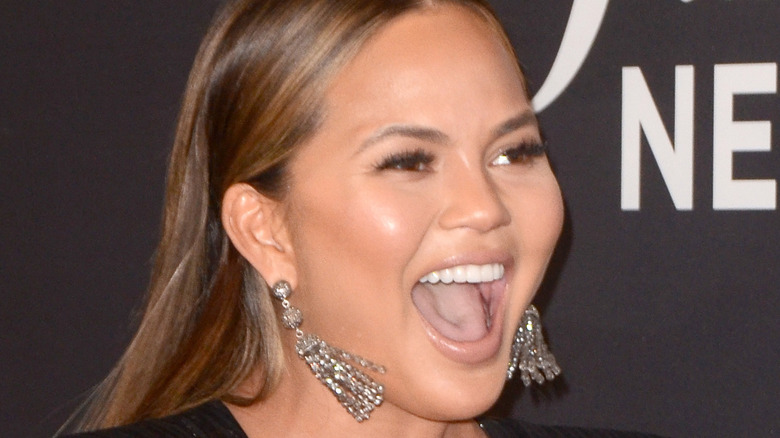 Shutterstock
In February 2021, Chrissy Teigen came under fire for a tone-deaf tweet about a $13,000 bottle of wine. 
After asking her millions of followers, "What's the most expensive thing you've eaten that you thought sucked?" the former model recounted an incident with husband John Legend, when the couple was talked into ordering an incredibly expensive bottle of wine. "HOW DO U CASUALLY RECOMMEND THAT WINE. We didn't even finish it and it had been cleared!!!" 
Teigen, the self-professed Queen of Twitter, was reprimanded for being out of touch but she fought back, arguing not everything she posts is relatable. The cookbook author is known for being down to Earth, enamoring her to millions of fans worldwide. Teigen previously opened up, on Instagram, about making less than $200 a show during her modelling days, with most of her money going towards agency fees. Thankfully, the outspoken starlet has come a significantly long way since then.
The model and author enjoys the finer things in life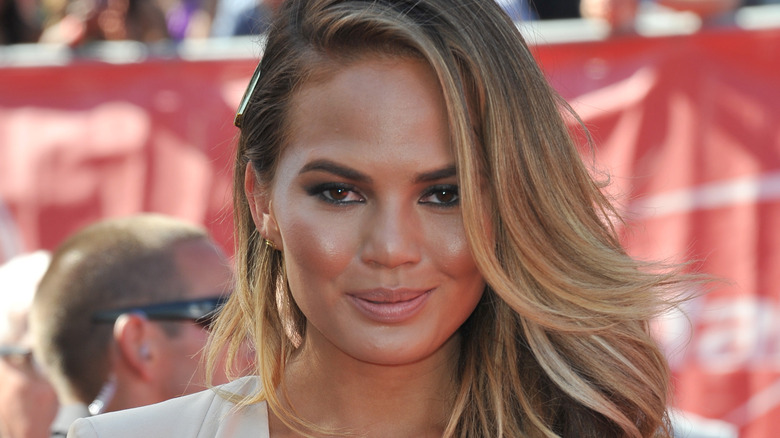 Shutterstock
Although Chrissy Teigen was criticized for complaining about having to pay for a $13,000 bottle of wine she didn't even finish, the former model isn't shy about sharing her splurges. 
As People reports, she's a vocal fan of celeb fave product Clé De Peau Beauté Concealer Broad Spectrum SPF 25, which typically retails for a whopping $73. The likes of Kim Kardashian and Amanda Seyfried also love it.
Likewise, the outspoken foodie revealed her kitchen splurges in response to a fan question on her official site, noting (via Cheat Sheet) that she only uses one salt brand, Diamond Crystal Kosher, and opts for smaller dishes on her countertops, so she can grab one more easily while cooking. High-end olive oil, from Teigen's "adopted olive tree" in Tuscany, is a must too alongside high-quality balsamic vinegar and butter, either from Vital Farms or the creamiest Irish variety.
Chrissy Teigen has earned her lavish lifestyle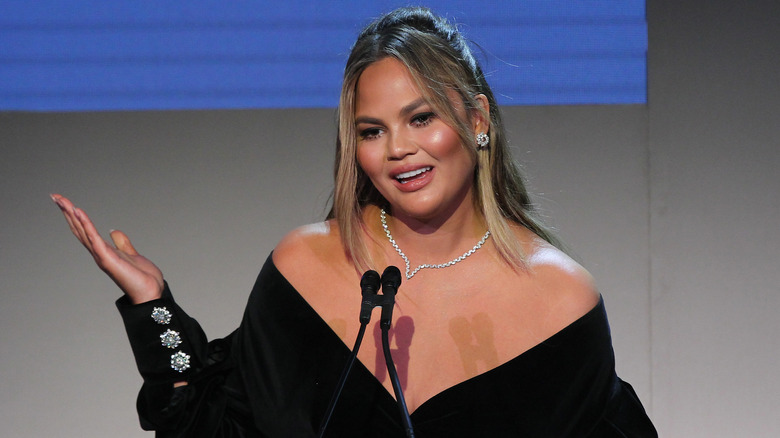 Bennett Raglin/Getty Images
Chrissy Teigen has certainly earned the right to spend whatever she pleases, having worked her way up to being one of the most recognizable and beloved celebrities on the planet. 
As Celebrity Net Worth advises, although her husband, John Legend, has earned a considerable amount as a recording artist, Teigen is a model and author with several lucrative endorsement deals and high-profile TV projects to her name. She began modelling in 2004 and subsequently graced the covers of Vogue, Glamour, and loads more. Teigen has appeared on E!, MTV, and "Extra" over the years too. 
Her cookbooks were both bestsellers, leading to Teigen's cookware line with Target. In 2018 alone, the former model earned approximately $12 million. She and Legend have a bulging property portfolio, including three mansions in the Beverly Hills area, the most expensive of which was purchased for $17.5 million in 2020, alongside a couple penthouses in New York City, worth a combined $17 million. Years of hard work have clearly paid off as Teigen is reportedly worth an estimated $75 million.