What You Need To Know Before Using Latisse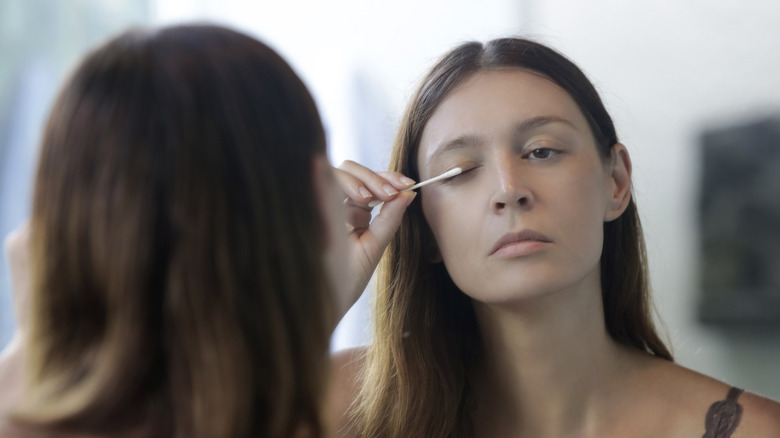 Shutterstock
Latisse is the only FDA-approved treatment for eyelash hypotrichosis, a condition that causes inadequate or insufficient eyelashes. When applied regularly, it can make your eyelashes longer, thicker, and darker. 
Bimatoprost, its active ingredient, is traditionally used to reduce intraocular pressure in people with glaucoma, according to a research paper published in Clinical Ophthalmology. The FDA initially approved Latisse in 2001 for the treatment of glaucoma. Back then, the medication was marketed under the brand name Lumigan. 
Surprisingly, this compound also promotes eyelash growth. So, a few years later, it received FDA approval to treat hypotrichosis of the upper eyelashes (via the FDA). Some people also use Latisse on their eyebrows and lower lashes. Currently, both Lumigan and Latisse are available by prescription only. 
Despite its popularity, this eyelash serum isn't as safe as you may think. The FDA warns that it may discolor the iris and eyelids and promote unwanted hair growth. In some cases, it may worsen eye inflammation. Here's what you need to know before using Latisse.
Researchers don't fully understand how Latisse works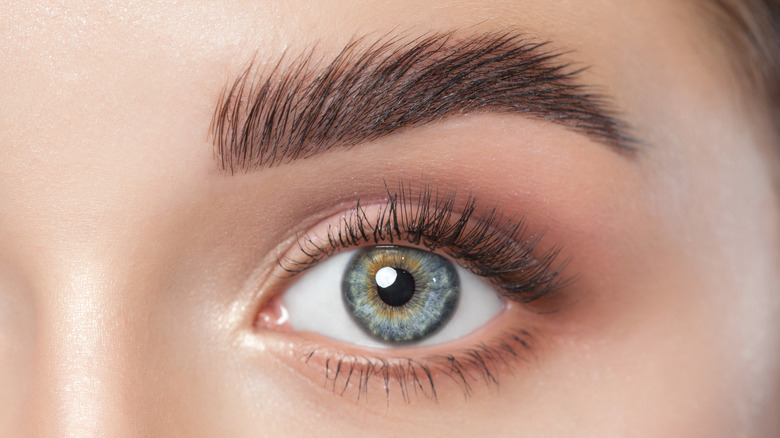 Shutterstock
In a clinical trial, Latisse increased lash length by up to 25% and lash fullness by 106% compared to a nearly identical product that didn't contain bimatoprost. Subjects also experienced an 18% increase in lash darkness, according to ophthalmologist Dr. Steve Yoelin (per Latisse). The way it works is still unclear, but some researchers believe it keeps the eyelashes in the growth stage for longer than normal.
The results are visible within one to four months, says oculoplastic surgeon Deborah Sherman (via Latisse). She recommends applying it to the base of your upper lashes every day for 16 weeks. "If [the] use of Latisse is discontinued, eyelashes will return to their previous appearance over the course of several weeks to months," Dr. Sherman added.
Current evidence suggests that Latisse also stimulates eyebrow growth. For example, a 2016 study published in Dermatologic Surgery found that bimatoprost 0.03%, the active ingredient in this product, may increase eyebrow fullness when applied once or twice daily for seven months. Subjects did not experience dry eyes, edema, or other side effects associated with eyelash application of Latisse.
Some of its side effects are irreversible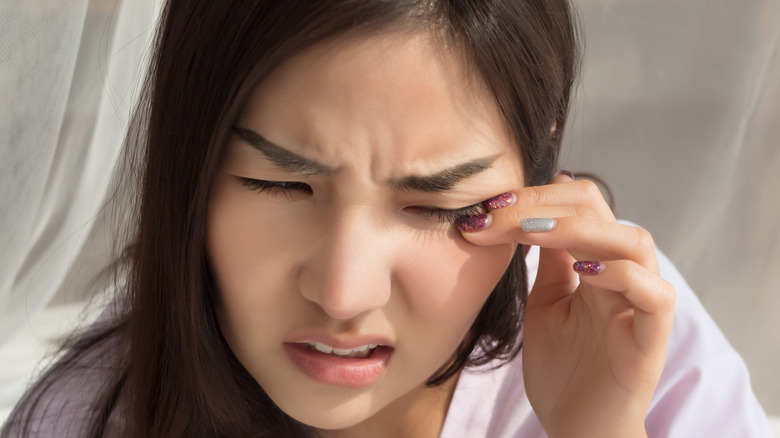 Shutterstock
The FDA reports that Latisse may darken the eyelids and cause local reactions, such as an itching or burning sensation, dry eyes, redness, and swelling. Some of its side effects, such as iris hyperpigmentation (darkening of the iris), may be permanent. There is also a risk of overgrowing your lashes, according to Dr. Brian S. Biesman. "Some patients' lashes grow so long that they have to trim them," he said in a 2014 interview with Allure. On top of that, you may experience unwanted hair growth on the cheeks or other areas if the product drips off your eyelids (via the FDA).
Latisse may not be safe during pregnancy, warns the FDA. In animal studies, the eyelash serum was associated with a higher risk of miscarriage, low birth weight, and other complications. Its effects on nursing mothers are unknown, but research shows that it may pass into breast milk (per the FDA). 
All in all, you should use Latisse with caution. If you're on the fence about it, try biotin, olive oil, vitamin E, and other natural treatments for longer lashes.