Joe Biden Has Something To Say About Andrew Cuomo Following His Resignation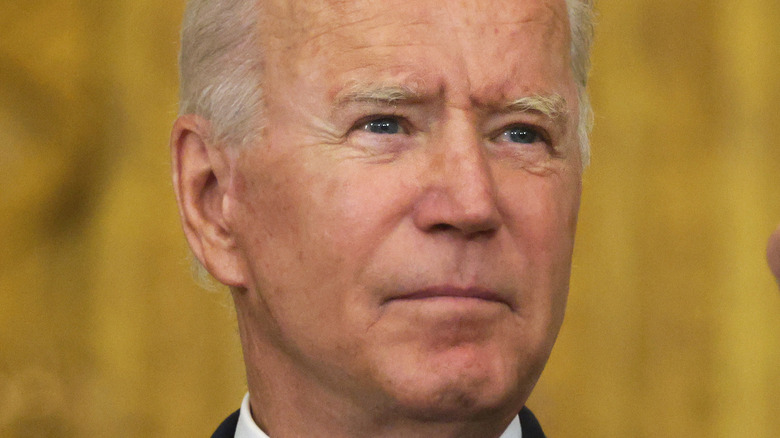 Alex Wong/Getty Images
Among the many voices that sought to have Andrew Cuomo resign as governor of New York in light of his sexual harassment allegations was President Joe Biden. "He should resign," Biden told reporters at the White House on August 3, 2021, adding that he was aware that impeachment might be an option should Cuomo refuse to step down (via CNBC). 
Perhaps the POTUS encouraging resignation was the push that Cuomo needed, as he announced just a week later, on August 10, 2021, that he would be stepping down as governor. Cuomo has served as the governor of New York since 2011, which interestingly makes him the ninth New York governor to resign (via ABC News10). "The best way I can help now is if I step aside and let government get back to governing," Cuomo said, per AP News. After his 14 day resignation period, he will be replaced by Kathy Hochul, making her the first ever female governor of New York (via The New York Times).
In response to the news of Cuomo's resignation, a fact that press secretary Jen Psaki claims the White House had no prior knowledge of, Biden commented, "I respect the governor's decision, and I respect the decision he made," per USA Today.
'It's so sad,' said Biden of Cuomo's resignation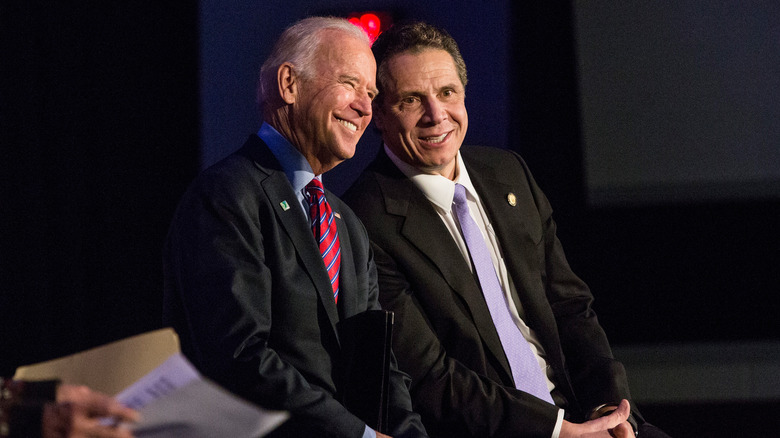 Andrew Burton/Getty Images
While President Joe Biden called on Governor Andrew Cuomo to resign a week before he did so, the president was still supportive of Cuomo's accomplishments while in office. "Though you condemned the alleged behavior, you're someone that has spent a lot of time with governors and mayors. How would you assess his 10 and a half years as governor?" asked a reporter. "I thought he's done a hell of a job," responded the president. "Both on everything from access to voting to infrastructure, a whole range of things. That's why it's so sad," he added (via Twitter).
And indeed, there's much truth behind the president's response. Many people vehemently stood by Cuomo's role as governor, with a New Yorker article describing him as "the boyfriend of America." In addition, despite a rocky start, many have praised Cuomo for his quick thinking and decision making regarding the COVID-19 pandemic. He has been credited for an impressive number of state-wide COVID tests, cautious reopening of businesses and schools, and prevention of cases surging, per The Atlantic. But CNN's chief White House correspondent, Kaitlan Collins, appears to believe that Cuomo's sexual harassment scandal speaks more about his character than any of his actions as governor. She tweeted, "Can you really say he has done a 'hell of a job' if he is accused of sexually harassing women?"
This ethical dilemma is forcing the public to confront the notion of whether or not one's positive actions in politics can exist in tangent with problematic allegations — and the answer to that is unclear.