How To Replicate Amy Winehouse's Makeup Routine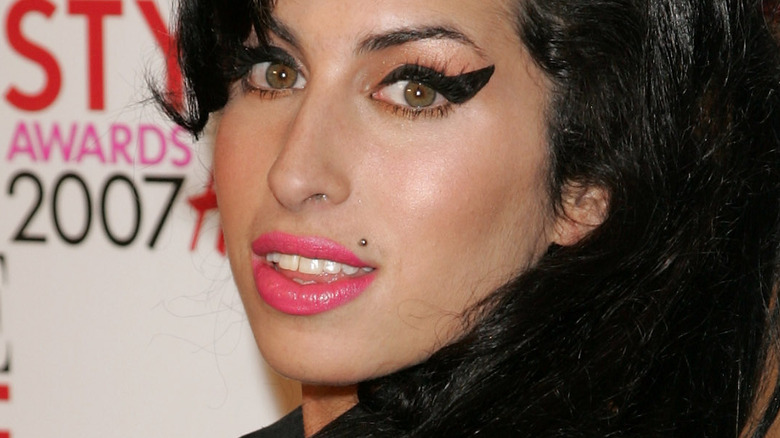 Dave Hogan/Getty Images
Amy Winehouse was an icon-in-the-making in both sound and style. Known for her jazzy, contralto voice (via Classic FM), jet black beehive hair, and pinup girl tattoos, unique is one of the many words that can be used to describe the singer's appearance (via The Guardian). If her goal was to channel a revamped retro vibe, she clearly succeeded both artistically and physically.
Not only was Winehouse's music a throwback, she also rocked the classic 1950s winged eyeliner and bright red lipstick with her makeup, which came to be her signature look. She turned up the dial quite a bit when it came to the eyeliner, its thickness and curved shape being the ultimate Winehouse staple.
After her tragic death in 2011 at the young age of 27, fans are finding ways to make Winehouse's legacy live on, whether it comes to playing her music, watching her interviews, or even recreating her face. Here is how to replicate Amy Winehouse's makeup routine in order to honor the immensely talented singer.
Amy Winehouse's bold eye look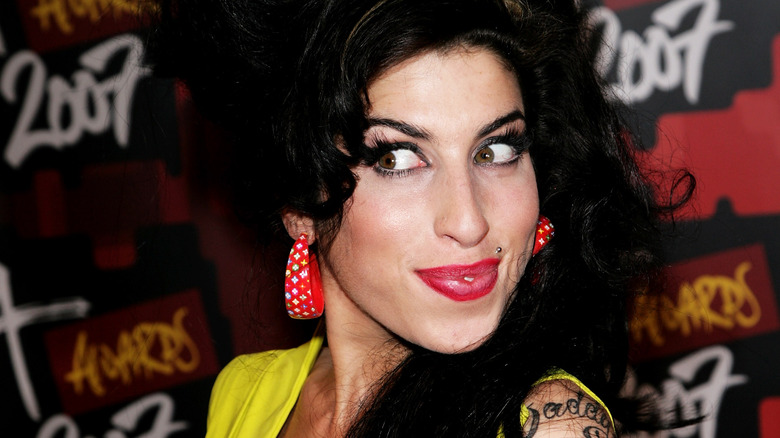 Dave Hogan/Getty Images
The eyeliner Amy Winehouse herself used, according to her personal makeup artist Valli O'Reilly (via Lisa Eldridge), was the Exaggerate Liquid Eye Liner from Rimmel London. Despite her fame and status, the humble Winehouse still chose to remain true to herself and use affordable drugstore products.
While some liquid eyeliner products advertise themselves as black but really come out as a more ashy grey or brown, Rimmel's Exaggerate Liquid Eyeliner is truly the blackest of black, with a smooth, inky finish that Winehouse was clearly fond of. The fine yet firm and pointed brush makes it easy for anyone to build a bold, overdrawn look to resemble Winehouse's eyes. For the exaggerated upturned look that she always used, make sure to pull your eyes upward and drag the liner diagonally to the corner of your eyebrows.
If you want to take things even a step further, you can use the eyeliner to draw a little dot above the right side of your upper lip, to recreate Amy Winthouse's's edgy Monroe piercing that was meant to resemble a beauty mark.
Amy Winehouse's classy lip look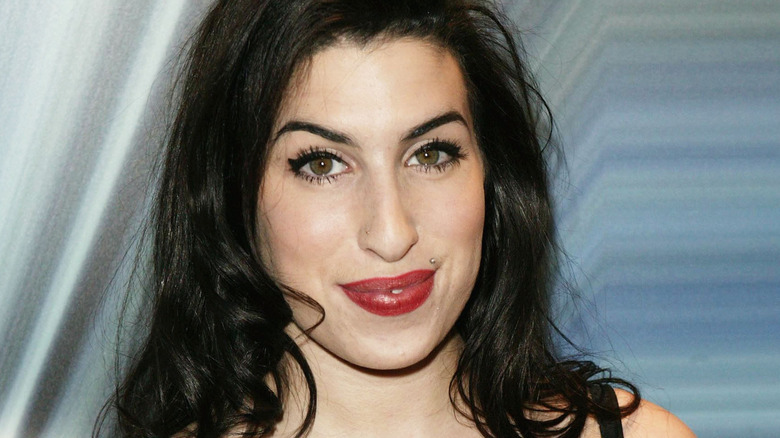 Dave Hogan/Getty Images
Since Amy Winehouse's original red lip, Diva (by Rimmel London as well), is hard to come by, a perfect dupe according to Miss O'Reilly is the Russian Red from Mac (via Lisa Eldridge). It is a classic, timeless bright red that you can never go wrong with because it looks good on practically anyone (via Glamour). This trademark product is what made Mac famous, and comes with a matte finish that is creamy enough to not dry out your lips. Winehouse's lips practically never had a glossy finish, and Russian Red by Mac is the lipstick you need if you want to resemble her to the fullest.
However, because of the lipstick's rich finish, it is probably wise to use a lip liner to complement the color as well and to maintain the shape of your lips. The 24/7 Glide on Lip Pencil in the color Bad Blood perfectly suits the universal Russian Red. Draw the liner around the edges of your lips, then apply the Russian Red liberally, just as Winehouse would've wanted.