What Rita Wilson Looks Like Underneath All That Makeup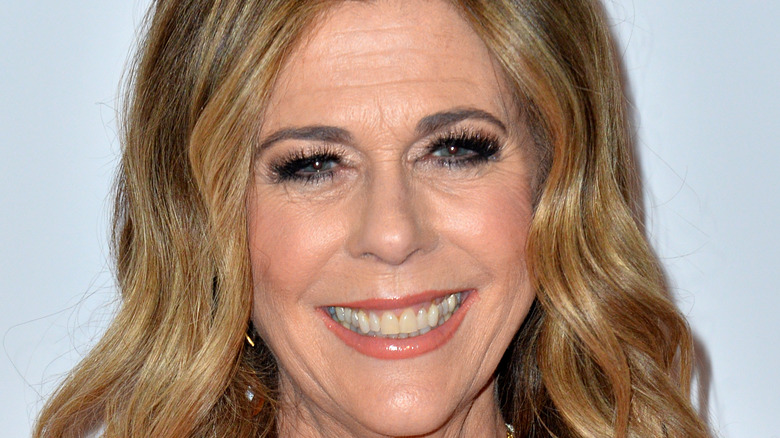 Shutterstock
Tom Hanks and Rita Wilson have spent some much-needed time in Greece, according to the Daily Mail. The couple, who received citizenship in 2020, spent time at their home on the island of Antiparos. Back in March 2020, Tom and Rita made headlines when it was announced they both tested positive for COVID-19 and were hospitalized in Australia, where they were at the time. While they've been very vocal about getting the vaccine and encouraging people to wear masks, according to The Week, their son, Chet Hanks, recently went on an anti-vaccine rant. 
According to Yahoo!, in an Instagram post, Chet likened the virus, which the CDC reports has killed over 600,000 Americans, to "the flu." This isn't the first time Chet has made headlines. CNN even reported Chet as someone who has mastered "the art of causing a stir," but it seems Tom and Rita won't be making a statement anytime soon, according to Showbiz 411. That's because they love their son. Rita even recently posted on Instagram wishing her son a happy birthday, and said, "You have made us happy since the day you were born." The photo of Rita and Chet that was posted along with her well wishes showed the singer and actress in a fresh, barely-there makeup look. But that wasn't the only time she posed sans makeup.
Rita Wilson is accepting her fresh-faced self
According to ABC News, Rita Wilson has even said that she'd love it if "everybody could just be themselves the way we feel most comfortable being ourselves" when asked on "The View" about going makeup-free for People's Beautiful issue. In the People interview, Wilson even said that it would be wonderful "if nobody wore makeup," because "then we'd all be in the same world." 
This isn't the first time Wilson has shown her bare face for the world to see. Back in February, Wilson posted a no-makeup selfie on Instagram (see above) to mark the anniversary of when her "hair and makeup person was three and a half hours late" on the night Tom Hanks was to be honored with the Cecil B. DeMille Award at the 2020 Golden Globes. According to Insider, Wilson shared the exact same no-makeup selfie the night of the awards show, which had some famous friends commenting. For instance, Sarah Michelle Gellar commented saying, "luckily you are a natural beauty," and Donna Karen said the actress looked "gorgeous. 
During her interview on "The View," Wilson said she has "found it liberating to do [her] own stuff" now and in a way, it's her way of saying "I accept myself the way I am."