What Dorinda Medley Looks Like Underneath All That Makeup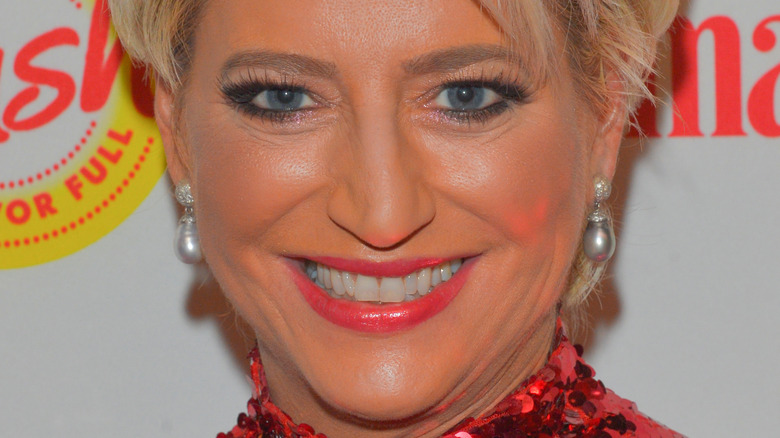 Ron Adar/Shutterstock
As a cast member of "The Real Housewives of New York" whose daily life was filmed for millions to see, Dorinda Medley often wears a full face of makeup.
According to BravoTV, the 56-year-old is "addicted" to beauty products, and loves to offer her fans pro tips for achieving her look like this one: "After you put all your makeup on, before you bronze, I always like to [go] right under the eye with a little, sort of slightly moist sponge, and go dot dot dot dot dot [under the eye] and just pat it all in. Even though your makeup's done, I pat it all in, and it just gives a little lifting to the eyes before you go out. But you've got to make sure that the sponge is a little wet."
But what about when Medley is not on camera? In 2018, People published photographs of the cast members of "RHONY" sans foundation, mascara, and lipstick, including the wealthy blonde socialite.
Although she professed that her favorite, can't-live-without beauty product is Tom Ford Bronzer, Medley also admitted about shedding her makeup mask, "Being makeup-free is the best feeling. I rarely wear makeup in the Berkshires and I feel like it's the real me!"
Fans love Dorinda Medley makeup free
Speaking to People about her beauty secrets for anti-aging, Medley said she likes to keep up with new makeup products, but shared, "I also make sure to get a monthly facial and drink a ton of water!"
The reality star didn't simply snap a pic of her makeup-free face for People. She also shares unfiltered photos of her fresh face via Instagram. For her 55th birthday, Medley posted an image showcasing her bare skin, and fans went wild, especially given her body positive caption: "This is a real photo of me, 55, without any makeup or filters. I have accepted me, the 55 year old me and I love every bit of it" (via BravoTV).
"You are so beautiful to me since I 1st saw you on the show... And your personality only amplified all that!" commented one of the outspoken star's followers. "Beautiful inside and out," said another fan. "Everyone wants to know what's your secret?" prodded yet another follower. Finally, someone else cheered, "Stay natural! You are BEAUTIFUL AND natural changes with age are FARRRRRR better than a plastic face with giant lips and a stiff expressionless face!! Stay you!! Just the way you are!"