Inside Sofia Vergara's Past Cancer Diagnosis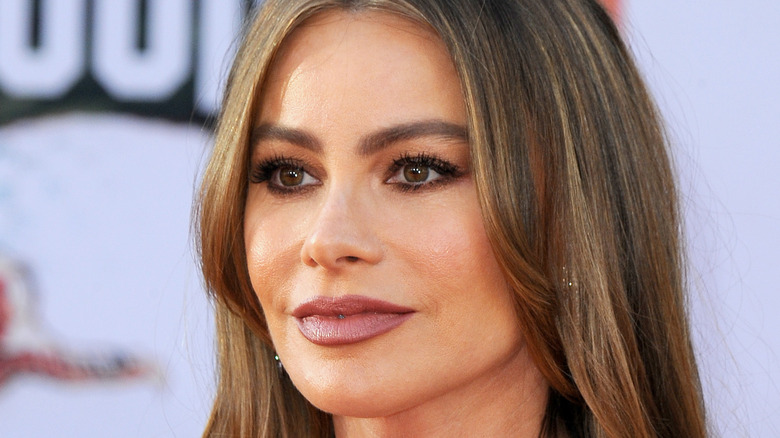 Tinseltown/Shutterstock
Sofia Vergara is one of the most recognizable names and faces in the entertainment industry, thanks to her successful modeling and hosting career in the '90s and 2000s and, of course, her starring role on the beloved television series "Modern Family," which ran for 11 seasons from 2009 to 2020 (via IMDb).
In addition to appearing on 250 episodes of "Modern Family," Vergara has also had notable roles in "Lords of Dogtown," "The Knights of Prosperity," "Dirty Sexy Money," "Hot Pursuit," and "The Female Brain" and lent her voice to characters in animated productions like "Family Guy," The Simpsons," "Happy Feet Two," and "The Emoji Movie." Plus, she's been a judge on "America's Got Talent."
Vergara's decades-long career in the industry is proof that the Colombian-born actress has been working hard since she burst onto the entertainment scene, and she clearly hasn't let anything slow her down — including the scary cancer diagnosis she received when she was just 28 years old, which she recently opened up about during a Stand Up To Cancer telecast that aired on Aug. 21, 2021 (via People).
Sofia Vergara got candid about her thyroid cancer diagnosis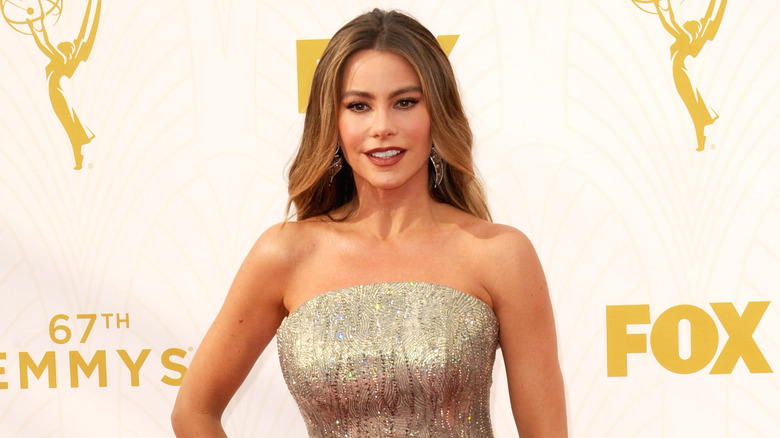 Tinseltown/Shutterstock
During the Stand Up To Cancer charity event on Aug. 21, Sofia Vergara got candid about the thyroid cancer diagnosis she received when she was in her late 20s. "At 28 years old during a routine doctor's visit, my doctor felt a lump in my neck," the "Modern Family" star shared (via People). "They did a lot of tests and finally told me I had thyroid cancer. When you're young and you hear that word 'cancer,' your mind goes to so many places but I tried not to panic and I decided to get educated."
She said that she read every book on the disease and did her due diligence. "I was fortunate to have caught it early and to have the support of my doctors and most importantly, my family," Vergara continued. "I learned a lot during that time, not just about thyroid cancer but I also learned that in times of crisis, we're better together."
The actress then touched on the ongoing COVID-19 pandemic, highlighting how countless doctors, activists, and everyday people have all come together in this time of global crisis. She ended her appearance with an inspiring message: "We're better together and if we're going to end cancer, it's going to require a team effort."
This isn't the first time Sofia Vergara has talked about her cancer diagnosis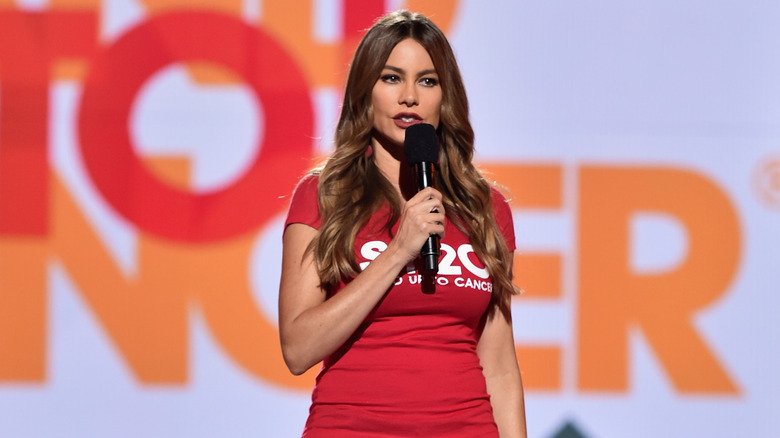 Alberto E. Rodriguez/Getty Images
In an interview with Health in 2011, Sofia Vergara openly spoke about beating thyroid cancer after keeping it a secret for years. "I didn't want publicity because of that," she explained about her silence. "Having cancer is not fun. You don't want to deal with anything else while you're going through it."
"It was very traumatic," she added in a separate interview in 2013 (via WebMD). "I was young. I had a young son. But I tried not to panic. I decided to take charge and inform myself. Of course, I couldn't Google thyroid cancer from the comfort of my house back then, so I went to bookstores and found out everything I could about it."
Vergara also opened up about how beating cancer inspired her to help others going through the same thing in her native country of Colombia. "Through the charity I sponsor, we're building a cancer center in my hometown of Barranquilla," the "Modern Family" star shared. "I visited the cancer ward of a hospital in Colombia, and parents were just sitting on the floor while their kids were being treated. When you're a mother and your kid is sick, you feel it yourself. I want to set up a comfortable place for parents."
Kudos to Vergara for paying it forward.