Does Fall Weather Mean You Should Change Your Foundation?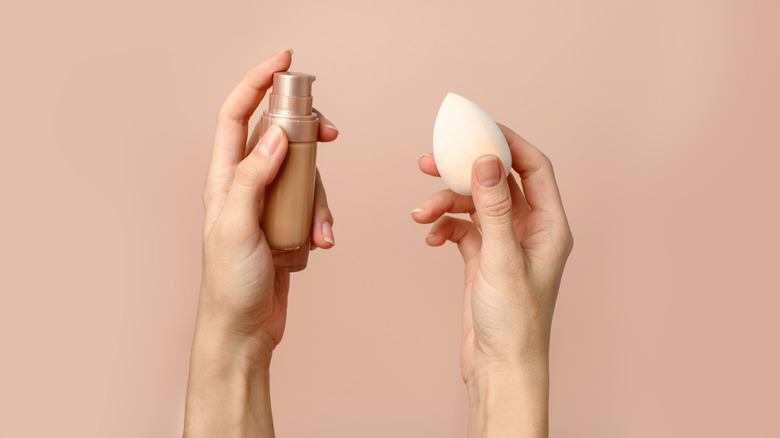 Katerina Morozova/Shutterstock
You may have had to switch up your makeup routine after getting a few sunburns this summer. But, fall brings with it a few unique makeup challenges itself. As the sun fades, so too can your color. Even as you notice your foundation matching your skin differently, you may wonder, "Do I really have to buy a new shade?"
According to Byrdie, the answer is likely yes. If you live in an area with different seasons, your foundation will probably need an adjustment every few months. However, that doesn't mean you need to shell out for an entirely new bottle — there are plenty of ways to adjust your foundation without breaking the bank. For instance, the outlet suggests toning your product down with a little moisturizer. By adding a drop or so, you'll lighten the pigment in your foundation and its consistency overall, leaving you with a dewyy, slightly brighter shade. Makeup artist Apollo Barragan explains to Byrdie, "During the summer it's great to mix in something with SPF, and for winter, adding some extra moisturizer is key to keeping dry skin hydrated, also. It really all starts with skincare — make sure you're protecting your skin during the summer and keep it hydrated during the winter."
Another way to lighten your shade that won't leave you with tons of layers on your skin is by using a duo fiber brush or a makeup sponge to soften your application without adding lotion. The outlet explains that this makes for a smooth look without the excess moisture.
Fall shades may work better with different foundation hues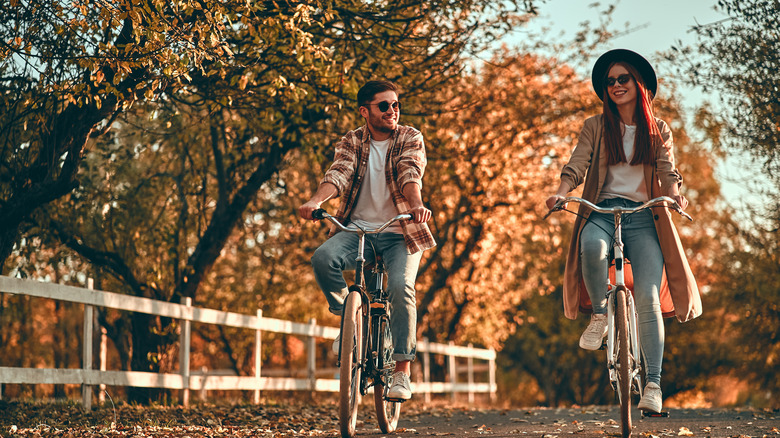 4 PM production/Shutterstock
In addition to ensuring that your foundation matches your changing skin tone in the fall, the change in color scheme may work better with other hues. For instance, if you start to use a darker blush or lipstick, the rest of your foundation should complement that look. "If you want to add some richness to your usual look and go for an autumnal lip color, you need to find the right shade that works for your skin tone. For skin tones with a pink base, go for pinker deep plum and berry shades. For warmer, more yellow-toned skins, try a dark color with brown or orange tones to them. Neutral skin tones suit either," S-J Froom, international make-up artist for bareMinerals, tells Harper's Bazaar.
You'll likely reach for warmer-colored clothes this season and you'll want your foundation to match properly. You can use your bronzer in specific areas to highlight your skin tone while still keeping a lighter look overall. "I don't advise just mixing in a bronzer with your foundation and smearing it all over the face and expecting that to work," makeup artist Jenna Menard tells Byrdie. "I like to separate the bronzer so I can strategically apply it to where you look naturally tanned. It becomes more believable when you place it properly around the right areas of the face [versus all over]."
Just like the moisturizer trick, add a few drops of bronzer to your foundation and use it strategically as a high-lighter as your tan starts to fade. Helping you transition from summer to fall, these tricks will save you money and keep your skin looking flawless.