The Truth About Nick Cannon And Abby De La Rosa's Relationship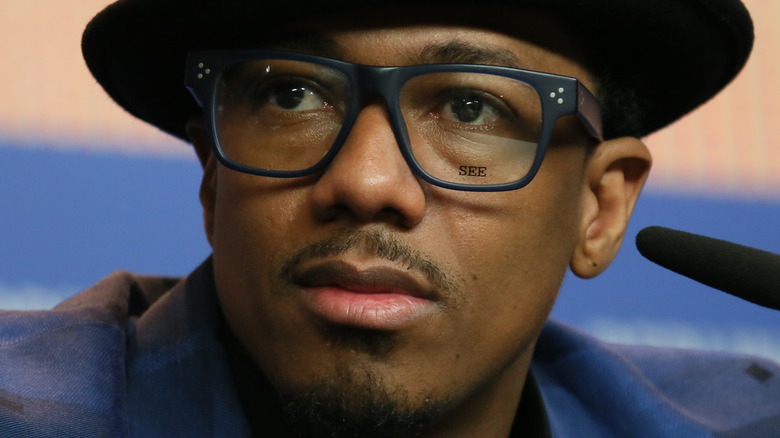 Denis Makarenko/Shutterstock
Many people were surprised when they found out that Nick Cannon welcomed three babies back-to-back in June and July 2021 and immediately wanted to learn more about the children and, of course, their mothers. It turns out that Cannon isn't hiding anything, and he's joyfully embraced fatherhood seven times.
On June 14, 2021, self-described DJ and broadcast professional Abby De La Rosa announced that she had welcomed twin boys with Cannon (via The Sun). The pair named the children Zion Mixolydian Cannon and Zillion Heir Cannon. Zion and Zillion have five siblings: twins Moroccan and Monroe, brother and sister Golden and Powerful Queen, and baby brother Zen (via Parade). 
Prior to the announcement, not much was known about De La Rosa and Cannon's relationship, and it's still not completely clear how long the two have known one another or prompted their entrance into parenthood. In April 2021, De La Rosa was described as Cannon's girlfriend by Newsweek after she shared a photo announcing her pregnancy on Instagram.
What Abby De La Rosa has said about her relationship with Nick Cannon
Nick Cannon and Abby De La Rosa haven't said too much about their relationship, which has left a lot of guesswork up to internet detectives. In a since-deleted Instagram post, De La Rosa shared a photo from the maternity session she shot with Cannon and wrote a sweet caption dedicated to her twins.
"Our dearest sons — my miracle babies, Thank you for choosing me to be your Mommy," she wrote, per Newsweek. "I know the Lord has destined me and prepared me for the gift of not one but two little angels." De La Rosa then added a bit about Cannon, stating that she hopes her children will be like their dad and noting that she and Cannon will be a united front when it comes to taking care of their children.
"I pray that God gives you both the strength to walk brave and boldly in your individual truth just like your Daddy," the caption read. "That God bless you and your brother and guide you into living out your full purpose. Your Dad and I will always be here for you both; in complete unison and support. No matter what this world may throw your way, know that forgiveness is key and what is for you — is for YOU! You both are already so loved and we can't wait to meet you both."
Nick Cannon had a baby in 2020 with an ex-girlfriend
Nick Cannon began dating model Brittany Bell back in 2015, following the end of his marriage to Mariah Carey in 2014. The Sun reports that the two were on and off and that Bell gave birth to the pair's first son together, Golden, in 2017. Many people believed the relationship had ended until November 2020, when the pair were spotted celebrating Bell's birthday and it was clear that she was pregnant again. 
Cannon and Bell's second child, Powerful Queen, was born in December 2020. What later became clear is that Cannon was involved with Abby De La Rosa while he and Brittany were on and off and that he conceived twins Zion and Zillion while Bell was pregnant herself (via Gossip Cop).
What's less clear is how the women in Cannon's life feel about their various relationships. To date, De La Rosa hasn't offered commentary or thoughts about Nick Cannon's other children or the women who gave birth to them.